For many of us, our garden is the first point of contact we have with wildlife. Being so close to home, they provide an escape from everyday life into a small pocket of the natural world we can call our own.
Gardens can often be deceptive because, despite their small physical size, they harbour an abundance of potential subjects. Contained by four sides, our outdoor living spaces are shared by thousands of species just waiting to be discovered and photographed.
Unlike in the wider countryside, gardens comprise a number of habitats in an extremely small area. In a small garden, it's easy to find hedge row, lawn, meadow and pond habitats. Together, they provide a home for countless species of birds, insects, plants and amphibians.
Once you start to delve a little deeper, it will quickly become apparent just how photographically fruitful your garden can be. And, being so close, you can almost always make time for a photo shoot, however busy and stressful life may be.
In order to get the best from your garden, it's important to understand the different habitats in your garden and the species that live in them. Break down your garden into sections and spend time focusing on each one individually. Take notes on the species you find and how they interact with the habitat.
Maybe you have a few trees, a hedge, a grassy meadow, planters or a pond. These six habitats can easily be taken in within a single glance, but each provides different opportunities for certain species.
Researching other photographers and the types of images they take can help you better understand what you can achieve in your garden. Building locations, perches etc. will provide these opportunities and they are key to getting the most out of what you have in your garden. For example, if you like photographing butterflies, you'll need to research how to create a wildflower meadow. If you would rather photograph garden birds, you can easily increase your photographic opportunities by putting up nest boxes and feeders.
Those with larger gardens (or ambitions) may have the chance to photograph mammals, amphibians and reptiles. The same approach applies - research and build habitats that are likely to attract visitors to your garden.
The possibilities for attracting wildlife into your garden are really limitless. Research and hard work can turn your garden into a wildlife haven teeming with wildlife all year round, providing you with hundreds of possible subjects.
If you want to take your images a step further, why not think about building custom set-ups for specific images?
Using set-ups can be a great way of creating excellent wildlife images in your garden. By attracting wildlife into environments you have pre-visualised, you can make stunning images that would be almost impossible in other situations. If you work hard to create mini garden studios and are patient in waiting for your subjects to use them, the image possibilities are truly endless!
Get creative. Instead of simply photographing birds on a feeder, consider how you could create a scene to make a more aesthetic and unique image. Think about your foreground and background. Use props to create a scene where you can capture your subject's natural movements and curiosity.
While building mini custom garden studios is fun and creative, and offers unique photographic opportunities, there are more simple and easy options that will attract even more wildlife You can put up bird/bat boxes, install a pond or build rockeries, wood piles and compost heaps. Increase the number of plants you have in your garden and you'll be sure to notice more wildlife. Perhaps the easiest and arguably the best thing you can do for a wildlife garden is to let it grow. Let the grass grow into a meadow. Let the weeds flourish.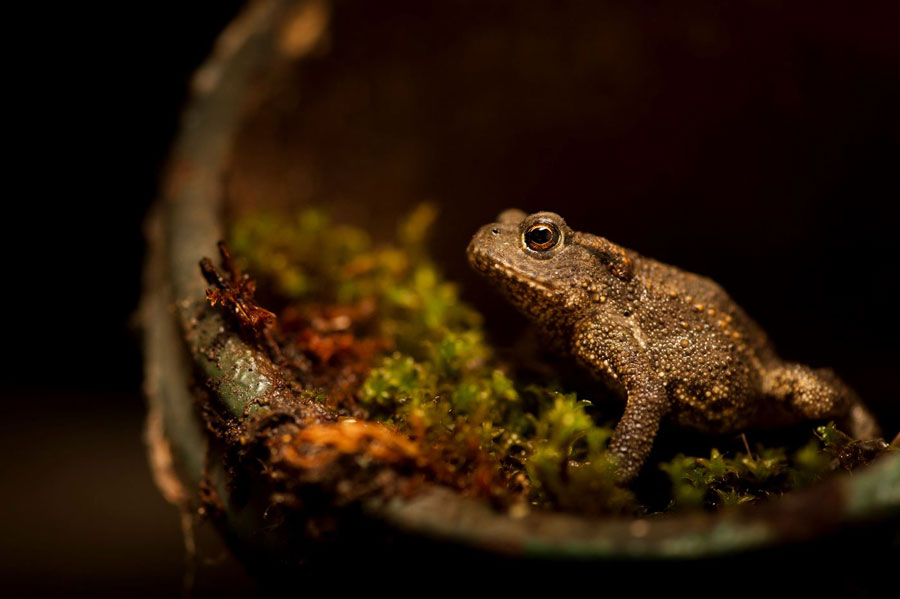 Garden wildlife can be photographed with pretty much any type of camera. From top-of-the-line flagship DSLRs or Mirrorless cameras to simple compacts, almost any camera can produce stunning images with some thought and planning.
Macro lenses and close-focus functions will be very useful for photographing flowers and insects while having a telephoto reach equivalent to 300mm will be beneficial if looking to photograph garden birds. You may be wondering what the best cameras and lenses are for wildlife. For this, we have some excellent buying guides that will help you make those all-important decisions.
However, most people will already have almost everything they need for very successful garden wildlife photography, but here are a few recommendations for some useful additions:
Remote release - Most compacts and DSLRs can be fired with a remote release, which is a small and relatively inexpensive accessory. As they remove the need to physically press a camera's shutter-release button, they reduce camera shake and help to create sharper images.
Reflector - Lighting can be an issue when working up close to a subject. If you are not keen on flash or don't own a flashgun, think about purchasing a fold-up reflector to throw some light on your subjects. An inexpensive accessory, they fold down flat for slotting in the camera bag and are very handy for those occasions when you need a little extra fill light.
Tripod - If you haven't already, go out a get a tripod. Not only will a tripod increase the sharpness of your images, but it will also slow you down so that you think more carefully about composition, framing and lighting.
Other useful accessories include kneeling mats (for reducing discomfort when down on the ground), a multi-tool or knife for removing unwanted blades of grass etc. and, some coloured cards to mix up your backgrounds when photographing close-up subjects. But also, bring a notebook to jot down ideas, thoughts, sightings and plans for future photoshoots.


If you have worked hard in the preparation your garden should now be teeming with life throughout the year, providing you with an excellent location to spend many hours indulging in photographic pleasure. Here are some tips and tricks to make the most of your newly prepared wildlife garden,
Choose a project - Remember, you don't need to run out and photograph everything in sight straight away – your garden isn't going anywhere. Slow down, pick a project, stick with it and focus on producing a few excellent images, rather than a whole bunch of mediocre ones.
Work seasonally - It is a good idea to pick around four small projects a year or two larger ones. Winter birds, spring flowers, summer insects and autumn colours could work, but feel free to think outside the box. Working within a self-set brief can help you prioritse and plan your shoots. This will ultimately improve your photography as you can take the time to explore what went well in your shoot and how you can improve.
Take inspiration from others - Exploring the work of other and taking inspiration is an essential part of growth as an artist. Research the images you would like to produce and try to understand how they were captured. Was it the lens that was used? Was the photograph taken at a specific time or place?
The best thing about being so close to home - working on a project with such easy access - is that you can experiment with every aspect of image creation. Lens choice, composition and shooting techniques can all be thought about and explored in depth. And, should you have a idea about how to improve a shot you've taken one Sunday afternoon, you can kit up and be in your garden shooting images in a matter of moments.
Keep notes about your projects - This might sound boring, but see it as self development. Be very self-critical of the images you produce, as it will serve to not only improve your images for the project, but improve your photography overall. Garden wildlife photography can be an excellent training ground, a safe environment for honing skills and techniques for the wider field.
You could almost go as far to say that keeping a critical notebook is as important in photographic development as getting a new camera!
Check out our expert buying guides...