LaCie 2big Dock Thunderbolt 3 - 20TB
This product is currently out of stock. Order today and we will place you on a waiting list fulfilled first-come, first-served when stock is received. No payment will be taken until the item is in stock and ready to be despatched.
Full details »
The LaCie 2big Dock delivers high capacity, lighting-fast speeds and enterprise-class drives—but it's more than that. Port by port, slot by slot, LaCie designed a powerful docking station that promises to give back everything that modern laptops took away. This is the 20TB capacity version. More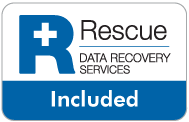 Rescue Data Recovery Included. VIEW
1x LaCie 2big Dock Thunderbolt 3 - 20TB Sorry, there are no more available.
Product Code: 1640519-wex
Manufacturers Part Number: STGB20000400