Choosing a pair of binoculars can be difficult. In addition to the variety of types, each with a different optical range, then there are also the price tags! But what do those numbers mean? What makes one pair so much more expensive than another? And, what is the best choice for me?
It is important to consider several factors when choosing your binoculars, such as the purpose, your budget, and how close you want your image to appear. Below, you can check out the basics of binoculars and see our deals and offers. But, for a deep dive into binoculars, check out our binoculars buying guide.
Browse Binoculars by Size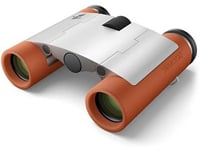 When buying a pair of binoculars you will soon notice that each pair has a set of two numbers following their name, such as "7x50" or "8x32". The first figure is the magnification, which indicates the number of times larger an object will appear when viewed. The second figure indicates the size of the object lens in mm; the larger it is, the brighter the images will seem. View our Binoculars Buying Guide for more information »
has been added for comparison; please select at least one more product to compare it with.
has been added for comparison.