Got a Nikon DSLR? We pick the best lenses for your Nikon camera to help you make the most of it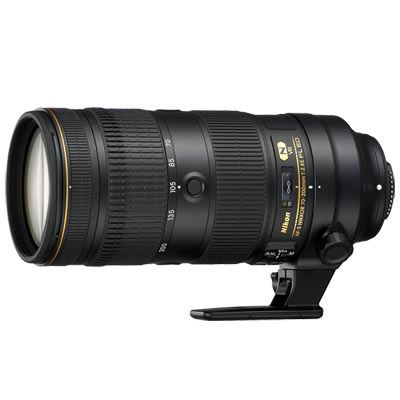 Which are the best camera lenses for Nikon cameras? It's a tough question, no doubt, and can be just as difficult whether you've got a Nikon DSLR for the first time or have been using one for years and are looking to upgrade. There are loads of fantastic lenses out there for Nikon users, in all different focal lengths and sizes, and from third-party manufacturers as well as Nikon themselves. So it's well worth shopping around to find the glass that's right for you.
Also worth considering is the size of the sensor in your Nikon DSLR – is it FX-format (full-frame) or DX-format (APS-C)? Smaller cameras aimed at beginners tend to be DX-format, while pro-spec DSLRs will be full-frame, and some lenses are DX-format only. Always check the format of your camera before purchasing a lens – it'll be easy to suss out which you have. For convenience, we've divided our guide into lenses that will work with FX and DX-format cameras, and lenses that are DX-format only.
So let's get started with the best Nikon lenses!
FX-format
This fast lens is a great all-purpose optic for your Nikon camera. It covers a field of view similar to that of a human eye, making it great for street and documentary work, while its f/1.4 aperture gives it a real edge in low light. Also, if you mount it on a DX-format camera you'll get a focal length of about 75mm, which makes it a good choice for portraiture. However you choose to use it, you'll find the Nikon 50mm f1.4 G AF-S Lens to be a stalwart companion you'll want in your kit bag every time.
Nikon 50mm f1.4 G AF-S Lens
The Nikon AF-S 50mm f/1.4G lens is a fast, fixed focal-length Nikkor lens with a built-in Silent Wave Motor (SWM) to enable smooth and quiet autofocus. The high-quality optical system delivers fantastic image quality, minimising both flare and chromatic aberration. Ideal for portrait photography, general use, and video recording, this lens has an ultra-fast maximum aperture of f1.4, with a unique rounded 9-blade diaphragm for smooth, natural bokeh.
£459.00 View
Take advantage of a superb macro lens from the ever-reliable Sigma – this lens has a 1:1 reproduction ratio, meaning it's a "true" macro lens and is ideal for making splendid close-up images with your Nikon camera. A superior optical construction ensures that images produced with the lens are sharp from edge to edge and rich with detail, while the floating inner focusing system minimises aberrations for unbeatable clarity. An all-around winner of a macro lens.
Sigma 105mm f2.8 Macro EX DG OS HSM - Nikon Fit
The Sigma 105mm f2.8 Macro EX DG OS HSM is a high performance, large aperture medium telephoto macro lens that comes with an Optical Stabiliser (OS). The lens helps users to maintain an appropriate distance from the subject of their photos while still being able to take close-up images. It features SLD glass elements that provide fantastic control of aberration as well as a floating inner focus system that allows for high rendering throughout the focusing range. It is a true macro lens with a 1:1 magnification that produces stunning images.
£339.00 View
Tamron covers a true workhorse focal range at a fantastic price – the 70-300mm f4-5.6 Di is perfect for all-purpose work. It also features a fantastic Macro Switch that allows it to function as a macro lens at the telephoto end (with a 1:2 magnification ratio) so you really are getting a huge amount of functionality for your money here. Tamron has also included internal surface coatings on the lens elements, minimising flare and ghosting and ensuring images that are vivid, sharp and detailed all across the frame.
If you like the look of the Tamron lens above but need a larger aperture to work with, then consider Nikon's own trusty 70-200mm, which has an f/2.8 maximum aperture that extends right the way through its zoom range. Made with superior internal optics and boasting Nikon's Vibration Reduction system for effective image stabilisation, the Nikon 70-200mm f2.8E AF-S FL ED VR Nikkor Lens is a trusty lens that will acquit itself well in all manner of different shooting situations.
Nikon 70-200mm f2.8E AF-S FL ED VR Nikkor Lens
The new Nikon 70-200mm f/2.8 AF-S FL ED VR Nikkor Lens is a redesigned version of a classic lens, delivering performance upgrades in sports, action, and news shooting. Improvements include enhanced AF tracking and exposure control, edge-to-edge sharpness, minimum focus distance, and a new magnesium-alloy lens barrel. Its VR Sport mode promises to deliver exceptional burst shooting capabilities.
£2,219.00 View
DX-format
With a hugely wide zoom that also lets you focus at distances as close as 0.22m, the Nikon 10-20mm f4.5-5.6 G AF-P DX VR Nikkor Lens provides the best of all worlds and is a fantastic choice for the adventurous, creative Nikon photographer. It's extremely light at just 230g, making it an ideal companion for the lighter DX DSLRs, and provides a perspective that's manifestly different to a standard kit lens. The autofocus is near-silent too, so it's a solid choice for video use, and getting striking shots that draw your viewer into a frame.
Nikon 10-20mm f4.5-5.6 G AF-P DX VR Nikkor Lens
The Nikon 10-20mm f4.5-5.6 G AF-P DX VR Nikkor Lens expands your creative options with an ultra-wide-angle zoom lens that's built to travel. Expand space, exaggerate perspectives, and create striking compositions. No more stepping back to fit in sweeping views, and the minimum focus distance of 0.22 m lets you capture close-ups in which your subject fills the frame.
£309.00 View
Can't decide which lens you want? How about a lens that basically does it all, from generous wide-angle right out to a decent telephoto? The Nikon 18-200mm f3.5-5.6 G AF-S DX ED VR II Lens benefits not only from an extremely comprehensive zoom range, but also the upgraded version of Nikon's Vibration Reduction (VR II) technology. This makes the lens much easier to use handheld to produce pin-sharp shots, even when working in low light, further bolstering its qualifications as an all-purpose optic. A great choice if you don't want to mess about with changing lenses.
Benefiting from image stabilisation, well-engineered internal optics and a compact construction, this Sigma lens is a fantastic achievement of design and a great choice for any Nikon photographer. The Hyper Sonic Motor also ensures that autofocus is fast and quiet, making it a handy lens for video as well as stills. The rounded diaphragm ensures the lens produces images with distinctive and attractive bokeh, while a close focusing distance of 28cm makes it ideal for close-ups.
Finally, we have a macro lens for DX-format in a useful mid-telephoto focal length. The fact that this is a prime lens means it has an optical construction that ensures fantastic optical quality throughout images, and a 1:1 reproduction ratio for astonishingly lifelike close-up images. With the Vibration Reduction system present and correct, this lens is fantastic to use handheld, ensuring a top-notch all-around shooting experience.
Nikon 85mm f3.5 G ED AF-S VR DX Micro Nikkor Lens
The Nikon AF-S DX Micro Nikkor 85mm f3.5G ED VR Lens is a compact and lightweight DX format Macro lens with high-quality optics. Equipped with Nikon's second generation Vibration Reduction system, the lens delivers steady images to both the sensor and viewfinder, which enables a more flexible hand-held shooting style. The 1:1 reproduction ratio means you can shoot life-size close-ups of extremely fine textures and details, whilst the smooth autofocus as a result of the Silent Wave Motor, combines with the internal focus system to make this lens perfect for getting really close to subjects.
£459.00 View
About the Author
Jon Stapley is a professional journalist with a wealth of experience in a number of photography titles including Amateur Photographer, Digital Camera World and What Digital Camera. See more of his writing on Jon's author page.
Related articles