What are the best full-frame mirrorless cameras available right now? Spoiler: Sony
A small mirrorless body and a large full-frame sensor -- truly the best of both worlds. We round up the best mirrorless full-frame cameras that your money can buy right now...

1. Sony A7R III
Sony has been steadily tempting photographers away from DSLRs with its Alpha 7 line of mirrorless cameras, each of which is tailored to different types of shooter. The A7R cameras are the high-resolution branch of the series, designed for landscape photographers and others who need plenty of megapixels, and this third model incorporates elements from the action-oriented a9 (more on which anon).
The A7R III is built around a a 42.2MP back-illuminated full-frame Exmor R CMOS sensor, which uses gapless microlenses that make for more efficient light-gathering, and a new front-end LSI that makes for improved readout speeds. It uses Sony's Bionz X processor, which provides superior noise-handling capabilities and means the A7R III can offer a dynamic range of up to 15 stops. If you shoot landscapes, this one of the best buys you can make.
2. Sony A7s II
The low-light expert in the Sony stable, the A7S II may boast a comparatively smaller resolution of 12MP, but that's a deliberate choice to allow greater light-gathering power. Shooting 4K 4:2:0 8-bit video with no pixel binning, the A7S II is a seriously tempting choice for filmmakers, and its ability to shoot Full HD video at the super-slow-motion frame rate of 120fps at 100Mbps sweetens the deal. That top ISO ceiling of 409,600 is what gives the camera its incredible low-light power, while the internal 5-axis image stabilisation system makes for blur-free images and smoother footage. The A7S II is a stunning technical achievement, and whether you're shooting stills or movies, you'll find it warrants a second look.
3. Sony A7 III
The Sony A7 III is a remarkably elegant balancing act. It liberally borrows features from the more specialised and expensive members of the Alpha stable, most notably the A7R III and the A9, and puts them together to make for a model that feels complete and satisfying to use, with a more friendly price tag as the kicker. The overhauled 24.2MP sensor is fully back-illuminated, and the ISO ceiling of 204,800 is nothing to sneeze at. There's that 5-axis in-body stabilisation too, a touchscreen LCD monitor and 4K video capture using the full width of the sensor.
Finance available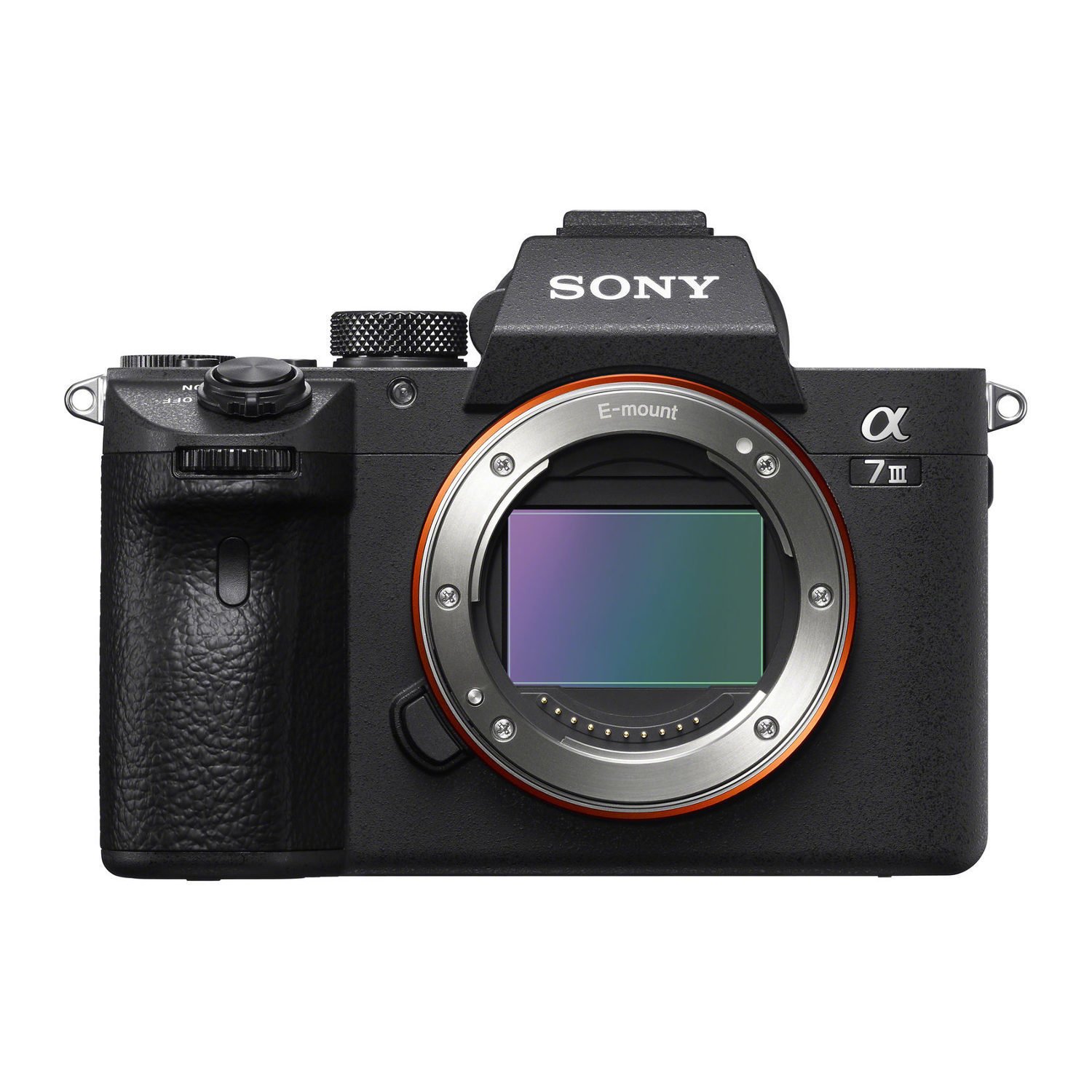 Sony A7 III Digital Camera Body
The original Sony A7 set the tone for the years ahead when it was released back in 2013. This third iteration brings further advancement for Sony's popular CSC line-up. The Mark III features a newly developed back-illuminated 24.2MP full-frame Exmor R CMOS sensor, and a redeveloped BIONZ X processing engine. 4K HDR video, and 15-stops of dynamic range also add to the appeal of this camera.
£1,848.00 View
4. Sony A9
This is the speedster of the Sony Alpha stable. The a9 represents a serious advancement for sports and action photographers, its maximum shooting rate of 20fps complemented by an amazingly fast and accurate autofocus system and an electronic viewfinder that operates with no blackout, meaning you can shoot and shoot those blisteringly fast frames without interruption.
Since the camera's release its autofocus performance has been further improved with firmware updates, making it even better at tracking moving subjects. When you add in features like oversampled 4K video capture and a huge shooting buffer of 241 Raw files, the a9 is a comprehensive package that merits consideration from every serious photographer.
5. Fujifilm GFX-50S
Fine. We're cheating a little. The Fujifilm GFX-50S is a mirrorless camera with a medium format sensor rather than a full-frame one, however, if anything is going to tempt you away from full-frame then it's the 51.4MP GFX-50S with its amazing quality and compact form factor. It's weather resistant, it's powered by the impressive X Processor Pro, it has dual SD card slots and in-camera Raw processing -- we could go on. We'll restrain ourselves for now, but seriously, this is an exciting camera that's only going to get more so as its lens range expands. Time to get in on the ground floor.