Find the best lenses for your full-frame Nikon Z7 with our helpful guide to Z-mount glass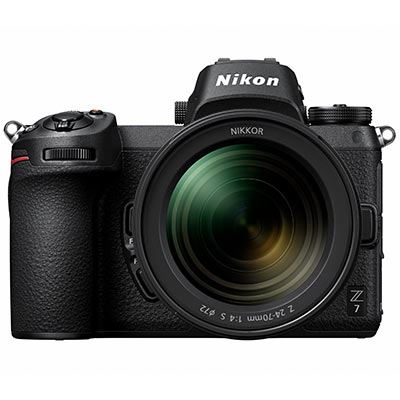 The full-frame Nikon Z7 is one of the best mirrorless cameras around, boasting an enormous full-frame sensor in a lightweight body that's packed full of tech and functionality. But which are the best lenses to choose? You want something that'll allow you to make the most of your camera, sure, but not something that'll break the bank. Which kind of focal length do you need, and how large an aperture? Do you want Nikon's own lenses, or are you interested in going third-party?
As you can see, it's a more complicated question than it first appears. That's why we've put together this guide to help you navigate the choppy waters of lens-buying and find some glass you're truly happy with. From zooms to primes, wide-angles to telephotos, and Nikons to other lenses, we've got it all, so scroll on to find the best lenses for your Nikon Z7...
Let's start with something straightforward – and affordable! This is one of the most reasonably priced lenses for the Z mount at the moment, and happily it's also one of the most useful. As the Z7 has a full-frame sensor, the Nikon Z 50mm f1.8 S provides a focal length of 50mm (no equivalent shenanigans here) and this means it's roughly the equivalent to the field of view of a human eye. This makes it perfect for general-purpose photography and capturing things in a naturalistic way – street and documentary shooters should find it useful. All this is bolstered by the f/1.8 maximum aperture, which allows for the creation of shallow depth of field and vivid bokeh.
A wider prime, well suited to landscapes and architecture shooting, the Nikon Z 35mm f1.8 S boasts edge-to-edge sharpness thanks to a sophisticated internal optical design, and it particularly excels at rendering "point" light sources, i.e. distant small lights of the kind you might see in night-time landscapes. Autofocus is fast and accurate, as you'd expect from a nippy mirrorless system lens, and the body is built to be resistant to dust and drips, standing you in good stead for an outdoor shoot.
This is definitely the choice if you're planning to shoot portraits with your Nikon Z7 – the short telephoto focal length of the Nikon Z 85mm f1.8 S is ideal for flattering your subjects and making them look as good as possible. The f/1.8 maximum aperture also means you can create the kind of shallow depth of field that's essential for good portraiture, and the minimum focal distance is just 0.8m, in case you want to get really close. Anti-reflective Nano Crystal Coat and a smooth, silent multi-focusing system round out a seriously well-featured lens, and any Nikon Z7 user will no doubt find themselves packing this lens in the kit bag every time.
Covering the workhorse focal range beloved by professionals worldwide, the Nikon Z 24-70mm f2.8 S is designed for those who are really planning to put their Z7 through its paces. As well as offering ultra-sharp performance, it's also designed to be extensively customised to just the way you like to work, with a control ring that can be set to cover your preferred function, as well as a function button with 21 different assignable options. It's built tough, too, with plenty of weather sealing, so wherever the next challenge takes you, the Nikon Z 24-70mm f2.8 S will be able to keep up.
Also consider: Need something a little more wallet-friendly? Try to the Nikon Z 24-70mm f4 S Lens.
It's still relatively early days for third-party lenses for the Nikon Z system, however Lensbaby has done a great job of converting its catalogue to be compatible with the Z7 and Z6. If you're looking to create something a little different, try the Lensbaby Sol 45, a tilt-shift lens that allows you to create dramatic bokeh and attractive blur against an area of pin-sharp focus. It works really well for portraits, but in truth there's a whole host of ways you can put the Sol 45 to use. It encourages your creativity, and that's certainly no bad thing.
Great for portrait and macro work alike, Lensbaby's Velvet 56mm f1.6 Lens produces images with a soft and velvety look at its maximum aperture of f/1.6, and then as you stop down produces images that are sharper, but still retain a distinctive look. Its 1:2 macro capabilities make it well-suited for close-ups, while the 56mm focal length is good enough for portraits but is also pleasingly general-purpose. It's a great lens to pair with your Z7 for experimentation and pushing things a little further.
Samyang also got in on the Z-mount action, producing this manual-focus 85mm short telephoto lens that's great for the budget-conscious portrait photographer. Available for a price significantly lower than Nikon's own version, it doesn't have all the same features and functionality, but does provide an f/1.4 maximum aperture that's actually a little better than the Nikon, which manages an f/1.8, so if you can live without autofocus and want to save a bundle, this is something to bear in mind.
And finally, let's look at another way to get creative – the Lensbaby Composer Pro II with Sweet 50 Optic, a tilting lens that gives the photographer 0-15° of movement to work with in any direction. The Sweet 50 Optic is a curved field optic providing the photographer with complete manual control over their composition, creating a spot of focus surrounded by blur. Put together, this is a package that really opens up creative possibilities for any Nikon Z7 photographer.
About the Author
Jon Stapley is a professional journalist with a wealth of experience in a number of photography titles including Amateur Photographer, Digital Camera World and What Digital Camera. See more of his writing on Jon's author page.
Related articles