The Mavic Air can capture 4K video at 30fps and is DJI's smallest fold-up drone yet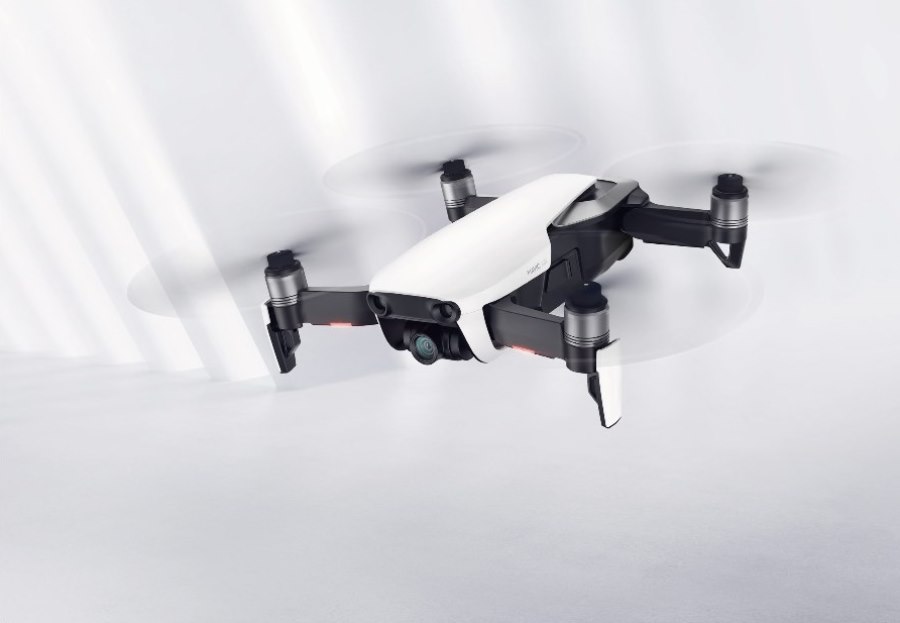 Details regarding DJI's mystery drone announcement were leaked online yesterday, but today we can finally confirm that DJI has unveiled the Mavic Air. Around half the size of the Mavic Pro, the Mavic Air is the smallest fold-up drone DJI has ever created. At DJI's press event in New York City, director of North America Michael Perry produced no fewer than three Mavic Air devices from the pockets of his gilet, telling the audience: "It's about as tall and wide as a smartphone [when folded]."
Within its ultra-compact body, the Mavic Air houses a 12MP CMOS sensor, an f/2.8 24mm lens (35mm equivalent) and a 3-axis mechanical gimbal for smooth image capture. The on-board camera will capture 4K video at 30fps (at 100Mbps) and 1080p slow-motion video at 120fps.
New HDR algorithms boost the drone's stills potential, alongside its ability to combine 25 images to form 32MP spherical panoramas (a feat which takes just eight seconds). Data is stored via a Micro SD card slot, but the Mavic Air also includes 8GB of internal storage, which can be exported via its USB-Type C port.
The Mavic Air's flight system makes use of DJI's ActiveTrack, causing the drone to follow selected moving targets. Other impressive flight features include two new QuickShots modes (six in total), Asteroid and Boomerang. The former seamlessly transitions from a spherical panorama to a standard section of footage, with the latter flying in a circle, via a manoeuvre that mimics the flightpath of a boomerang.
SmartCapture allows users to control the drone with simple hand gestures, something we've seen before. However, the Mavic Air is more responsive and the user can now control the drone's range using hand gestures (from a distance of up to 19ft). The Mavic Air also makes use of the DJI GO 4 app and can be controlled using TapFly, simply by tapping the screen of a mobile device.
The Mavic Air's impressive flight capabilities are down to DJI's FlightAutonomy 2.0 system, resulting in greater precision when hovering and better overall flight performance. The inclusion of Advanced Pilot Assistance Systems [APAS] in particular, allows the Mavic Air to detect and manoeuvre around objects automatically — as demonstrated during the live reveal. If the compact frame of the drone itself wasn't enough, the Mavic Air includes a dedicated, foldable remote controller — designed to hold a smartphone.
You can pre-order the Mavic Air in a variety of colours from Wex Photo Video, simply follow the link below.
About the Author
Mike Harris is Wex Photo Video's production editor and is an experienced journalist with a passion for motorsport photography. You can view his portfolio via @MDHarrisPhoto on Instagram.