The best way to improve your home-made video is by investing in lighting – here are our top picks for LED lights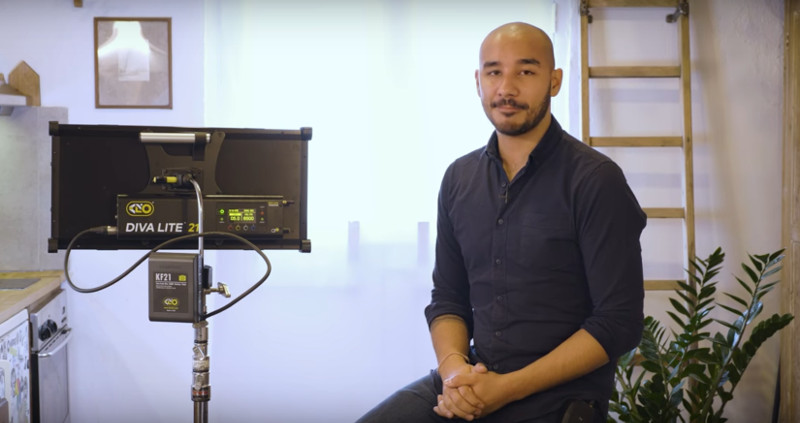 A simple light can be all you need to turn your home into a workable studio
Got the urge to shoot some video at home? The fact that you're self-isolating doesn't mean you have to give up on honing your craft and shooting video, whether it's using the downtime to self-shoot some videos for social media, or even purely to get some practice in for your own benefit and improving your craft.
You may not think it credible that your kitchen or living room could be an interesting or usable location for shooting video at home, but it's actually a relatively simple matter to transform pretty much any space into a great video shooting location – the key is to get the lighting right.
At Wex, we stock a huge range of inexpensive, high-performance LED lights that you can use to produce professional-looking video without leaving the house. Whether you need to light yourself, light a location or use some lighting in shot to increase the production value of your images.
But which lighting heads to choose? First up, we'll explain some key terms for those who are new to LED lighting…
Styles and types of LED lighting
The majority of the heads we stock at Wex will be one of the following:
- Daylight balanced – with colour temperature optimised to appear roughly the same as natural daylight.
- Bi-colour – switchable or blendable between daylight and tungsten (a common form of indoor lighting).
- RGB LED – extremely versatile heads that are capable of displaying millions of different colours, replicating colour gels, creating special effects and more.
We've biased towards RGB LED heads in our selections below. Not only are these the most cutting-edge and futureproof of LED lights, but they'll also give you the greatest suite of creative options when it comes to lighting a location at home.
There are several different types of LED fixtures available, all of which function differently and are best suited for different applications and budgets.
Here is a quick overview of the types we'll be including in this guide:
- Top Lights – These are designed to be physically placed on top of a camera, usually via the hotshoe. For power, they usually take either small camcorder batteries or AAs. Top lights can be single colour temperature, bi-colour and RGB.
- Panels – These are the ubiquitous square/rectangular/sometimes-circular heads that are used for all sorts of applications, particularly interviews. They are often mistakenly thought of as being soft lights: while newer models that have a diffused front can be counted as a softlight, many older examples are simply grids of open-face diodes emitting light that is actually quite hard and unflattering. Many fixtures have V-lock plates built into the back so they can be powered by broadcast-camera batteries out in the field. Panels can be single colour temperature, bi-colour and RGB.
- Flexible heads – These are essentially the same open-face diodes from the traditional panel lights, but mounted onto fabric instead of plastic. This makes them super-lightweight and easy to stow; they are, however, relatively low output.
- Open face – Probably the most popular form of LED lighting at the moment, these are the super-powerful fixtures made by such companies as Aputure and NanLite Forza. These are some of the most interesting lighting solutions on the market at the moment as they incorporate Bowens mounts, meaning we can add lots of our accessories. Open Face LED heads are usually single colour temperature (Daylight) but we are seeing some RGB options coming out as well.
- Tubes – These look like fluorescent tubes, but aren't. They're actually LED lights that come in different lengths and usually incorporate a battery. LED Tubes can be single colour temperature, bi-colour and RGB.
Without further ado, let's get to the lights!
Quick, inexpensive Top Light options for shooters on a budget
At Wex, we stock a huge range of Top Lights, and many of them are ideal for home shooters who don't have a huge amount of budget to spend on their lighting. The most up-to-date versions use RGB LED technology, but all can be a great choice for the home shooter looking for a straightforward lighting solution.
A super popular, ultra-compact and well-priced comprehensively packaged RGB head, this tiny but powerful light will slot into any home setup without cluttering things up – it literally fits into the palm of your hand.
Aputure MC RGBWW LED Light
Best Seller
This is the Aputure MC RGBWW LED Light. It's only just bigger than a credit card, so will fit in the palm of your hand and this tiny size makes it incredibly versatile. You can use it almost anywhere when you need a boost of colour and/or light in your shooting. It features HSI/CCT lighting modes as well as nine FX lighting modes. The light also has Sidus Mesh tech built and the Sidus Link Control App allows you to control pretty much everything on the device. The unit comes with a USB cable for charging but some that add even more to the versatility of this device is that it is actually compatible with Qi wireless chargers!
£109.00 View
A compact and comprehensive RGB head designed for Top Light use, the Falcon Eyes Pocketlite F7 RGB LED Light boasts extensive creative control, with sophisticated dimming functionality and a wide range of colour temperatures.
A robustly built, compact RGB head that can be used anywhere, the Pilotfly AtomCUBE Rx1 LED Light also boasts a dedicated app that you can control with your smartphone, which is useful if you're working on your own.
While it isn't necessarily a Top Light, the Vibesta Peragos Disk RGBWW LED Light is compact and well-priced enough to be considered in the same category as it's a similar type of user who will likely be tempted. It's a small circular RGB head that's available at a great price.
Vibesta Peragos Disk RGBWW LED Light
The Vibesta Peragos Disk RGBWW LED Light is a small, portable and convenient lighting solution. When in its white light mode, the disk shaped light offers a versatile CCT range from 2400 to 9900 Kelvin which can cater for a huge variety of settings and is completely flicker free. It features 160 digital gel filters so that you have a wide range filters whenever you need a different splash of colour, as well as a useful power variation from 0-100% for even more versatility. This unit can be used for hours on end and withstand an entire shoot with just 6 AA batteries or a Li-ion NP-F Battery.
£224.00 View
Larger, more professional options for a soft, wraparound key-light
If you're a more serious shooter, or you're planning projects that'll involve filming yourself, then you'll want to invest in a decent key-light.
The best key lights tend to be nice and soft and also offer extensive colour control, allowing you to achieve precise lighting effects with ease. We've picked a few of our favourite options below.
The diffused front panel of this compact Bi-Colour head allows it to create a nice soft light that wraps around its subject well – an excellent choice for self-shooting or interviews.
Astora SF 100 - Bi-Colour Super-Flood Soft LED Panel Light
With the Astora SF 100 Bi-colour Super-Flood Soft LED Panel Light (98W) you can easily create soft diffused light that wraps nicely around its subject. As with all Astora lights, the SF Soft offers pristine colour reproduction with a TLCI up to 98 and a CRI up to 97. With up to 13000 lumens the Astora FS Soft series is a soft yet bright light source that mimics the effect of a softbox in the most energy efficient way keeping a compact slim form factor.
£599.00 View
A cost-effective and flexible RGB LED head, the NanLite Mixpanel60 also has the capacity to switch between hard and soft light modes. If you need a little more power, we'd also recommend the NanLite MixPanel150, a larger version of the same panel that offers an impressive degree of bright, accurate light.
NanLite Mixpanel60
The NanLite MixPanel 60 is the ultra-bright 3-in-1 RGBW LED panel offering some impressive specifications and a large range of features. It combines 3 LED light sources into one, tidy and compact unit - change from hard, soft, CCT and coloured lighting with a simple touch of a button. From photographers, videographers and filmmakers right through to YouTube, Twitch and other social media platform content creators, these LEDs are one of the best, versatile lighting solutions.
£880.00 View
NanLite MixPanel150
The NanLite MixPanel 150 is the ultra-bright 3-in-1 RGBW LED panel offering some impressive specifications and a large range of features. It combines 3 LED light sources into one, tidy and compact unit - change from hard, soft, CCT and coloured lighting with a simple touch of a button. From photographers, videographers and filmmakers right through to YouTube, Twitch and other social media platform content creators, these LEDs are one of the best, versatile lighting solutions.
£1,200.00 View
This well-priced 1x1 RGB panel comes equipped with a built-in V-lock plate, expanding your mounting and rigging options, and also has a built-in library of filter effects, allowing you to get stylish and creative.
Rayzr MC120 Multi Colour RGBWW Soft LED Panel light
The Right Light In Any Situation. Meet the Rayzr MC120 - an advanced 118W RGBWW LED Soft panel that gives you the right light in any situation. Source Matching enables you to mimic any light source for consistent results making the MC series a perfect companion to the Rayzr 7 fresnels but also any other lightsources like tungsten lights, fluorescent or the sun. Being fully colour tunable, offering a wide colour temperature range and white light with perfect colour reproduction.
£825.00 View
A solid investment for the professional filmmaker/freelance camera operator/production company, this is the entry-level option from Kino-Flo. Solidly built and reliable, this is deservedly the current industry standard.
Kino FLo Diva-Lite 21 LED DMX Centre Kit with Case
The Kino FLo Diva-Lite 21 LED DMX Centre Kit with Case blends Kino Flo's popular fixture with its tunable LED family line. The Diva-Lite LED lights feature dial-in variable colour temperature control from 2500K to 9900K, full-range dimming, programmable presets and DMX wireless capability. As with the Celeb and Select LED's, the soft white light doesn't flicker or shift colour temperature when dimmed.
£3,085.00 View
Flexible fixtures to light the location, and more
It's often important to raise the ambient light level in the room that you shoot in, and that's just as true when you're shooting at home. The products in this section are predominantly Open Face LED heads, and they kick out lots and lots of light. What you do with that light is down to you.
Most of the products listed below have Bowens mounts, meaning they can easily be turned into soft lights and used as key lights, lanterns, or – to be honest – pretty much any kind of light you want them to be. These are all single colour-temperature (Daylight in this case).
Massively popular and for good reason, the Aputure Light Storm 120D Mk II kicks out an output comparable to that of an old 1K Tungsten head, but without the heat or bulk associated with older technology. It's compatible with Bowens softboxes and similar accessories, though also worth checking out is the range of well-priced accessories made by Aputure themselves.
The larger of the two popular Aputure heads, the Light Storm 300D Mk II can kick out the equivalent output of a 575w HMI. Handy for nearly every application, this again uses a Bowens mount. A great soft key light when used with a softbox, it's also good for replicating daylight when using the Open Face reflector, and its bright enough to be used in a Lantern setup for table-top and round-table applications.
Aputure Light Storm C300d II LED Light
By utilizing the latest in Aputure COB LED technology, the Aputure Light Storm 300d Mark II outputs a whopping 20% more light than its predecessor.When combined with the Fresnel 2X, the 300d Mark II can produce up to 80,000 lux @ 1m, approaching the luminance of a 575W HMI. The 300d Mark II also introduces new design features, while maintaining the same form factor and lightweight aircraft aluminium body as the original 300d.
£990.00 View
Similar in output to the Aputure C300D II, this Open Face LED has squarer ergonomics and is supplied fully kitted with a rigid-soft case and stand-mountable V-lock battery adapter (though be aware that batteries are not included).
The most powerful of the Open Face LED heads, the Forza 500 is the ideal replacement for a 2K tungsten head. It's ideal for replicating actual daylight when shooting interiors.
Tubes that look good in-shot (as well as lighting it)
This is where you have a chance to really get creative. You can use these as key lights, fill lights, back lights – pretty much anything. What's even better, though, is that they look like lightsabers or neon tubes, so they look great in shot as well. Remember that all of the Top Light options mentioned earlier in this article will also make nice additions to shots that need jazzing up.
Here we recommend a few cost-effective tubes that look as good in the shot as they do lighting it.
Hugely versatile, with a maximum output of 1400 lumens, the Nanlite PavoTube 15C is a short RGB LED Tube with built-in battery. It also has some useful pre-programmed special effects that you can use to get creative and film something a little different.
A longer version of the 15C RGB LED Tube above, the NanLite PavoTube 30C comes equipped with a built-in battery, expanding its versatility for all sorts of different shooting situations.
NanLite PavoTube 30C
The NanLite PavoTube 30C is an amazingly versatile lighting fixture that can cater to a huge variety of filming situations. It features 0 to 100% dimming and a maximum output of 2850 Lumens. As well as an adjustable colour temperature from 6500-2700K, it also has CRI of 98 and TLCI of 95, as well as a full spectrum RGB. Finally, it has been equipped with six pre-programmed special effects that allow you to be creative with your filming as you can recreate different lighting effects, and this is all accessed with the super simple on-board menu system.
£249.00 View
You can think of this as a simpler version of the NanLite Pavotube 15c, useful for those on a budget. While it's an older light, it'll still work well for most indoor applications and is definitely a handy tool for shooting at home.
About the Author
Stuart Dennis heads up professional video here at Wex. He has been dealing with the kit requirements of professional filmmakers, camera operators and production companies for 14 years. Find him on Twitter? @Stuart_Dennis
About the Author
Jon Stapley is a professional journalist with a wealth of experience in a number of photography titles including Amateur Photographer, Digital Camera World and What Digital Camera. See more of his writing on Jon's author page.
Related articles