Drone pioneer DJI has announced not one but two successors to the ever-popular Mavic Pro, the Mavic 2 Pro and Mavic 2 Zoom
The DJI Mavic 2 Pro boasts an on-board Hasselblad camera.
The DJI Mavic Pro was one of the first drones to introduce aerial filmmaking and aerial photography to the masses. Not only was it portable, easy to use and affordable, but it was capable of shooting decent stills and 4K footage. Fast forward two years and DJI has announced not one, but two refreshed Mavic Pro models that should once again take the market by storm.
So why do we have two models? Physically, they share pretty much exactly the same body and look incredibly similar to the original Mavic Pro. Both will offer a very respectable 31 minutes of flight time, a top speed of 44mph and the ability to transmit full 1080p video back to the operator from up to five miles away. That said, do remember the drone code – just because you can fly it five miles away, doesn't mean you should. DJI has also carried over all of its intelligent features that we've become accustomed to, such as 360-degree collision awareness.
The real difference comes down to the on-board cameras. We have the Mavic 2 Pro that houses a 1in CMOS Hasselblad camera and the Mavic Zoom, which features a 1/2.3 in CMOS sensor that (you guessed it) allows for a two-times optical zoom. When it comes to video, both models also record at the same resolutions and framerates, 4K UHD at 30fps, 2.7K at 60fps and full HD at up to 120fps.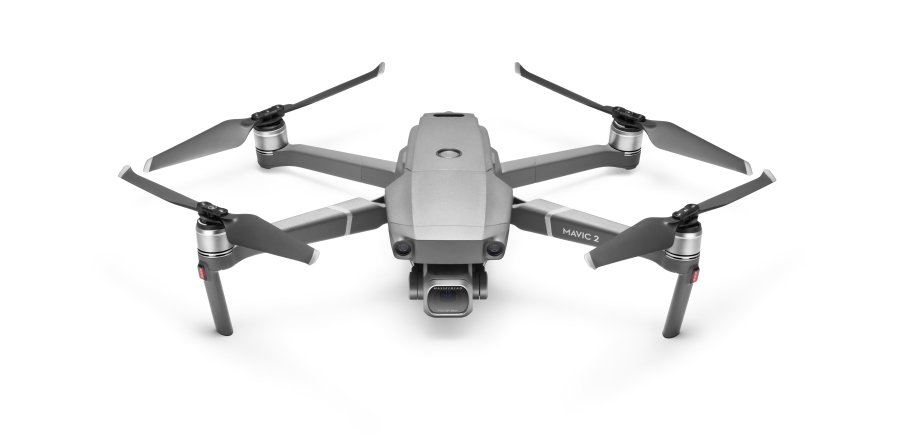 The DJI Mavic 2 Pro and Mavic 2 Zoom might look almost identical, but they sport different on-board cameras.
The Mavic 2 Pro
The Mavic 2 Pro (as the name suggests) really is the headline model of the two drones, thanks to its rather large 20MP 1in sensor camera. Up until now, you'd really need to be looking at DJI's Phantom series to find a sensor of that size on a drone. Such examples are physically much bigger and more expensive than the Mavic 2 Pro, so it's fantastic to see that DJI has managed to fit this camera on board the much smaller-bodied Mavic series. You probably also recognise the name of the manufacture behind this camera, Hasselblad. The Swedish manufacturer is known for its beautiful medium format professional cameras, and it's exciting to see the brand catering for the masses with its latest camera on the Mavic 2 Pro.
Having that larger sensor will vastly improve this latest model's low-light performance, which really was one of the original Mavic Pro's weak points. Another negative that burdened the original Mavic Pro was its on-board codecs. When filming scenes with lots of fine-moving detail such as trees or water (pretty much most drone shots…) those hugely compressed formats meant your footage was compression artefact galore. This brings me onto the next welcome upgrade, 10-bit video…
We're slowly getting to the point where content creators now expect 10-bit as a minimum requirement for new cameras. Too right, since 8-bit codecs haven't really changed since the beginning of the DSLR video revolution that happened way back around 2008. If you're not too sure what the difference between 8-bit and 10-bit video is – in essence – it's the amount of values each RGB channel has between absolute black to 100% brightness.
In 8-bit video there are 256 quantised values and in 10-bit there are 1,024. All in all, this equates to four times more colour information. So, the next time you're capturing a beautiful sunset, shoot in 10-bit and you're less likely to see that horrible banding in the sky. In addition, you'll have so much more room to push and pull the image when colour grading. D-Log and Hybrid Log Gamma colour profiles are also included on the Mavic 2 Pro, so it's ready for HDR delivery.
With a new camera comes a new lens and this time it's a huge change. Unlike the original Mavic Pro, you're no longer fixed to always shooting wide open at f/2.2. The fixed aperture meant that unless you were shooting in the most optimal lighting conditions, you'd have to invest in various ND filters to bring that shutter speed down to get closer to that 180-degree shutter (which produces what we deem the more traditional filmic look). The 28mm lens on the Mavic 2 Pro allows you to adjust your aperture, much like any normal camera between f/2.8-11. All in all, having more control over your image is always going to be better.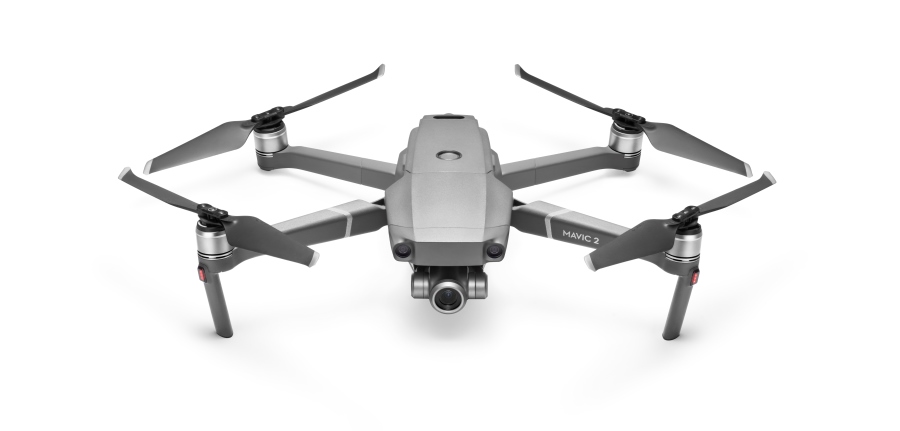 The Mavic 2 Zoom is capable of reaching a 98mm equivalent combined zoom range.
The Mavic 2 Zoom
As mentioned, the only difference between the Mavic 2 Zoom and the Mavic 2 Pro is the camera itself. The Mavic 2 Zoom houses a 12MP 1/2.3in CMOS sensor camera, with an equivalent optical zoom range of 24-48mm. It's the world's first consumer drone with such a capability. Ok, you're probably thinking that 24-48mm isn't that much of a zoom range, but the Mavic 2 Zoom has a nifty trick up its sleeve. If you're shooting in full HD, then the Mavic 2 Zoom will combine its optical zoom with a digital zoom – without any loss of resolution – to create a 98mm equivalent combined zoom range. That really is something.
Of course, the drone's zooming capability means a smaller sensor has been used in comparison to the Mavic 2 Pro. However, it's still the same size as the sensor used in the original Mavic Pro. Another thing to note is that the lens doesn't have a fixed aperture. At 24mm it's f/2.8 and at 48mm it's f/3.8. When it comes to filmmaking this would normally be something to avoid, as you'd want to try and keep a consistent look and depth of field between focal lengths. However on a sensor that's so small, it really shouldn't be an issue. What it does mean though is that you can create some incredibly dynamic shots such as an aerial dolly zoom.
Both of the drones now have four hyperlapse modes built in too, so you can create dramatic and dynamic moving timelapses with ease. All of the instant shot features that we saw on DJI's Mavic Air and Spark have also made their way into these new drones too, with the addition of the dolly zoom effect (only possible on the Mavic 2 Zoom). The dolly zoom was an effect made famous by Alfred Hitchcock in the film Vertigo (1958) where the camera physically moves in one direction and zooms in or out at the same time.



Final Thoughts
It's an exciting time within the consumer drone space. DJI is really pushing the boundaries in terms of the specifications of drones we're finding at this price point. I would have liked to see DJI adapt an interchangeable camera instead of releasing two near-identical drone bodies, but perhaps we are still some way from getting that sort of functionality on smaller drones. Regardless, we've now got two incredibly impressive new drones to choose from. The Mavic 2 Pro has clearly been created with the content creator/filmmaker in mind and at this price point, I can't wait to start shooting with one!
About the Author
Kristian Hampton is Wex Photo Video's Technical Editor for Pro Video. A video specialist who has worked in corporate studios for companies such as Vodafone Group and PwC, as well as working as a freelance grip on various TV productions and features. He also runs Krade Media, providing enterprises with production services. Follow Kristian on twitter @KrissHampton
Related articles