Matt Golowczynski takes a closer look at the new Panasonic Lumix GH5, the latest in the GH series of video-centric mirrorless cameras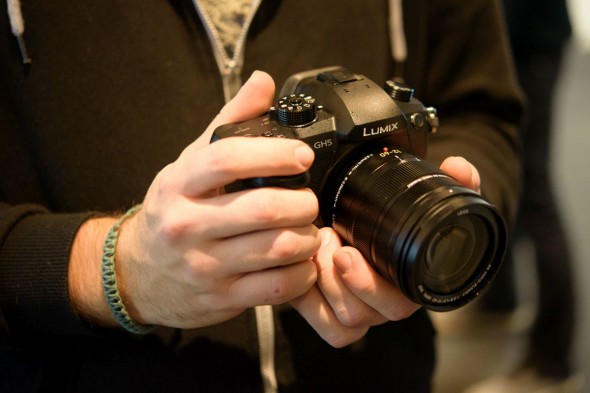 Hands-on with a pre-production sample of the Panasonic Lumix GH5
At a glance:
New 20.3MP Micro Four Thirds sensor, no optical low-pass filter
Dual IS Mark II system, up to 5EV stops compensation
New Venus processing engine
4K UHD (3840 x 2160p) and 4K DCI (4096 x 2160p) recording
4K 10bit 4:2:2 footage up to 25p/30p, 8bit 4:2:0 at 50p/60p
Variable Frame Rate mode up to 180fps
6K Photo option at 30fps
4K Photo option at 60fps
12fps continuous shooting (9fps with AF-C)
Light Speed AF with Depth From Defocus (DFD)
68-million-dot EVF, 0.76x magnification (in 35mm terms)
3.2-inch touchscreen LCD, 1.62k dots
Enhanced Wi-Fi and Bluetooth LE
Clean HDMI out (through full-size HDMI)
Dual SD card slots (inc. UHS-II)
Shutter rated to 200k actuations
Weather-resistant body with magnesium-alloy panelling
New grip
When Panasonic launched the world's first compact system camera back in 2008, there was no indication that the firm would develop into such a key player for video. In fact, that debut model, the Lumix G1, was notable for not offering video recording at all.
Things changed quickly, however. The video-centric GH1 arrived shortly after, not just with Full HD capture on board but with a kit lens designed specifically with video in mind.
Seven years and four models later, the GH series has developed a reputation for producing extremely capable video-recording cameras. While 4K video recording arrived via the GH4, the Panasonic Lumix GH5 builds on this with a range of additional options, some clearly in response to user feedback.
We were lucky enough to get our hands on a pre-production sample of the camera, as well as the new Leica DG Vario-Elmarit 12-60mm f/2.8-4 lens that will be one of the camera's kit options, to gather some initial impressions.
As this was a pre-production sample, we are not able to publish any images or videos we captured with the camera, but we do have a better idea of what to expect once it comes onto the market.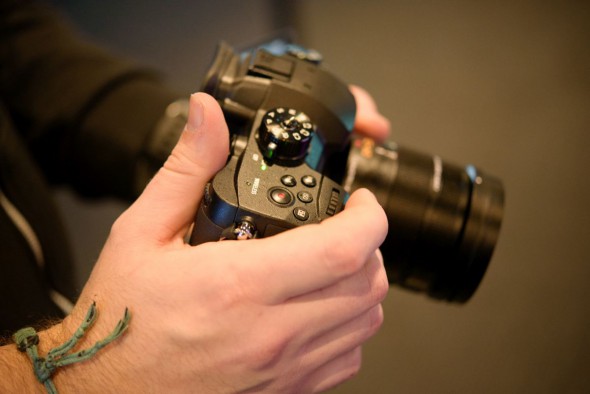 New sensor and Dual IS Mark II
The GH5 is the first Lumix GH model with a 20.3MP Micro Four Thirds sensor, a 25% increase on the 16.05MP count of the sensor inside the GH4. This follows the GX8 released last year, which offered the same pixel count, and also joins it in shunning a low-pass filter in favour of gathering more detail.
Furthermore, although Panasonic no longer numbers its processing engines, the Venus engine included here is also said to be different from what has gone before. For the new model, Panasonic has integrated its Dual IS Mark II system, which combines image stabilisation from both the lens and sensor and offers up to 5EV of image correction.
This shouldn't come as too great a surprise when you consider that this dual system has also been included with the most recent G80 and GX80. This particular development is significant here as the GH4 did not offer sensor-based stabilisation, and relied instead on stabilisation from the lens, which not all lenses offer.
The overall compensatory effect of the sensor's stabilisation system alone, however, is not the same as when using the Dual IS Mark II system, but it will no doubt be welcomed by those who regularly shoot hand-held footage.
Video specs
The ability to record 4K footage internally in 4:2:2 10bit quality was what many people expected to see after the model's announcement, and Panasonic has delivered.
This is recorded at a maximum 30p, but if you switch to 60p you can record 8bit footage with 4:2:0 chroma subsampling. Forthcoming firmware updates are also set to add Full HD 4:2:2 10bit video recording capabilities as well as 4:2:2 10bit All-Intra video recording in 4K 30p/25p/24p.
Another welcome change is that the GH5 does not apply the same crop factor as the GH4 when capturing 4K footage. On the GH4 this is around 2.3x although it depends on whether you are capturing in 4K UHD or 4K DCI. This in itself makes obtaining wide angles easier, which is even more the case when partnering the camera with a lens attached to a Metabones Speed Booster XL, something many will no doubt do.
Another change comes with high frame rates used for creating slow-motion footage. Whereas the GH4 offered a maximum 96fps setting, the GH5 boosts this to 180fps, with the further option of letting you select slightly slower frame rates if you prefer. The 96fps frame rate on the makes the camera an even more enticing option for capturing faster-moving subjects.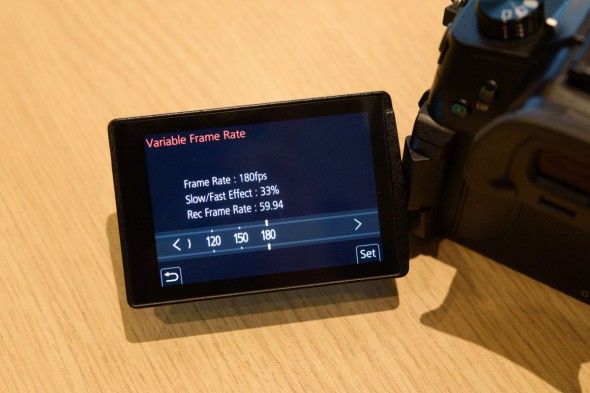 Varying the frame rate
Electronic viewfinder and LCD
Another upgraded feature is the electronic viewfinder. While the GH4's viewfinder contained an OLED panel that sported 2.36-million dots - perfectly respectable for a model of its kind – the GH5 has upped this to 3.68-million dots.
Viewfinder magnification has also increased from 0.67x to 0.76x (in 35mm equivalent terms). This new magnification is equal to that offered by Canon's flagship EOS 1D-X Mark II DSLR, the difference being that the GH5's viewfinder is electronic rather than optical.
The conditions in which we tested it – high contrast and under many artificial lights – did not give us the best opportunity to assess its performance, and on a pre-production sample only so much can be concluded for sure. But one thing we definitely did appreciate it is the magnification. As soon as you raise the camera to your eye you're presented with a view that's large enough to assess the scene clearly, but not so large that you need to look around the viewfinder to take in the scene in its entirety. Details also appear nice and clear, and the absence of noise in the poorly lit conditions is impressive.
The conditions in which we used the camera made it difficult to assess its dynamic range, but it certainly looks like Panasonic has focused on making this a stronger component, which is impressive when you consider that videographers are more than likely to rely on the LCD screen in the majority of occasions.
The LCD itself is clear and responsive to the touch and works well as a means of selecting point of focus, as we've come to expect from Lumix models.
The camera's overall responsiveness elsewhere is similarly strong, such as when changing settings or navigating the various menus. Incidentally, the menu system as a whole is fairly comprehensive but everything is reasonably clear.
While some aspects of Panasonic's GUI, such as the Q. Menu, have attracted criticism in the past, the main menu employs logical abbreviations and makes efficient use of space.
Those unfamiliar with the GH line are likely to be impressed by the degree of control that is offered over stills and particularly video recording settings, as well as the extent to which the camera's various controls can be customised.
Configuring the Fn buttons
Design and controls
The camera appears very similar to the GH4 in many ways, and the beefy grip still allows for comfortable DSLR-style handling. Many small changes have been made around the body, however, including slightly coarser ridges on both command dials and a slight repositioning of a handful of controls.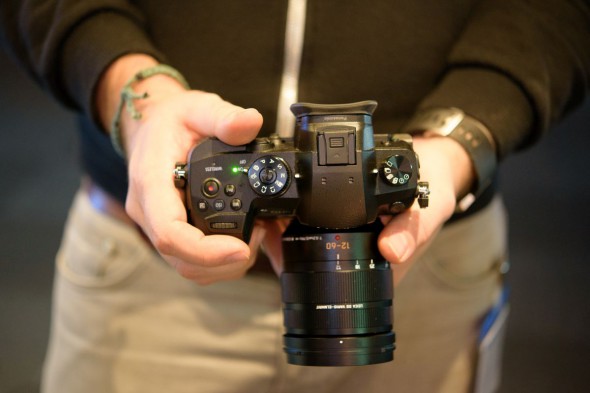 The camera sits comfortably in the hand, with key controls in easy reach
Another thing Panasonic has changed is the position of the video record button. On the GH4 this was positioned on the back plate close to the thumb, and has now moved to the top plate, joining the other buttons that were previously here.
This appears to be mainly due to the inclusion of a new joystick-type control in its place, which makes sense as this is the perfect position for it. The joystick is coated in a soft rubber and moves very freely, and its purpose can be changed according to user preference.
Regardless of where you prefer certain controls to be, the fact that the camera can be customised so exhaustively means that if you're not happy with the default setup, there's a good chance you can reorganise the controls to a configuration that suits you.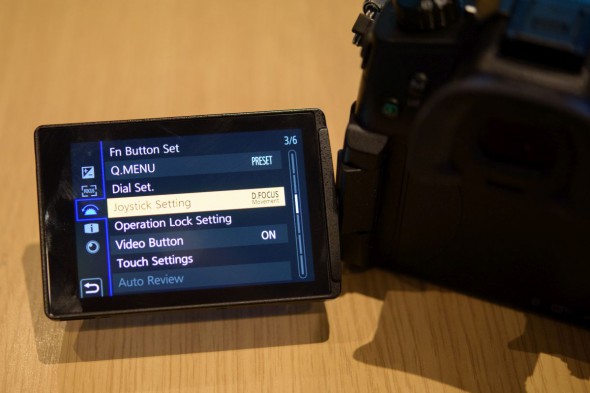 Adjust the joystick to control the function you use most
The same collection of function buttons as before are found around the body, and the mode dial once again is nice and tall, locking easily in place but turning well when needed.
The release mode dial on the top plate also follows the same idea as on the GH4, although it sports the 6K Photo option that has only been introduced to the range for the first time here.
The GH5 also joins other recent Panasonic cameras in having its bracketing mode replaced by the Post Focus feature, which captures a short video that allows you to determine the point of best sharpness in the scene and save this as a still image.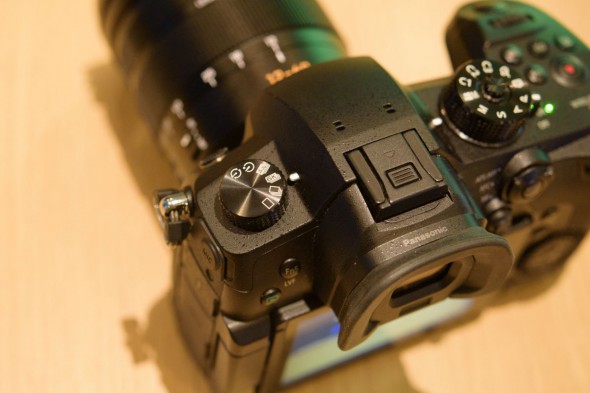 The release mode dial on the top plate
Another change from the GH4 to the GH5 is that the newer model offers a second card slot, with support for the UHS-II standard.
Furthermore, you can decide what this second card does if you don't simply want it to act as an overflow for the first.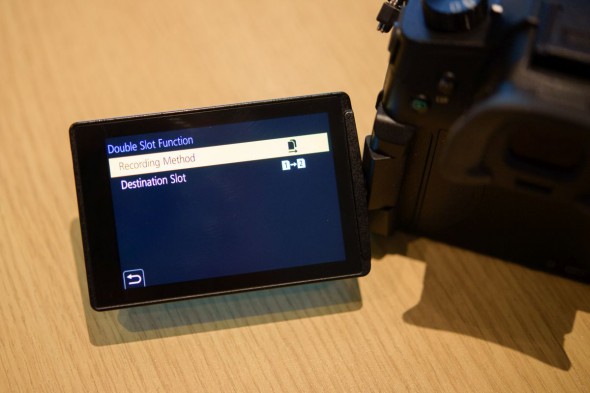 Configuring the card slots
One thing we did notice is the design of the card slots. While the slots are close together, they are more displaced from each other than on other cameras, presumably to prevent you from accidentally ejecting both at the same time. This design only allows you to eject the card when a specific side of it is pressed, which may take some getting used to, although having two slots certainly outweighs this slight inconvenience.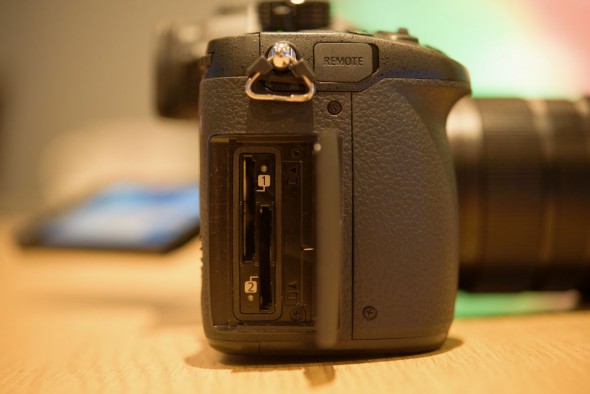 The dual card slots on the side of the camera
Around the side, the most significant change is the inclusion of a full size HDMI port, which replaces the microHDMI Type D alternative found on the GH4. This is apparently in response to user feedback.
The only other change of any significance here is that the previous USB 2.0 port is now a USB 3.0 port, which should allow for much faster data transfer than before.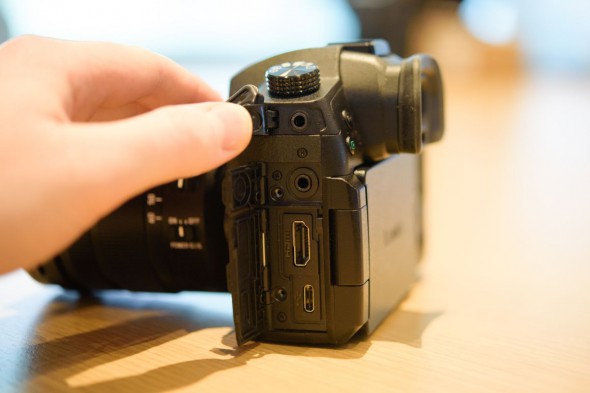 Input ports, no with USB 3.0
Autofocus
One of the most obvious ways in which you can appreciate the camera's responsiveness is through its autofocus system, which seems to acquire focus without any delay, whether you're using the camera conventionally or focusing through the touchscreen.
Once again, the system makes use of Panasonic's Depth From Defocus (DFD) system and Panasonic claims it can focus in as little as 0.05sec. As with all such claims, this relates to a specific lens and camera settings, and it's likely that low-contrast subjects or particularly dark conditions will create slight delays. It's worth noting though that we're very encouraged by what we've seen from the GH5 in the brief time we had with it.
We tested autofocus by pairing the GH5 with the new Leica DG Vario Elamrit 12-60mm f/2.8-4 lens, which is part of one of the camera's kit options. This lens bears a smart, streamlined design, with a metal barrel and tactile focusing and zoom rings. It feels solid in the hands and pleasing to operate, and would no doubt make an excellent partner to some of Panasonic's other Lumix models (perhaps as an alternative to the existing Lumix G Vario 12-60mm f/3.5-5.6 kit lens).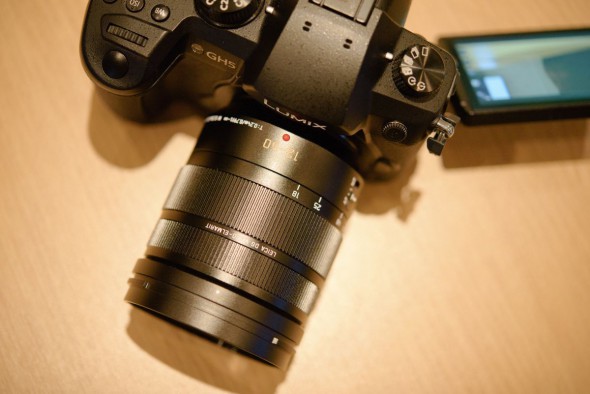 The GH5 with the 12-60mm attached
Verdict
Panasonic has certainly put a lot of work into making the GH5 a much more capable video tool than the GH4, and it's encouraging to see so many changes across the board.
What's particularly welcome to see is that it's managed to achieve this by building on what was already an exceedingly accomplished video camera. Given its target audience, and the rate of change in the video recording market, we should expect the video specs to have been bolstered, and we get this.
Yet, on top of it all there's also a new sensor and revised stabilisation system, together with a superior viewfinder and a better LCD screen among a handful of smaller improvements.
Naturally, there may be one or two things that not everyone will love, such as the change in placement of the video record button, or the fact that the V-LogL option is an optional and chargeable extra rather than something included as standard, although Panasonic does throw in the same CineLike D and CineLike V profiles from before.
The appeal of the GH5 is clear. With the advantage of the short flange back distance and compatibility with a range of adapters, together with a superb set of core and secondary video specs, it presents itself as an ideal model between consumer-level mirrorless cameras and far pricier video-centric systems.
While clearly a video camera first and a stills camera second, the GH5's spec sheet should make it clear that it can be used across both with confidence.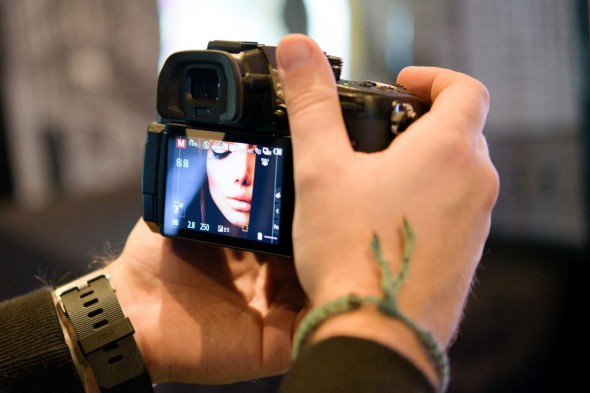 Related articles