Need an affordable camera that does it all? We run through the best point-and-shoot compacts available for a great price right now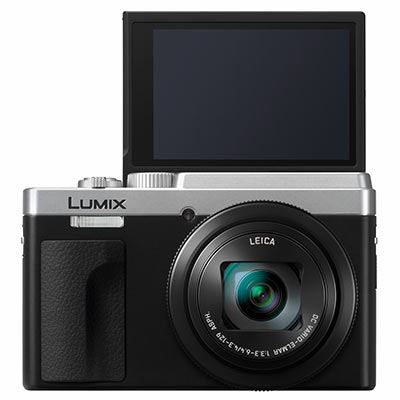 The best thing about point-and-shoot cameras is that straight out of the box you have an all-in-one imaging system at your disposal. A sophisticated sensor pairs with a versatile lens to make for a shooting combination that works in all manner of different situations. If you're a travelling photographer, it's an ideal choice, as you can keep your options open for shooting without having to carry loads of gear.
Compact cameras can be expensive, there's no doubt about that. But they don't have to be. There are loads of great compacts available for knock-down prices, and here at Wex we've got a selection of shooters to tantalise photographers of all budgets. Whether you want a great travel camera, a useful second camera to complement an existing system, or just are the type of person who always loves a bargain, our list of the best compact cameras for less than £400 is sure to have something to tempt you.
So let's get to the cameras!
This is one of the cheaper compact cameras around right now, but it doesn't skimp on quality. The Sony Cyber-shot WX350 is a fantastic machine for its price, pairing an 18.2MP Exmor CMOS sensor with a 20x optical zoom lens, and powering all this with a BIONZ X processor that makes the camera faster than ever. This means it boasts features like 10fps continuous shooting, 4K video, Optical SteadyShot image stabilisation and a handy Intelligent Sweep Panorama 360 for making striking panoramic shots.
Compact and lightweight, decked out in stylish black (though white is available), the Sony Cyber-shot WX350 is an absolute bargain for its price. Whether you're a beginning shooter or just someone who wants a cheap and reliable compact camera for your existing setup, this is a great choice to pick up for a low, low price.
Need more zoom in your life? The Canon PowerShot SX740 HS has your back, equipped as it is with a whopping 40x optical zoom lens that'll allow you to get closer than ever before. This makes it perfect for travel shooting, where you never know what kind of subject might be lurking on the horizon, and you can be sure that you'll capture it in all its resplendent detail thanks to the 20.3MP CMOS sensor. As well as high-quality stills, the SX740 HS can also shoot 4K video, so whatever you plan to capture, you can be sure you'll get it in all its glory.
Though it may be small, the SX740 HS is mighty. It's got Wi-FI capabilities to allow you to share your images quickly and easily, and it's also got always-on Bluetooth to make this process even faster. Its autofocus is lightning-fast and it can burst shoot at up to 10fps, so you'll never miss even the most fleeting of moments. For this price, this is a hell of a lot of camera, and it'll become your best friend in no time.
If your photographic adventures are a little tougher than the average, try the Olympus Tough TG-5. This fantastic waterproof camera is equipped with a durable outer casing that protects it from shocks, freezing temperatures, heat, crushing pressure and more. All this would be worthless of course if the camera didn't produce great images, but luckily the TG-5 is a massively impressive little shooter. Its 12-megapixel backlit CMOS sensor pairs beautifully with a 4x optical zoom lens, producing images of terrific contrast and clarity, even underwater.
There are loads of great extra features stuffed into this camera too. It shoots 4K 30p video and offers the option to shoot Full HD in super-slow motion at 120fps. GPS, a compass and the OI.Track app all give you access to a great system for tagging images with location data, and underwater HDR mode allows you to get more definition on light and dark areas in your underwater shots. The controls are also customisable, so you can set it up in a way that suits your shooting style.
Many smaller compact cameras have to make do with smaller sensor, however the Canon PowerShot G9 X Mark II packs in a glorious 20MP 1-inch type sensor that makes it a great choice in all sorts of lighting conditions. It offers satisfyingly tactile DSLR-like control of functions and features, thanks to an ergonomic button layout and a lens control ring, and built-in Wi-Fi and NFC make it easy to share your images.
Whatever you plan to shoot, the G9 X Mark II will be able to handle it. The camera works exceptionally well in a multitude of different shooting situations, and thanks to some useful automated modes, it can also produce fantastic JPEGs straight out of camera, reducing the need for time spent sitting at the computer post-processing images. Dual image stabilisation systems make it easy to shoot high-quality images handheld, and if you want to take expert creative control it's also possible to shoot in 14-bit RAW.
One of the best travel compacts in the business, the Panasonic Lumix TZ95 is available for a fantastic price. It joins the legendarily successful TZ series of compact cameras optimised for travelling photographers, pairing a 30x optical zoom LEICA lens (24-720mm) with a 1/2.3inch CMOS sensor with 20.3 megapixels of resolution. It produces images that look fantastic in all different situations, and does it all in a body that's pocketable.
The TZ95 is also equipped with all of Panasonic's customary 4K video and photo modes, which allow the user to extract high-quality stills from 4K footage. The TZ95 also shoots stills in RAW format and sports a new high-resolution Live View Finder for precise image composition. It's sleek, stylish and sophisticated – everything you could want from a compact like this, and all for a fantastic price.
About the Author
Jon Stapley is a professional journalist with a wealth of experience in a number of photography titles including Amateur Photographer, Digital Camera World and What Digital Camera. See more of his writing on Jon's author page.
Related articles