Could this be the future of the flashgun? Canon announces the SPEEDLITE 470EX AI, with automatically adjusting head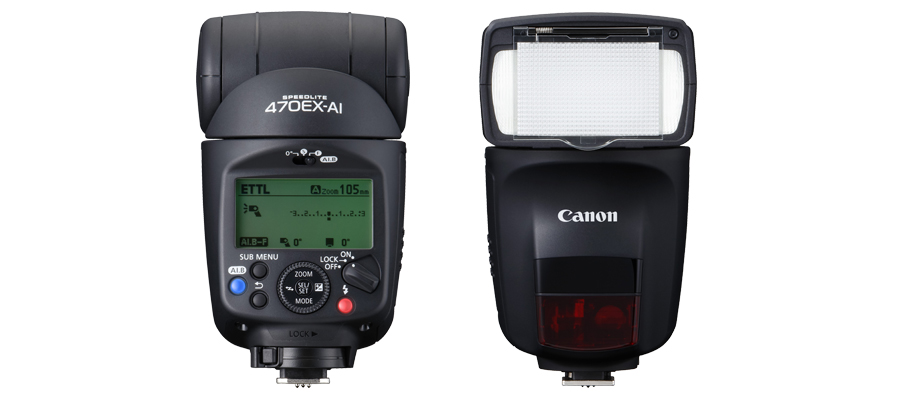 Pre-order the SPEEDLITE 470EX AI, here.
Whether you're illuminating dimly lit spaces, freezing moments of action or creatively controlling lighting, flashguns are one of the most essential items of kit, beyond a camera and lens. But just like the wheel, flashguns haven't changed much over the years so there's rarely much to get excited about when a new one gets released. So, when we heard Canon was releasing a flashgun with on-board artificial intelligence, we couldn't wait to witness this innovative piece of tech in action.
The SPEEDLITE 470EX AI features a motorised head and Auto Intelligent Bounce mode. This allows the flashgun to automatically (and continuously) adjust the position of its head for optimal bounce flash. If you're an event, wedding or portrait photographer looking for the fastest and most consistent way to obtain flattering lighting, this could be it.
Once set to Auto Intelligent Bounce mode, the 470EX AI's head will quickly initiate two test flashes; one facing forward and one facing directly upwards. This allows it to read the differences in illumination to calculate the optimal head position and power level to illuminate the subject. From that point onwards, it will continuously maintain this position, even if you flip the camera into its portrait orientation. Watching the 470EX AI move around on its own is sure to be a conversation starter when capturing groups, it's certainly something we've not seen before!
There's also a Semi-Auto mode that uses the same technology, but allows users to select the starting position of the flashgun's head. This is useful if you want to produce more directional lighting, perhaps bouncing light off a wall rather than the ceiling. Of course, you can freely change the head's angle, when this setting is deactivated, without the risk of damaging it. All traditional flash modes have been maintained too.
With a guide number of 47m and lens coverage of 24-105mm (14mm with included adaptor), this mid-range flash also boasts a Wireless Optical receiver for remote triggering and connectivity with other flashguns. A clear dot-matrix LCD on the flashgun is used to navigate its intuitive user interface; shortcut buttons and a control wheel provide fast access to settings. Powered by 4AA batteries, Canon suggests that although the unit's motor will mean it uses more battery than a standard flashgun, the power-saving made by the reduced need to test flash should offset this for most users.
About the Author
Matt Higgs has worked for Practical Photography and Digital Photo magazines, and his live music images have been featured in numerous respected music publications including Rock Sound, Guitarist, Guitar Techniques and Akustik Gitarre. www.matthiggsphotography.co.uk.
Related articles