The next evolution of the DJI Ronin-S, the DJI RSC 2 is a stabiliser for DSLR and mirrorless systems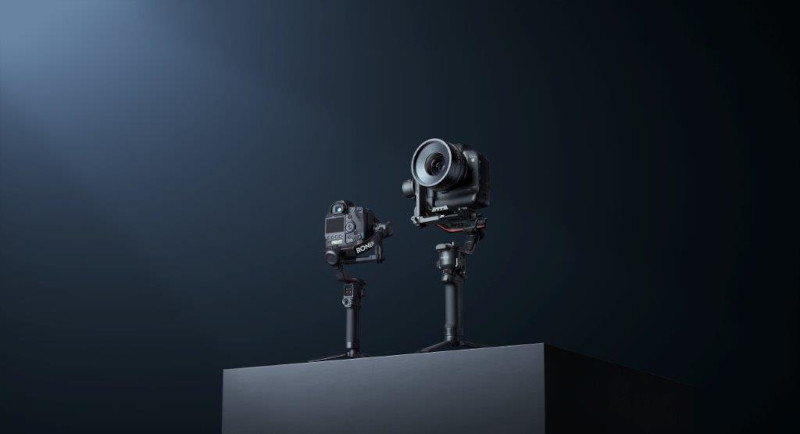 The new DJI RSC 2 (right) beside the Ronin-S (left)
Announced today, the DJI RSC 2 is a stabilising gimbal that looks set to be a serious temptation for filmmakers and other content creators everywhere.
Thanks to an impressively innovative folding design, the DJI RSC 2 is both bigger and heavier than the Ronin-S, and capable of folding up to a transport size with a smaller footprint than an A5 sheet of paper. It also comes with a dedicated carrying case that has a new splashproof design, with individual compartments for all the stabiliser's constituent parts.
Weighing 1.2kg and supporting a payload of up to 3kg thanks to its carbon fibre and aluminium construction, the DJI RSC 2 is very much a gimbal for professional setups, including both mirrorless and DSLR. It uses DJI's "Titan" stabilisation algorithm, which is optimised to capture smoother footage than ever before, and can be further augmented by activating SuperSmooth mode. This mode compensates for micro-movements and increased torque, and is designed to provide near-complete stability even when you're working with 100mm zoom lenses.
In terms of its physical design, the DJI RSC 2 features a front-facing dial that makes it easy to make focusing precise adjustments and operate the stabiliser one-handed. You can also use Dual Handed control for greater security, and the gimbal can also be used as a hand grip. It uses a Manfrotto and Arca dual mounting plate to provide maximum compatibility with different brands of camera and accessory, making it easy to slot the RSC 2 into an existing workflow.
The DJI RSC 2 uses a RavenEye Image Transmission system, which not only transmits video but also allows for remote control of camera settings with a smart device. With a range of up to 200m and a latency of just 60ms thanks to Force Mobile functionality, this means you can take complete control over your shots even when physically separated from the camera and gimbal. ActiveTrack 3.0 also can be used to track a subject via the source signal of the camera.
All these functions help you take advantage of the on-board creative modes, which include timelapse, panorama and "roll 360", which spins the camera for a rolling shot. With a single tap, you can also switch to portrait mode, which is handy if you're shooting content for social media.
A built-in OLED screen measuring one inch in width is a further help with taking command of settings, and even with this feature, the RSC 2's batteries promise an impressive 14 hours of runtime, with fast-charge capability to minimise downtime.
A natural progression from previous DJI gimbals like the Ronin-S, the DJI RSC 2 promises to bring unprecedented stability to a new generation of filmmakers using DSLR and mirrorless systems. We're excited to get a closer look at this product, and in the meantime you can learn more by heading to our store page, where you can also get your pre-order in.
About the Author
Jon Stapley is a professional journalist with a wealth of experience in a number of photography titles including Amateur Photographer, Digital Camera World and What Digital Camera. See more of his writing on Jon's author page.
Related articles