Fujifilm has bolstered its medium-format mirrorless camera range with the surprise announcement of the Fuji GFX 50R

Like 2017's GFX 50S, Fujifilm has chosen Photokina as the stage upon which to unveil its second model for its popular G-mount range, the GFX 50R. Like its older brother, the GFX 50R sports a meaty 51.4MP sensor, but this time, it's both smaller and lighter. The new medium format camera weighs just 920g with EVF attached and is a mere 66.4mm thick, that's 145g lighter and 25mm thinner than the GFX 50S. Indeed, we're expecting this camera to be a more comfortable choice for periods of extended use (wedding photographers take note), as well as far more portable, making it better suited for genres such as street photography.



Sensor and image processor
That acclaimed 51.4MP medium format CMOS sensor is paired with Fujifilm's X-Processor Pro image processing engine for superior image quality. As you'd expect from a Fujifilm camera, the GFX 50R supports the company's coveted Film Simulation modes, replicating vintage tones from the film-shooting days of yore, such as Velvia, PROVIA and ACROS. Studio professionals will no doubt take advantage of the GFX system's ability to shoot while tethered to a computer too.

Currently, HS-V5 for Windows and Tether Shooting Plug-in PRO for Adobe Photoshop are supported. Fujifilm has also announced at Photokina a new relationship with Phase One though, and the GFX 50R will have Capture One compatibility soon.
Form factor and build
Like the GFX 50S, the GFX 50R sports a focus lever to allow for speedy focus-point adjustments. The selector buttons have been removed to free up space when holding the camera and we'd imagine this is a particularly welcome change, thanks to the model's smaller size. On the top panel you'll find two milled aluminium dials, one for shutter speed and one for exposure compensation. The GFX 50R sports a 0.77x electronic viewfinder, with a 3.69m-dot resolution. Those heading out into the field needn't worry, the GFX 50R is weather sealed to provide dust and weather resistance, and is able to operate in temperatures as low as -10 degrees.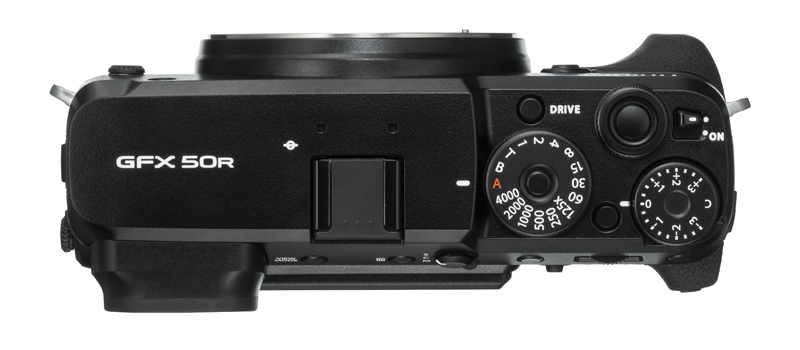 Bluetooth Low Energy
A huge boon for some photographers will be the GFX 50R's compatibility with Bluetooth Low Energy. Paired with Fujifilm's Camera Remote app, the camera is able to send images to smart devices, making social media updates and important backups possible in a variety of shooting situations.

Fujifilm have announced at Photokina a new relationship with Phase One. The GFX 50R will have Capture One compatibility. This will allow for RAW processing, tether shooting for the GFX 50R, X-H1, X-T3, X-T2, X-Pro2 and film simulation. This is going to be music to the ears of many customers.

Related articles