A host of exciting releases come from Fujifilm, as we reveal the new X-S10 mirrorless camera and XF10-24mm lens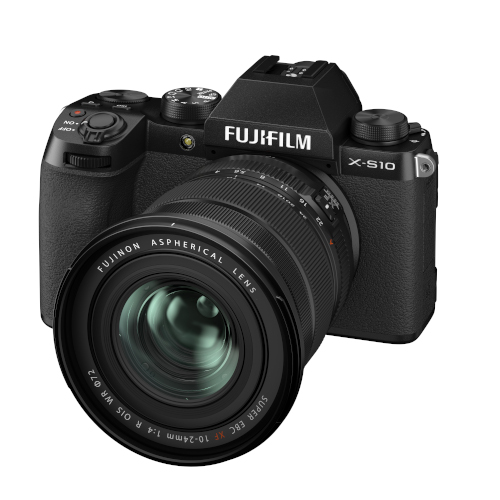 The new XF10-24mm lens mounted on the equally new Fujiflm X-S10 camera
Announced today, the Fujifilm X-S10 is a new mirrorless camera for the X series that blends professional features with a lightweight, travel friendly build. Sitting in the middle of the X range, it's a great camera for enthusiast photographers and/or videographers, as well as intermediate-level shooters looking to step things up a gear.
Though it weighs just 450g body-only, the X-S10 packs in loads of great features. Fujifilm has reworked the five-axis image stabilisation system to be both lighter and more effective, so even with its small size, the X-S10 can deliver up to six stops of effective compensation.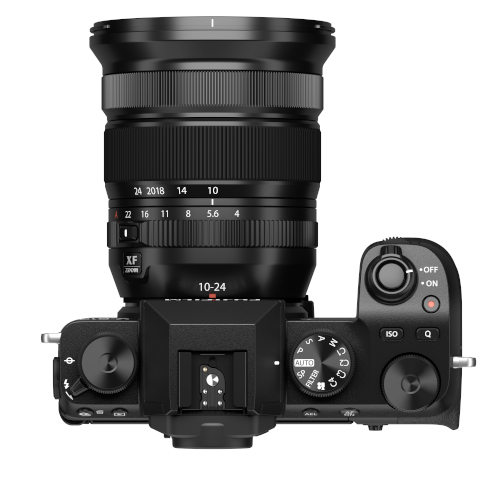 A look at the top plate on the X-S10
It's the first mid-range X camera to use a motion sensor retention mechanism, which adds further sharpness and detail to an image by guarding against slight vibrations caused by the shutter mechanism.
The X-S10 uses the 26.1MP X-Trans CMOS 4 sensor, which allows it to take advantage of on-sensor phase-detection autofocus, with 2.16million phase-detection pixels at its disposal. This means it can achieve focus in as little as 0.02 seconds, and also boasts useful features like Tracking AF for moving subjects and Face / Eye AF for human faces. This functionality pairs well with blackout-free burst shooting at up to 8fps using the mechanical shutter, or up to 30fps using the electronic shutter.
Also a dab hand at video, the X-S10 produces pristine 4K video by oversampling 6K video, and can record 4K 30p 4:2:0 8-bit video onto an SD card or output 4K 30p 4:2:2 10-bit video via its HDMI port. This pairs well with the high-quality flip-around LCD screen to make the camera a great choice for vlogging.
There's loads more to discover about the Fujifilm X-S10, so head to our store page to learn all about and pre-order this exciting new camera.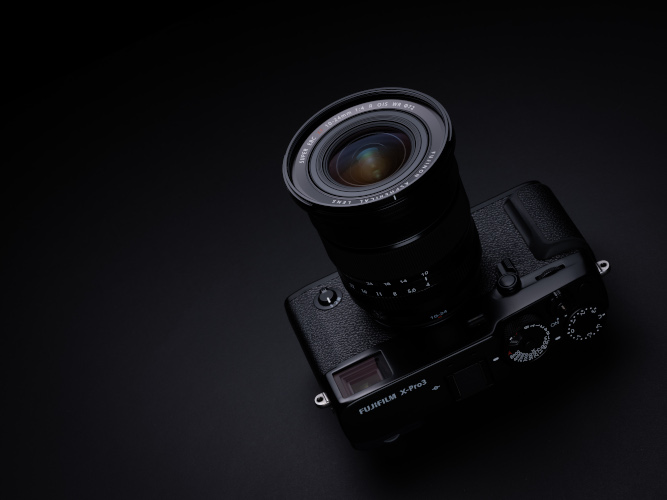 The Fujifilm XF10-24 F4 R OIS and the X-Pro3, an ideal pair for landscape shooting
Also announced today, this new wide-angle zoom for the Fujifilm X family is an update to the existing model of this focal range. It uses the same internal optical structure, however it has been enhanced with a weather-resistant build to make it more suited to outdoor shooting.
The new version of this ultra-wide landscape lens also has been updated with an F-stop scale on its aperture ring, as well as an Auto-position lock and a few slimming touches to reduce the overall weight by 25g. The lens' Optical Image Stabilisation system has also been improved, bolstering its performance up to 3.5 stops of effective compensation.
You can check out our store page to find out more about the new Fujinon XF10-24mm F4 R OIS.
Fujifilm X-T3 firmware update
Lastly, for users of the classic Fujifilm X-T3, a new firmware update has been announced to improve this mirrorless camera's autofocus capabilities.
The update brings the camera's focus-acquisition speed down to 0.02sec, bringing it up to the level of the X-T4. It also improves the X-T3's face-tracking and eye-tracking capabilities, as well as allowing the camera's AF to work in light conditions as poor as -7EV.
The firmware update is due to be released on October 28, 2020.
About the Author
Jon Stapley is a professional journalist with a wealth of experience on a number of photography titles including Amateur Photographer, Digital Camera World and What Digital Camera. See more of his writing on Jon's author page.
Related articles