The new Olympus OM-D E-M10 is the smallest and lightest digital OM-D to date. Find out what the camera offers and read our hands-on review of the new model.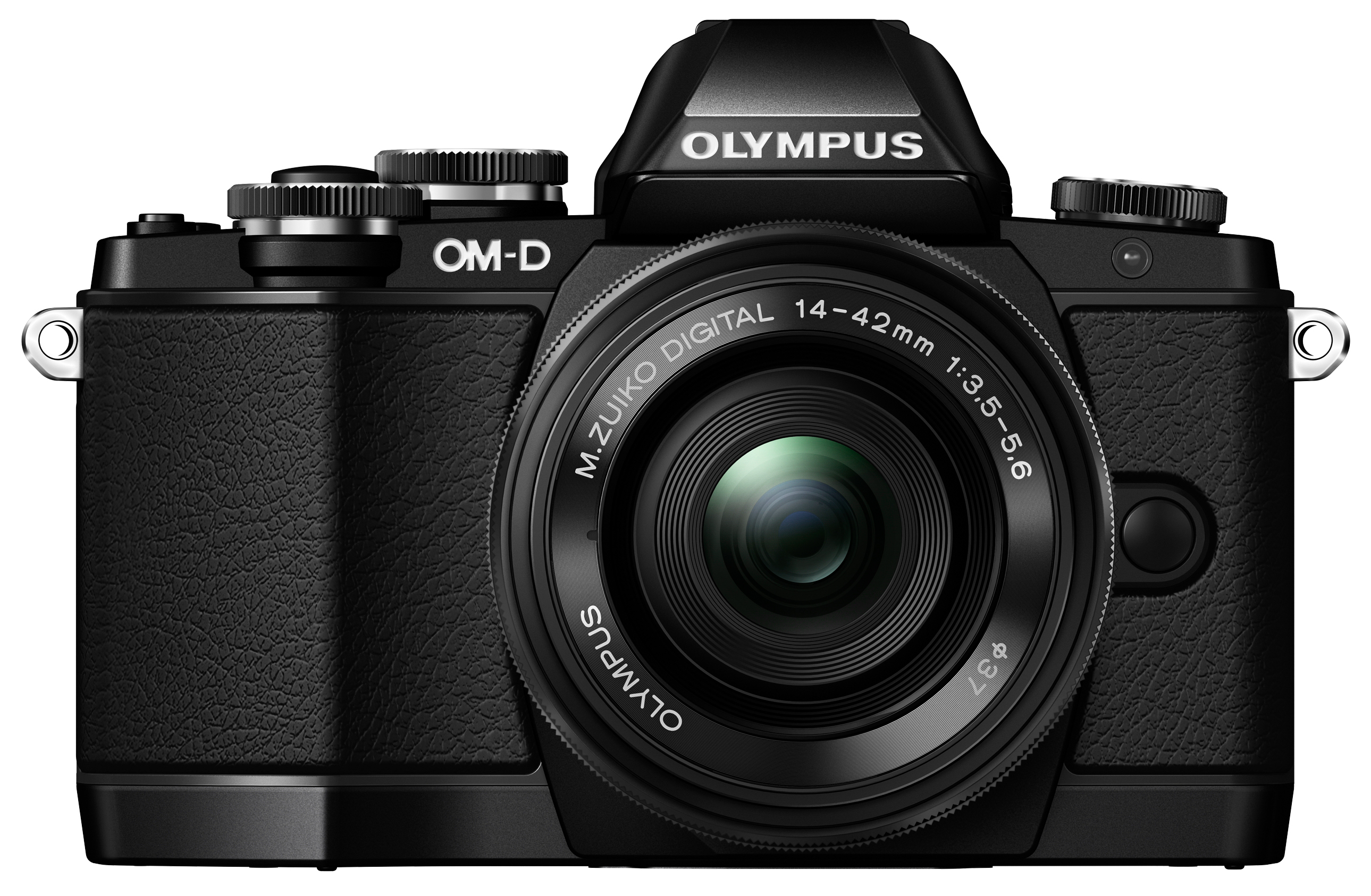 The new Olympus OM-D E-M10 carries on the retro styling of its OM-D E-M5 and OM-D E-M1 forebears, although it arrives in a smaller and lighter metal body.
It maintains the Micro Four Thirds mount common to all Olympus Compact System Cameras, and includes the same 16MP LiveMOS sensor as the OM-D E-M5. This works in conjunction with a TruePic VII processing engine inherited from the pricier OM-D E-M1 to deliver image quality that, according to Olympus, exceeds that of APS-C DSLRs.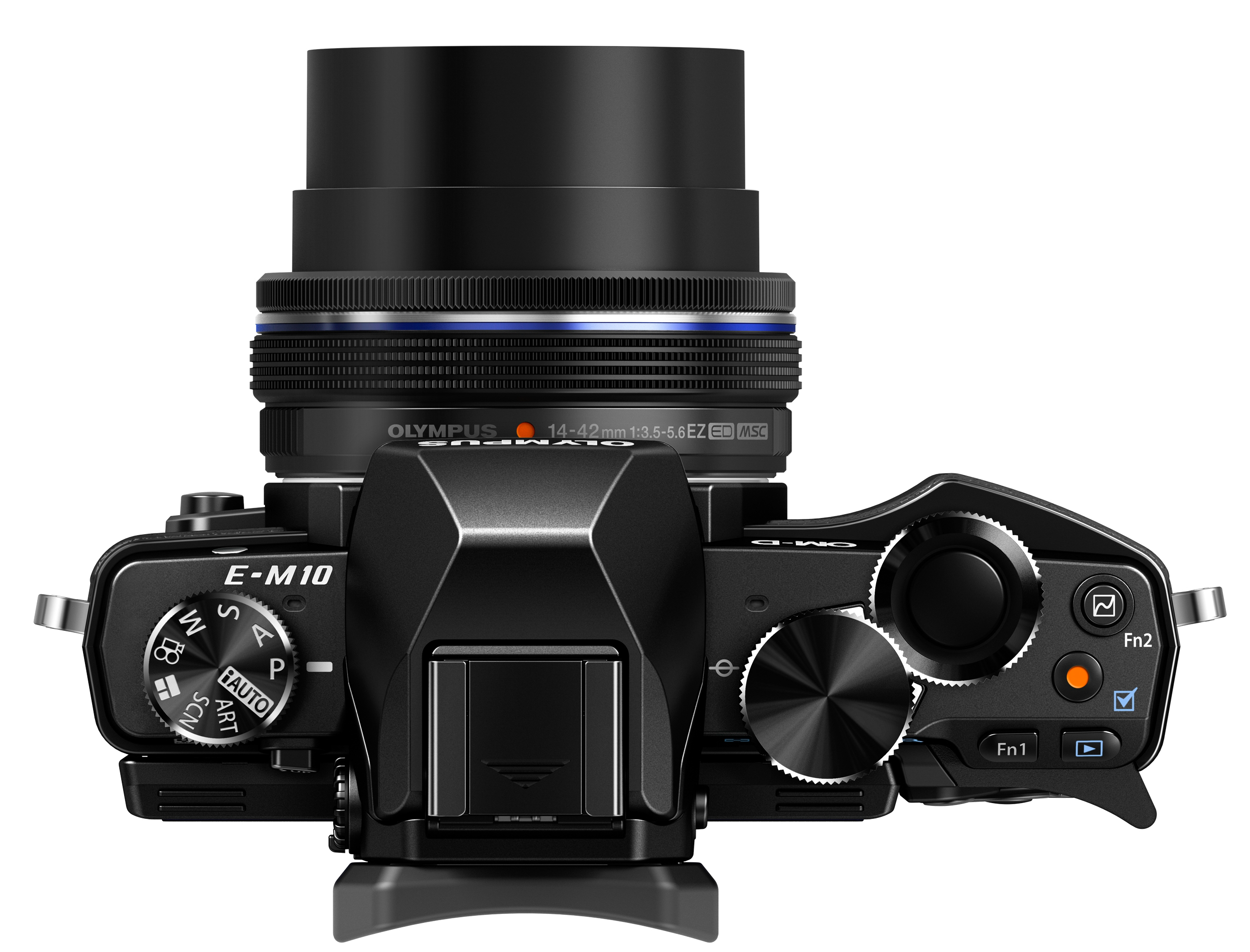 Among its highlights is a 1.44 million-dot electronic viewfinder (EVF), which marries 100% frame coverage with a 0.57x magnification. Adaptive Brightness Technology is said to adjust the brightness of the display according to the scene, with the display refreshed at a rate of 120fps when in the high-speed drive mode. There's also an eye-sensor to its side which is said to switch between the rear LCD display and the EVF in just 0.33sec, and between the EVF and the display at 0.37sec.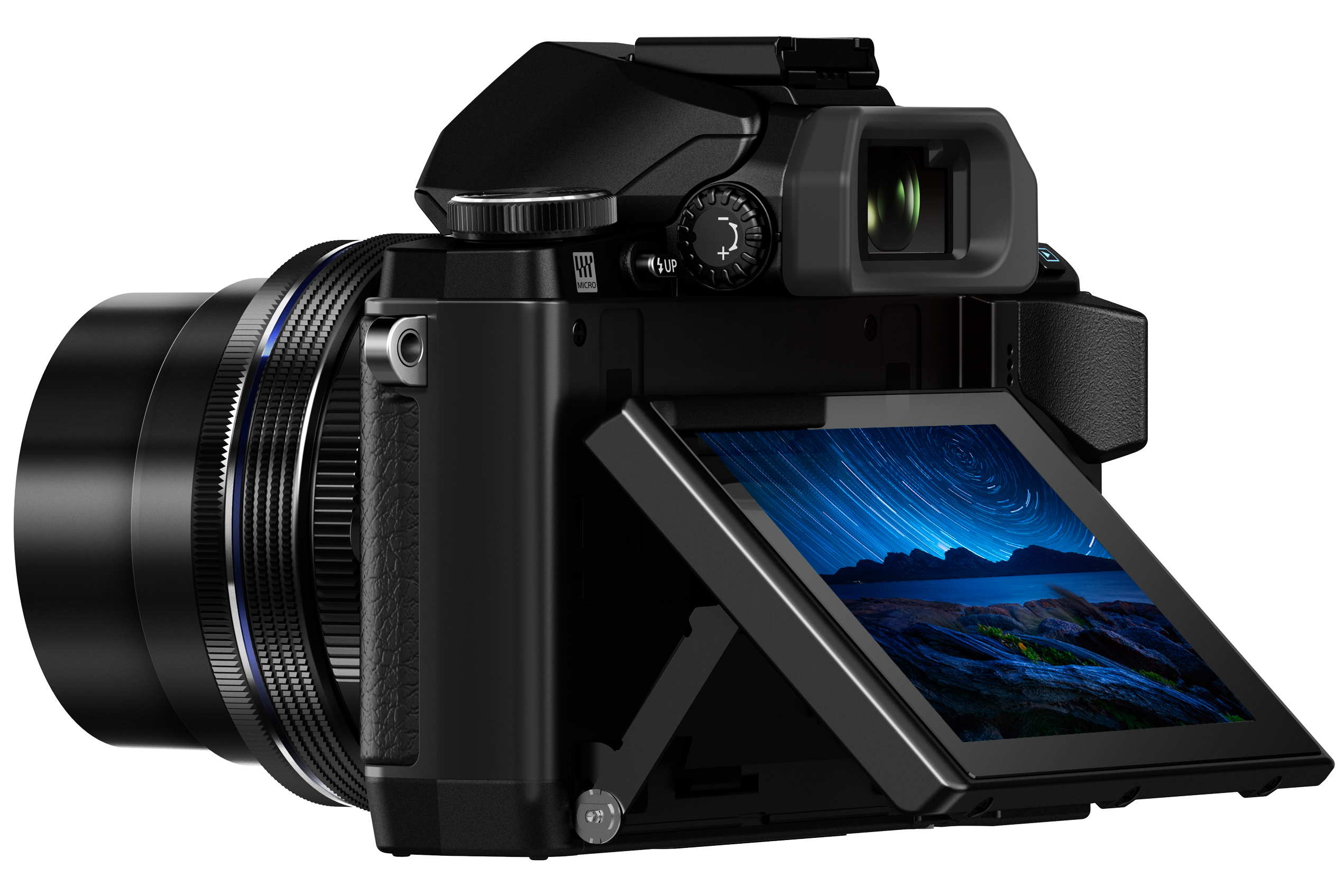 The LCD measures 3 inches in size and boasts a 1.04million-dot resolution, and can be pulled away from the camera's body before being tilted up an down. As with previous models the display is also sensitive to touch; this can be used to specify areas of focus and select menu options, as well as during image playback.
To help keep images sharp, the OM-D E-M10 incorporates a three-axis VCM image stabilisation system. This sensor-based system is said to have a stabilising effect of up to 3.5EV stops and works with all mounted lenses, with an additional electronic stabilisation option coming into play when recording video. Videos themselves are captured in full HD quality, and it's even possible to capture a still image while recording movies at a resolution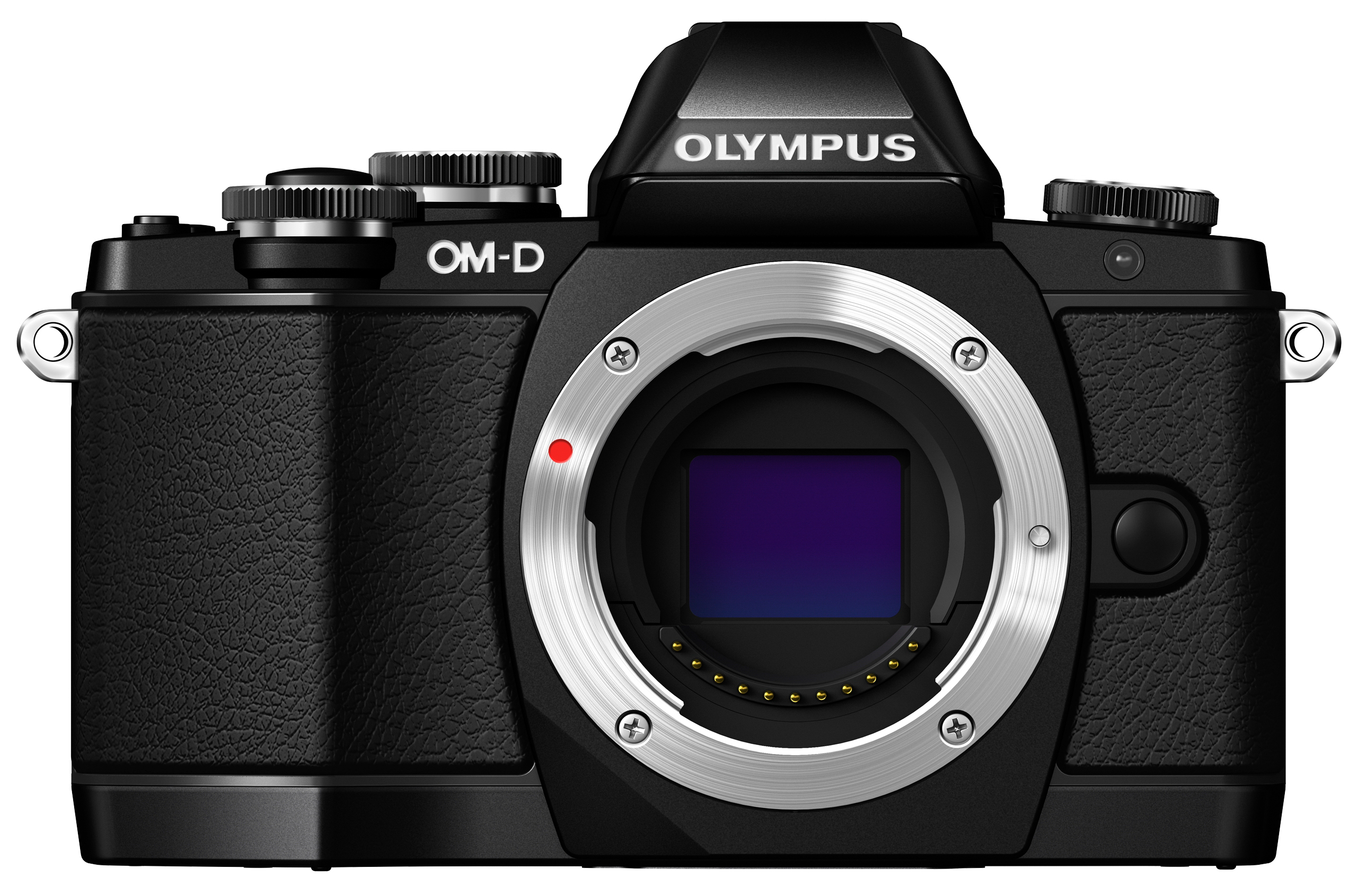 The OM-D E-M10 can capture a burst of images at a rate of 8fps, which drops to 3.5fps when continuous autofocus is employed, while the 81-point contrast-detect AF system is said to sport improved tracking for moving subjects. And, when manually focusing, the camera is also capable of showing focus peaking.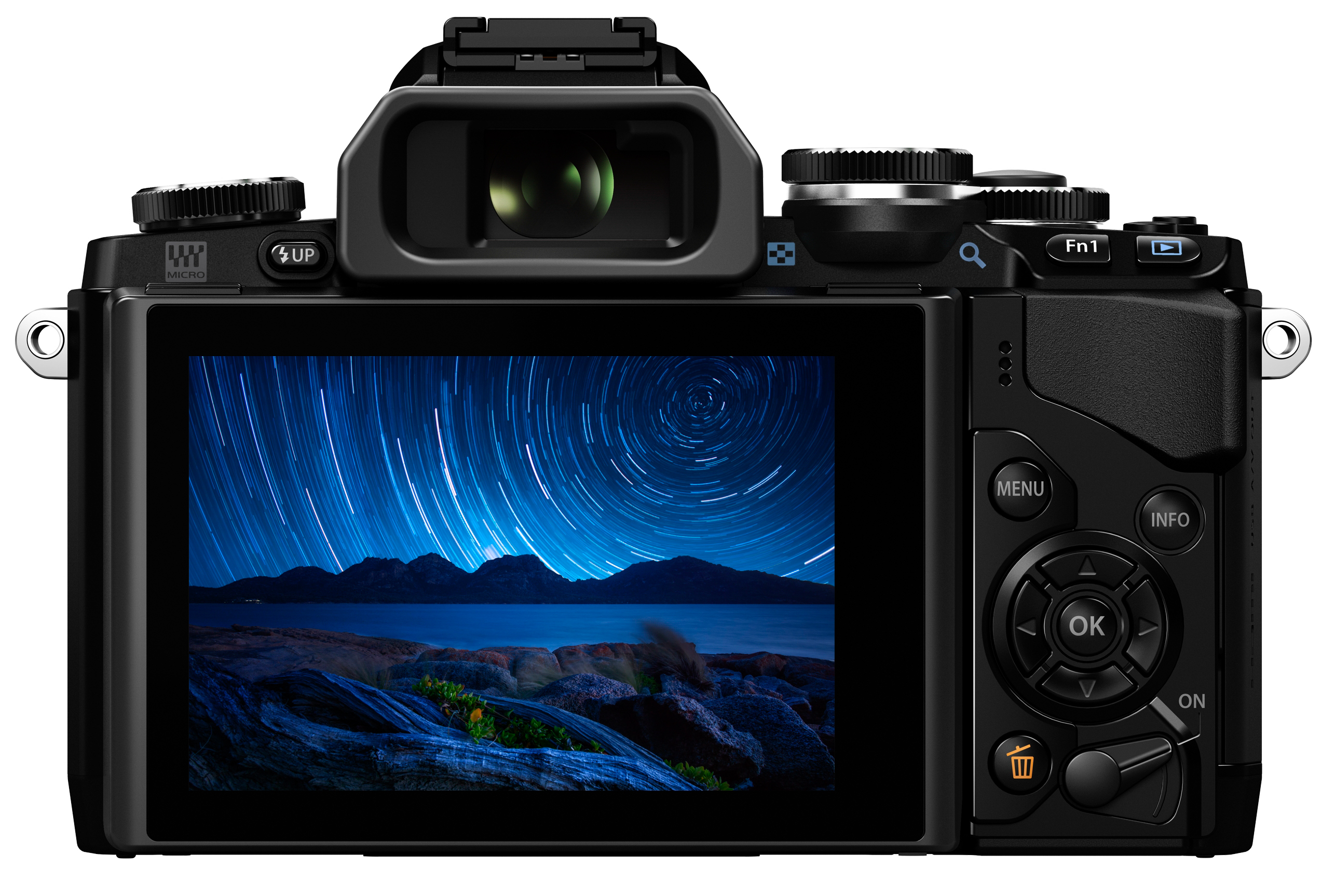 The previously-seen Live Bulb mode, which allows users to monitor the progress of a long exposure as it's being captured, has now been joined by a Live Composite option. This works on a similar principle, although it combines images captured at regular intervals into a single shot, which makes it particularly useful for photographing star trails.
Other notable features include built-in Wi-Fi, which can be used for both image sharing and remote triggering via a smartphone or tablet, as well as a small pop-up flash with a guide number of 5.8m at ISO 100. Olympus's Art Story option also features, as do 12 Art Filters which include Watercolour, Cross Process, Dramatic Tone and Grainy Film.
Olympus M.Zuiko Digital ED 14-42mm f3.5-5.6 EZ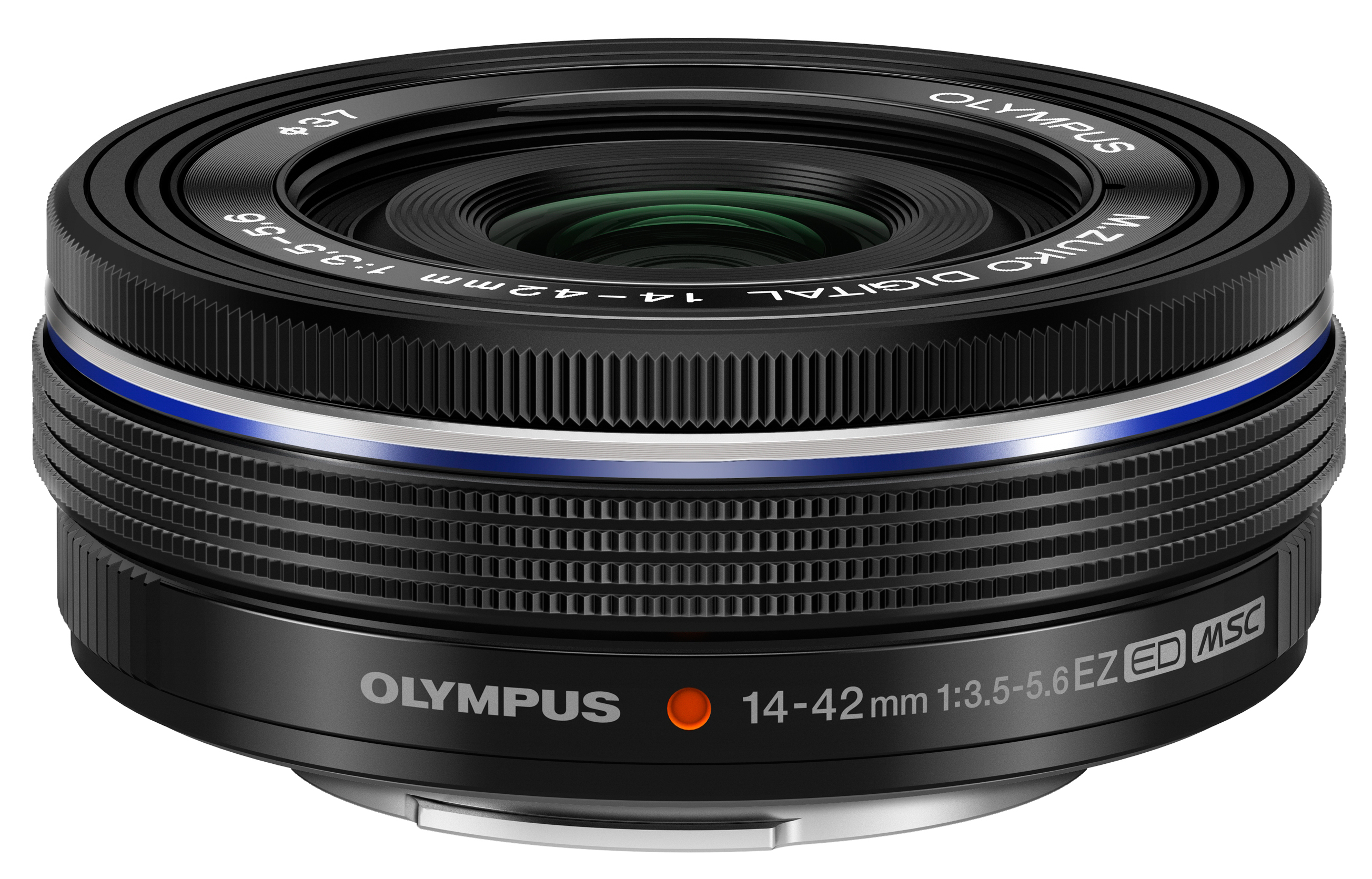 Olympus has also launched a new kit lens alongside the OM-D E-M10, the M.Zuiko Digital ED 14-42mm f/3.5-5.6 Electronic Zoom. Despite it offering a standard kit zoom lens range, it's no deeper than a pancake lens and weighs just 93g. Two further lenses have also been announced, the M.Zuiko Digital 25mm f/1.8 and a 9mm f/8 fisheye body cap lens.
Olympus OM-D E-M10 specifications:
16MP LiveMOS sensor
TruePic VII processor
Electronic viewfinder, 1.44m dots
3" tiltable, touchscreen LCD, 1.04m dots
1920×1080 video recording
Built-in Wi-Fi
FAST AF system
Approx 8fps burst shooting (3.5fps with continuous AF)
119.1 x 82.3 x 45.9mm
350g (body only)
Olympus OM-D E-M10: hands-on review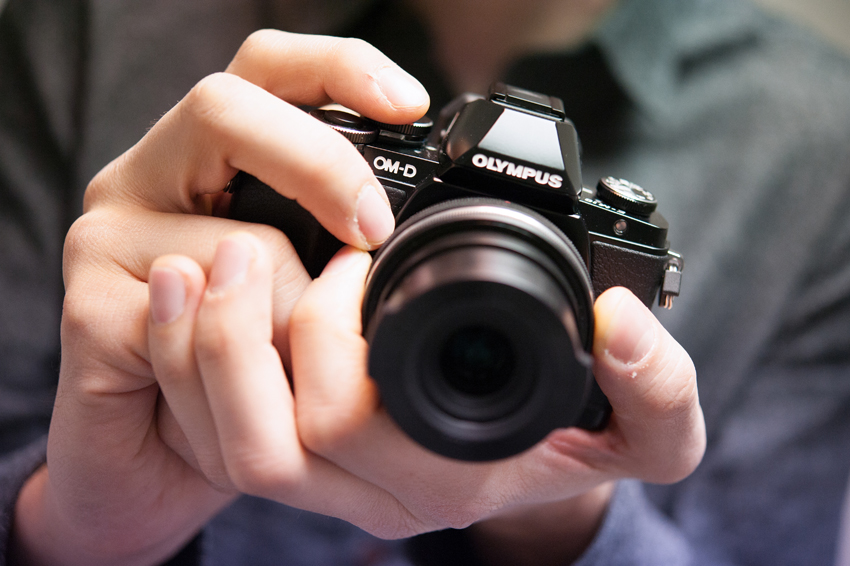 We were lucky enough to get a couple of days with a full production sample of the Olympus OM-D E-M10 and the M.Zuiko Digital ED 14-42mm f/3.5-5.6 lens last week, as well as a sample of the new LC-37C lens cap. As both the camera and lens were running v1.0 firmware, we expect the following comments will be as valid for retail samples as they will be for the ones we used here.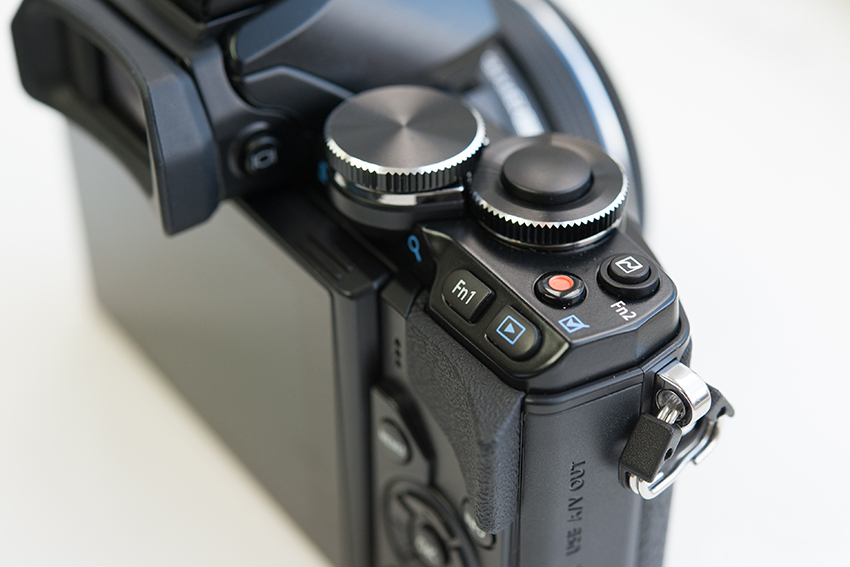 Despite being smaller an lighter than both the OM-D E-M1 and E-M5 models, the OM-D E-M10′s design only differs from the latter in a handful of ways. The command dial around the shutter release button stands far more proud of the top plate than on the OM-D E-M5, while the playback and Fn1 buttons directly behind it, which have shifted further towards the side of the camera and have swapped places with each other, are also less defined and at more of an angle to the back plate.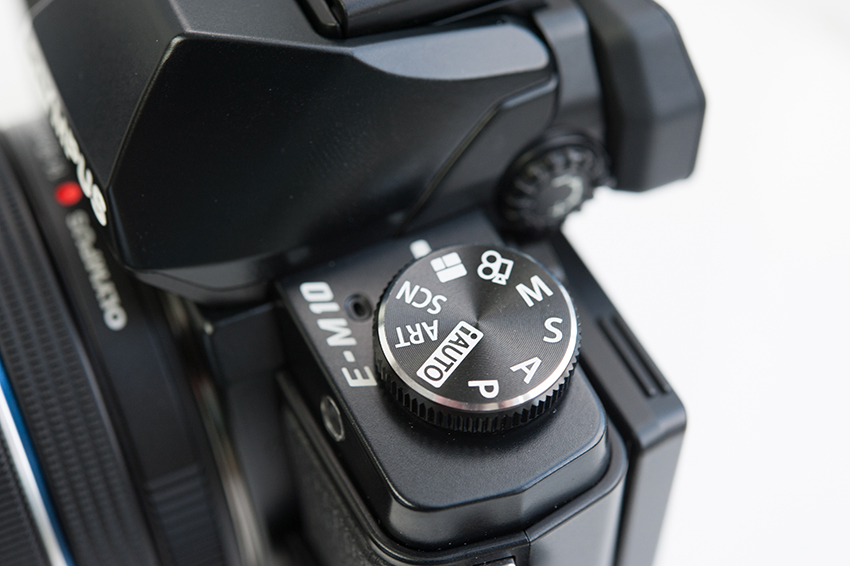 The mode dial on the other side of the top plate follows the command dial in protruding higher from the top plate, while the diopter control has also has a makeover. There's also a new button next to this which raises the camera's built-in flash, something which was lacking from the OM-D E-M5 on account of it not having a flash built in to its body.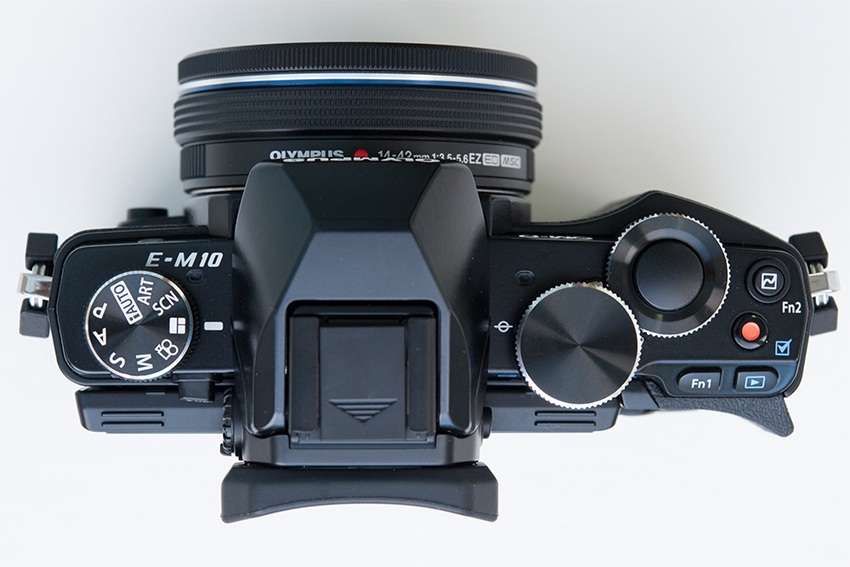 The dials on the top plate all turn very easily and are responsive, meaning that an aperture or exposure compensation range can be cycled through in little time. The ease with which the rear dial turns also comes in handy when zooming into images, with a quick flick of thumb immediately magnifying the scene, although being so large and prominently positioned means that on a couple of occasions it did get knocked out of position a little easily.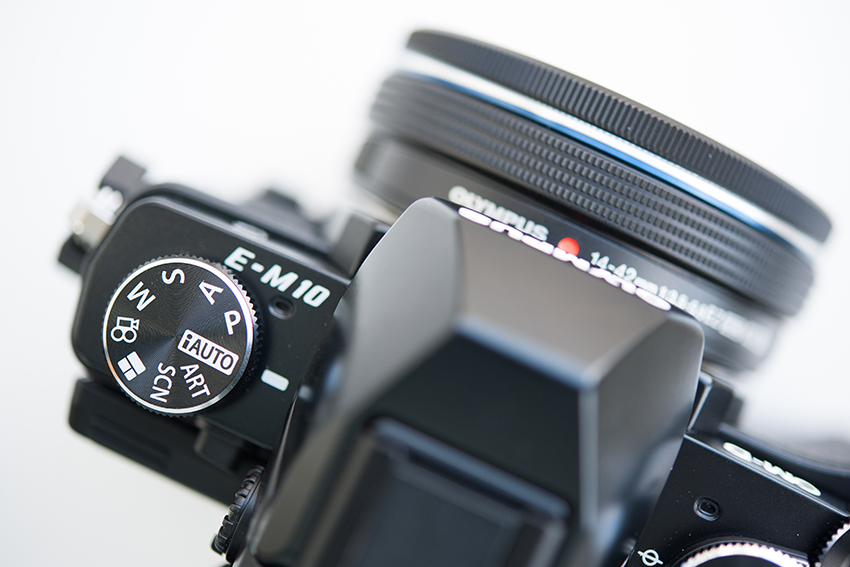 The Olympus OM-D E-M10 sports a sensor-based, tri-axis, VCM Image Stabilisation system which is said to help maintain sharpness at longer focal lengths and slower shutter speeds. The effects of this are quite clearly visible as the shutter release button is pressed, with any jarring noticeably steadied in both the viewfinder of the LCD screen. This also has the benefit of providing a more stable feed for composition, although this can be disabled where not required.
The camera also helpfully displays the focal length of the lens as it is zoomed so you can monitor this at all times. With the kit lens this happens steadily, which allows you to achieve a particular focal length accurately, although when you want to move from one end of the focal range to the other, you can't quite do so as quickly as you would with a more conventional optic that doesn't rely on electronic zooming.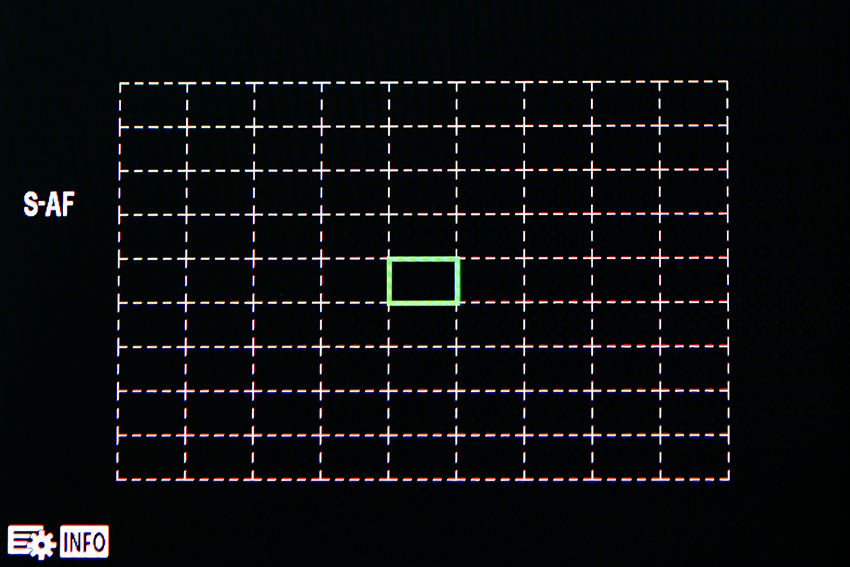 As the image above shows, the camera's autofocus system covers a good deal of the frame, with 81 addressable areas. And, as on previous models such as the Olympus Pen E-P5, it's possible to contract the focus point to Small Target and Super Spot AF options, which is useful when photographing particularly small subjects.
The AF system appears perfectly capable of bringing most subjects and scenes to focus in little time. As with any such camera there is a slight slowdown at nighttime and in dim conditions, where the lens speedily shuffles back and forth through its focusing range, although the powerful AF-assist light springs into action where necessary to help illuminate the subject and make autofocus as fast as possible.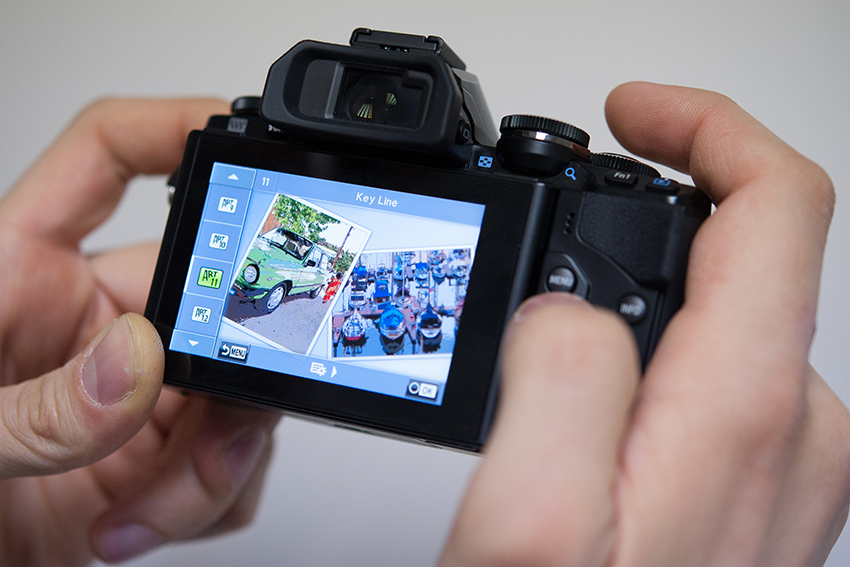 The camera's display is pleasingly bright and detailed, with a respectable viewing angle in balanced lighting conditions. While we experienced no particular issues outdoors in brighter light, the screen's articulation means that, should any such issues occur, they are likely to be easily dealt with by simply adjusting the display to a slightly different angle. The viewfinder's eyecup does get in the way a little when the screen is tilted to be perpendicular to the camera's body, although this is easily remedied by pulling it out a out a touch.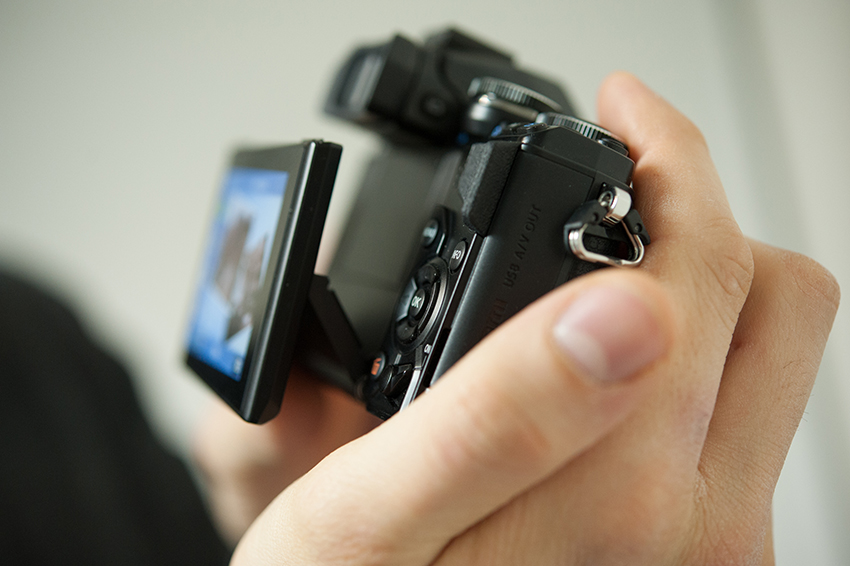 The screen is also as responsive to touch as we would expect from such a camera, quickly registering touch to either place the autofocus point where required or selecting different options. The camera can also be set to display both horizontal and vertical levelling indicators, which help the photographer to keep the camera level. This is particularly useful for a camera such as the OM-D E-M10 given that the articulated display allows it to be used in less orthodox positions, such as on the ground or above head height, and it's welcome to find these clearly defined on the screen, making them easy to see even when visibility may be hindered by particularly harsh light.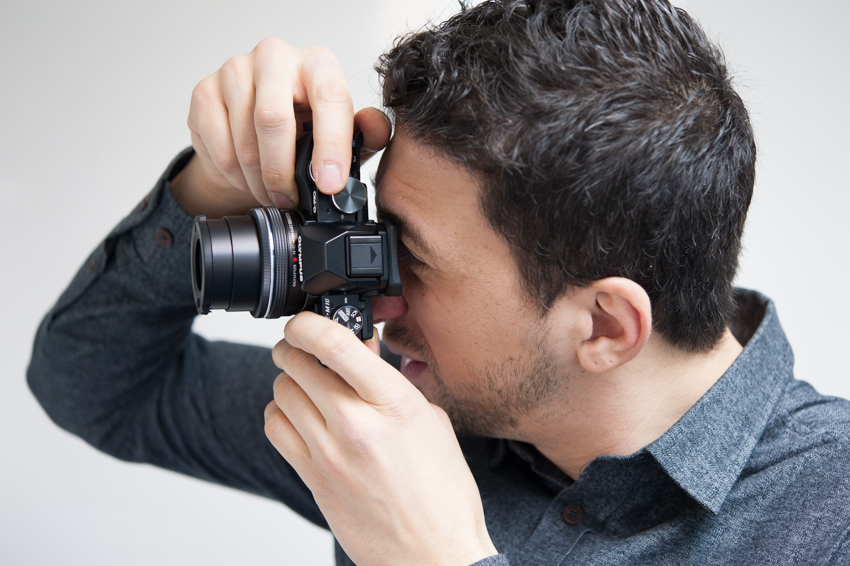 The eye sensor to the side of the viewfinder responds promptly when the user's face is moved towards and away from it, alternating between showing the feed on the LCD and the viewfinder (assuming you have it set up to do this). There's also little to complain about with regards to visibility; contrast is good contrast and details show clearly, while the display itself is pleasingly large. And, of course, as an electronic device, it proves to be particularly helpful in low-light conditions where an optical viewfinder would be less useful.
Olympus OM-D E-M10: Final thoughts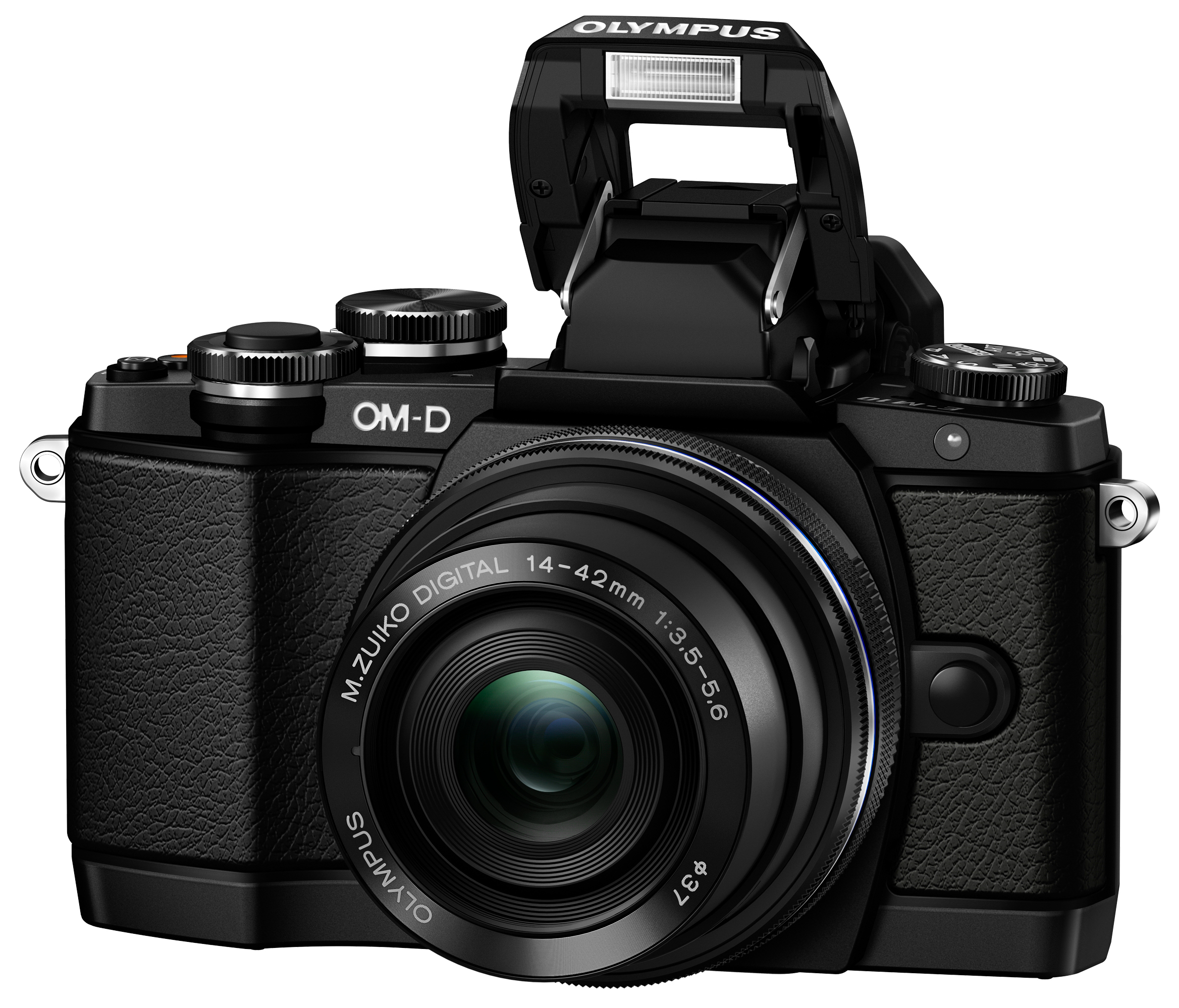 On paper, the Olympus OM-D E-M10 appears to fill a logical gap between the upper-entry-level PEN models and its elder OM-D siblings, and will be no doubt considered against compact DSLRs such as the Canon EOS 100D and the Nikon D3300. It's also welcome to see another CSC that's not too large enough to be squeezed into a coat pocket, although the electronic nature of zooming the kit lens means that's its less suitable for spontaneous captures than a lens that's operated mechanically.
Still, it's hard to ignore the many other boxes the camera ticks. A model of its size with both an electronic viewfinder and a tiltable display is still something of a rarity at this level (the Sony NEX 6 and Panasonic GX7 being the most obvious competition here), while the further advantage of touch-functionality and a built-in (and effective) image stabilisation system arguably make it more flexible in a variety of situations. Another bonus is that, as a member of the Micro Four Thirds system, users also have access to the widest range of lenses available for any such camera, from Olympus and Panasonic, as well as third-party options from the likes of Sigma.
Related articles