Sigma has launched a photo/video hybrid mirrorless with a suite of specs that belie its small stature
The Sigma fp reveal trailer.
Following the revalation in July of Sigma's mysterious full-frame project, today's launch sees the internet abuzz what the Japan-based imaging manufacturer is calling, 'the world's smallest and lightest full-frame camera.' The body, free from battery and storage card, weighs a meagre 370g and can be comfortably held in the palm of one's hand (112.6 × 69.9 × 45.3 mm).
Body, sensor and lens choice
A largely die-cast aluminium body is chief in keeping the weight down, while also providing what should prove a durable frame, and one that's splash and dustproof to boot. The camera is built around a back-illuminated 24.6MP full-frame Bayer sensor and uses an electronic shutter, exclusively. Photographers are well-equipped with Face/Eye Detection AF, HDR shooting, Tone Control mode, Color mode and Fill Light (a function previously only available in SIGMA Photo Pro).
Touting the much-talked-about L mount, the SIGMA fp will of course take full advantage of SIGMA's L-mount lenses. The recently released MC-21 mount converter, available for SIGMA's SA-L or Canon-EF-L, opens up even more possibilities. That leads us nicely towards the fp's biggest talking point: video.
Serious video potential
If you've watched the various videos now availavble online, you will have most likely seen the fp dressed in various rigs and dripping with video accessories. Alongside its own dedicated accessories, the compact body is said to be compatible with "cinema camera-like user interfaces." Make no mistake; this is intended to be a serious film camera.
In fact, Sigma tells us the fp supports the recording of RAW video. It can record in 12-bit CinemaDNG at up to 4K UHD at 24fps when paired with a compatible external recorder. For internal recording, we know that All-Intra options are available, allowing users to obtain quality footage, without the large file sizes created when shooting RAW. We hope to find out more specifics about the recording formats soon.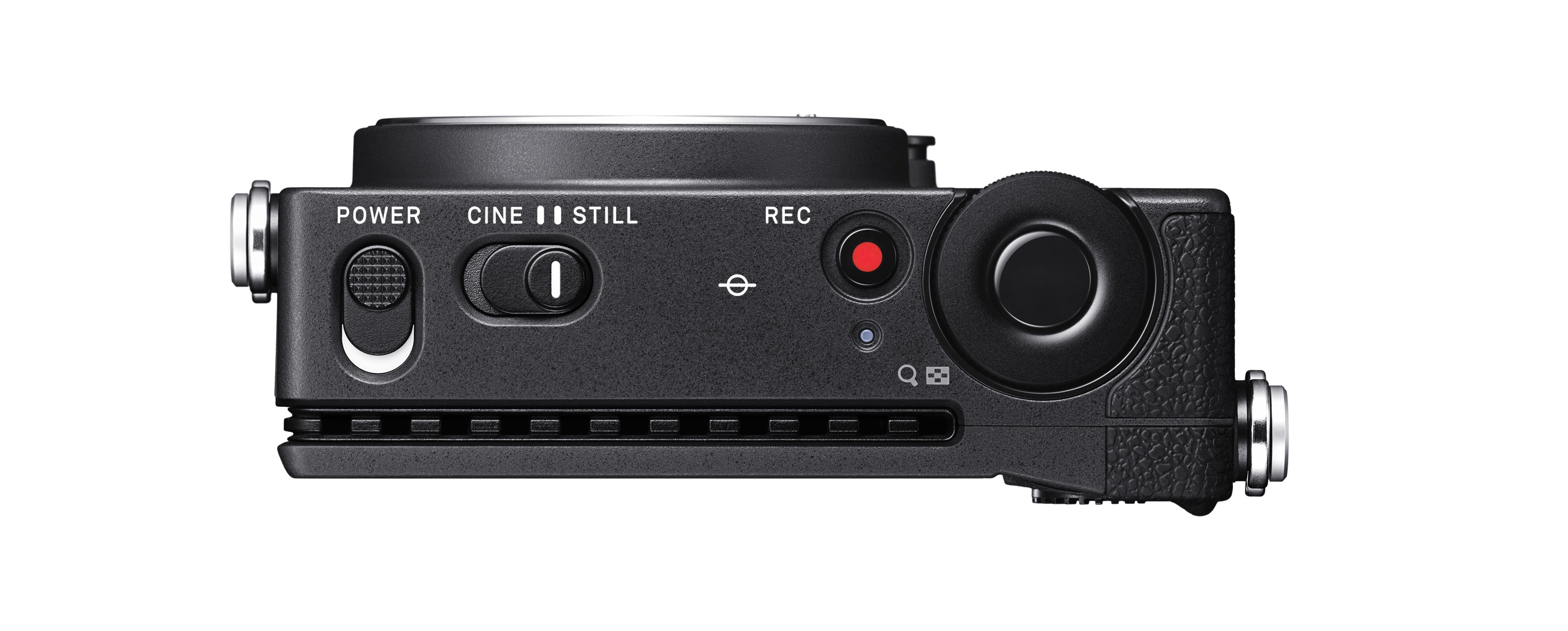 Just in case you weren't tempted by the fp's filmmaking potential already, its cine mode features a variety of specialist video functions including shutter angle and waveform displays, and zebras. A focus peaking function should also appeal to filmmakers who predominantly use manual focus.
A surprising and forward-thinking feature that will not doubt pique the interest of directors and DOPs is the director's viewfinder function. This allows the fp to simulate how an image looks on various cinema cameras (including the ARRI ALEXA LF, Sony VENICE and RED HELIUM 8K) and even anamorphic lenses. As it stands, you'll have to wait for a firmware update before you can record/playback footage with the director's viewfinder enabled. But regardless, this could prove a much sought-after function indeed.
In yet another ode to the filmmaking contingent, the fp features a large heat sink inspired by those found on professional cinema cameras. This should come into its own during long periods of use or shoots in hot temperatures. If you're a content creator who's interested in both stills and video, the fp can move between the two modes at the flick of a switch.
Want to be among the first people to get your hands on this tiny mirrorless beast? Pre-order below.
About the Author
Mike Harris is Wex Photo Video's production editor and is an experienced journalist with a passion for motorsport photography. You can view his portfolio via @MDHarrisPhoto on Instagram.
Related articles