So here's the new OM-D, the D is in case you didn't guess it was digital. After a long hiatus it succeeds the much loved OM4, so in a fit of extra nomenclature it is also designated the E-M5. It may look like a film camera but retro is so fashionable that it's modern, so maybe this year's black is old school? Olympus haven't gone as far as Fuji and their new boy is nostalgic not faux vintage.
However many happy memories it brings back, this little SLR-a-like is digital throughout and so the real nerd news is about the technology under the magnesium skin of this new micro four thirds contender.
Sensor specs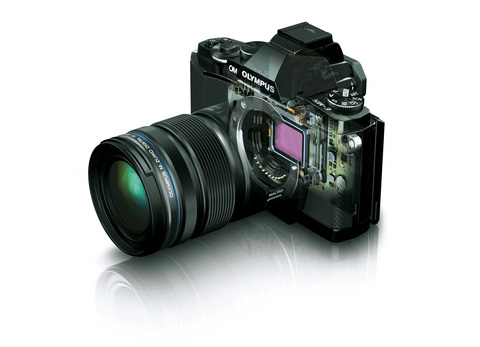 There's been endless sensor speculation online but as it is 'Live MOS' it must be from Panasonic and as it manages 240Hz output it's almost certainly different from anything used so far. For fact fans this baby has 16 Megapixels and is 4/3 sized – little else is known. It will be similar to previous chips because Panasonic, like every semiconductor company, has their own intellectual property to exploit. It claims improvement in dynamic range and noise – top ISO is 25600!
Yet faster focus
That high readout speed yields what is claimed to be the fastest AF anywhere. A gazillion Hertz may sound like snake oil jargon but it means that the camera can adjust and evaluate focus 240 times a second. Traditional SLRs know which way they have to move a lens into focus using phase detection - remember aligning those semicircles through the viewfinder of your film SLR? Compacts and mirrorless cameras don't know distance but do know 'sharp'. So they 'fiddle' both ways until they know which direction to set off.
View from the hill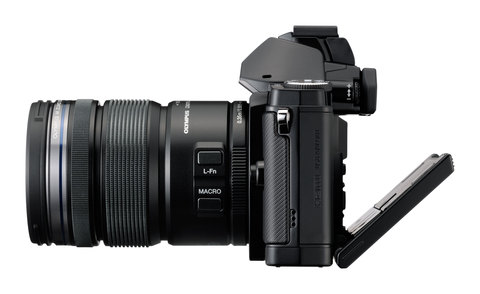 That SLR hump hides an electronic viewfinder – and sensors for the in-body IS. The EVF is a little 1.44 million pixel LCD that's the same res as the widely enjoyed VF-2 (which can be used on the E-M5 because it wears an AP2 accessory port) driven at 120Hz. That's fast enough to give smooth natural motion and negligible blackout between shots. In fact it has a new mode that can portray exposure progress during long shutter openings, so even lightpainters and astrophotographers can watch their work take shape.
Weatherproofing
The camera is built on a cast magnesium chassis which is weatherproofed (and they do say proof not just resistant) to the same degree as the legendarily robust E-1, 3 and 5. In my experience that means immune to rain, snow and salt spray until the photographer is fed up! There's no built in flash but the new clip-on unit that's included with the body is environmentally sealed too.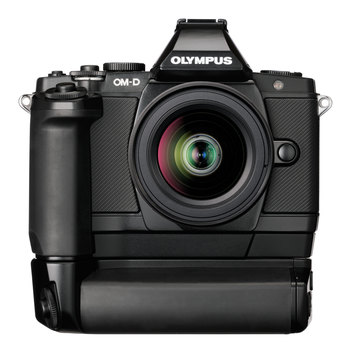 The mount looks standard (it is) and takes all the existing micro four thirds lenses but has gained a new weatherproof micro four thirds to four thirds adaptor so you can take full size 4/3 lenses out in the rain. The 12-50mm kit lens – which arrived late last year as a bit of a teaser – is also weatherproofed. It's not the brightest kit lens but does rate as decently sharp and can do double duty as a nearly macro lens. It is also the fastest focussing m4/3 lens too – needed for the 'fastest AF' claim!
The body is slightly smaller than an OM4, and markedly more compact than any DSLR. To counter reservations that this would hamper handling larger lenses there's a nice looking two part grip and power pack. The first adds significant landscape handgrip (plus shutter and programmable button) and the latter a portrait grip, shutter, two more custom buttons and space for an extra battery.
New 5 axis stabilisation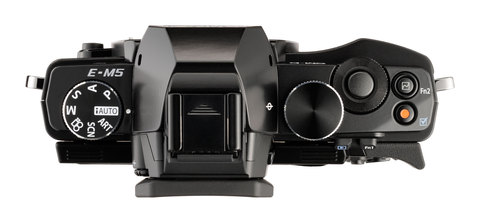 To implement Image stabilisation in-body or in-lens remains the big difference between Panasonic and Olympus philosophies. The 'old' Olympus IS system has been ironing out shakes effectively for years. The new version adds correction for 3 more types of movement. It has been difficult for anyone to explain this well but in essence it now allows humans to wobble unevenly, not just jig vertically or sideways. It's not beyond the bounds of possibility that this technology could be aiding focus too – that hasn't been mentioned so maybe that will happen in the future. This enhancement should aid macro shots – which don't benefit from most systems.
Touchy feely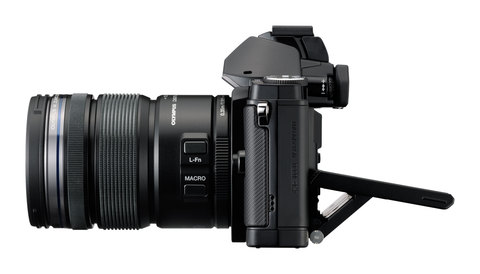 The 3" OLED Touch screen on the back is the same unit as used on the E-P3 and tilts like the one on the E-PL3. That's cool for street shooting at the cost of very little added depth. The touch screen offers treats like selection of focus points and touch shooting but the camera isn't a slave to it and has plenty of external controls. The two control dials are context sensitive to the mode selected and there's an interesting touch that they can be used with the curve button beside the shutter to alter highlight and shadow rendition – previewed through the EVF in realtime!
Round up
The announcement of new lenses (60mm macro and 75mm f/1.8mm), a new video friendly flash and dive housing brush off the recent rough news for corporate Olympus and assert their business autonomy. There's lots to like and the OM-D looks like it may be approaching the full evolution of the Four Thirds system which Olympus have been seeking from it's inception. Small, fast, clever and different.
Availability
The Olympus OM-D E-M5 is expected to be available in mid-April 2012 and can be pre-ordered at Wex from £999*.