Atomos announces Ninja V and is the first to support Apple's exciting new codec, ProRes RAW

The first implementation of ProRes RAW will be in the Atomos Shogun Inferno recorder.

Apple ProRes RAW
Getting the best image quality from today's RAW output camcorders, when using external recorders, has so far meant either recording huge, unwieldy DNG RAW files or baking in the picture profile by de-bayering into a ProRes file. Some cameras use a third method — a proprietary compressed RAW format recorded internally — such as the RED range using R3D (REDCODE RAW) encoding, Sony using OCR in its high-end cinema cameras, and more recently, Canon's C200 implemented a similar codec in Canon Lite RAW.
At NAB 2018 a very impressive Apple announcement revealed the company's own compressed RAW format, available in two variations, ProRes RAW and ProRes RAW HQ. You can view a PDF document online, which details all of the technical details, including how it processes the image data and how to then process the file in Final Cut Pro X. But the key aspect to mention is that the data rates of the files are comparable to existing ProRes file types.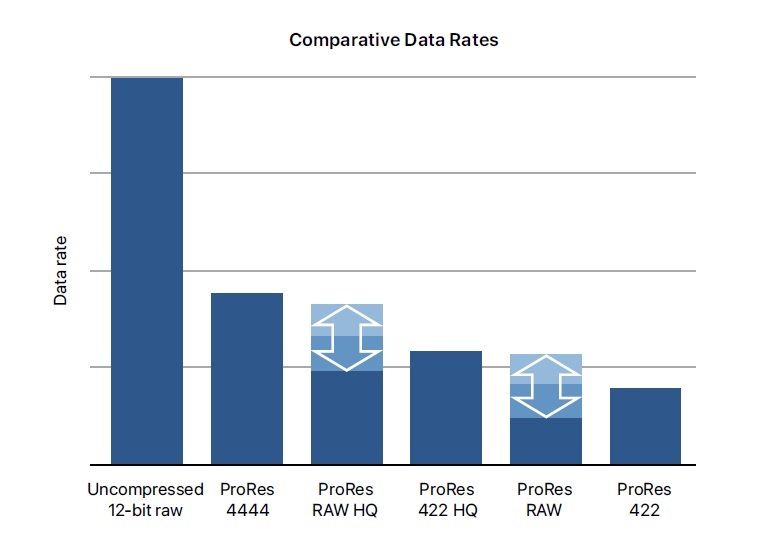 As you can see in the chart (above), the standard ProRes RAW codec runs close to the rate of ProRes 422 HQ and the higher quality version, ProRes RAW HQ, is close to the data rate of Pro Res 4444 (remember these are proportional to resolution and framerate). Even the top end encoding will give you a substantially smaller file than other RAW filetypes, even the aforementioned propriety compressed RAW codecs from RED, Sony and Canon.
The first implementation of ProRes RAW will be in the Atomos Shogun Inferno recorder, which is great news for anybody wanting to get the best out of their Sony FS5, Canon C300 Mark II, Panasonic EVA and really any other camcorder outputting a 10-bit/12-bit RAW signal. Remember that for the time being; only Final Cut Pro X can support this new filetype. However, we expect other NLE systems to follow suit, much in the same way that we expect the codec to be supported in other acquisition devices over time (DJI products seem to be the next on the ProRes RAW roadmap).
Time will tell just how much this format will be adopted by the industry. Certainly, in these early days, exclusive NLE support in the form of Final Cut Pro X is going to limit the codec in the short-term. That said, this is clearly a hugely significant step in codec technology, and if that heralds an era of easy to handle RAW footage then we really are onto a good thing.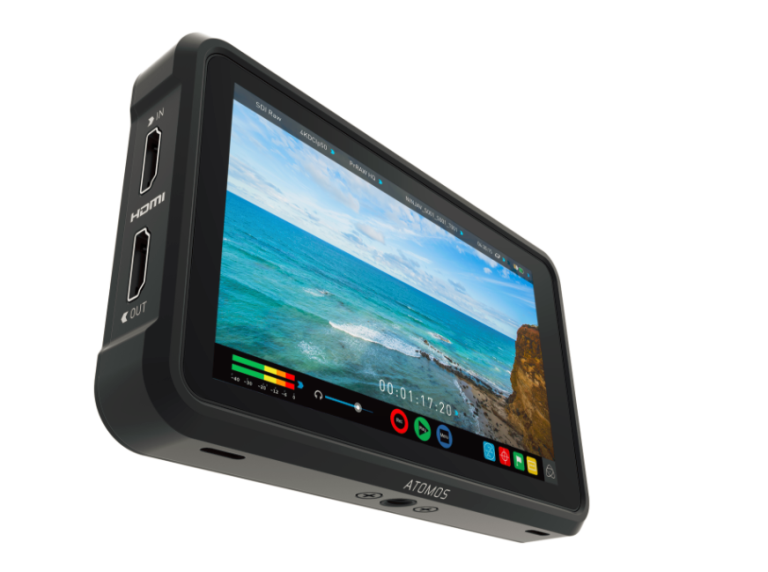 Pre-order the Atomos Ninja V HDMI Monitor/Recorder, HERE.
Atomos Ninja V
NAB has provided yet another exciting release in the form of the Atomos Ninja V. At the cutting edge (pun intended) of this highly competitive market, the handy 5.2in Ninja is sized slightly smaller than the more frequently available 7in screens — making it easier to mount on smaller devices such as mirrorless and DSLR cameras. This is great news for those who have found the (admittedly robust) Flame and Inferno series to be too bulky, when used with smaller devices such as Sony's A7S II or the LUMIX GH5.
This portable monitor/recorder can record straight from the sensor up to 4Kp60 10-bit HDR and HDp240 using HDMI 2.0. ProRes and DNxHR can be stored edit-ready on a newly designed AtomX Mini SSD drive, taking up much less space than traditional SSD drives. The AtomX SSDs still have a standard SATA III connection as well as the ability to edit straight from the drive due to an incredibly quick 500Mb/s read/write speed, so you'll be able to use the same drives as you use on the Flame and Inferno series if you prefer.
The near edge-to-edge, non-reflective screen can display 10+ stops of dynamic range in real-time from Log/PQ/HLG signals that is easily viewable, even in bright daylight. If the sun gets too much, a small, easily detachable sun-visor is available as an accessory. The display can also be calibrated for the most accurate colour reproduction possible.
Reviewing your video is made easy with the Ninja V, with AtomOS Tools and pocket-sized playback. Not only do you have access to speedy playback, but you can watch in slow-motion and with frame-by-frame analysis. You can also use peaking to check focus, alongside a waveform monitor, RGB parade or vectorscope for exposure review.
Although not filmmaking related, you can also record your gaming endeavours from your Xbox or PlayStation device via this Atomos. You can record in HDR 4Kp60 or HDp240 by connecting the unit between the console and TV to record hours of gameplay, to SSD storage.
The Atomos Ninja V is a very, very welcome addition to the range, especially considering the ubiquitous Ninja Blade has now been discontinued. This new model is a compact, feature-packed 4K recorder and the price point makes this a no-brainer for anybody wanting to get proper ProRes quality out of a small camera.
Related articles