Canon launches the CN-E70-200mm T4.4 L IS KAS S, aimed at professional and advanced amateur videographers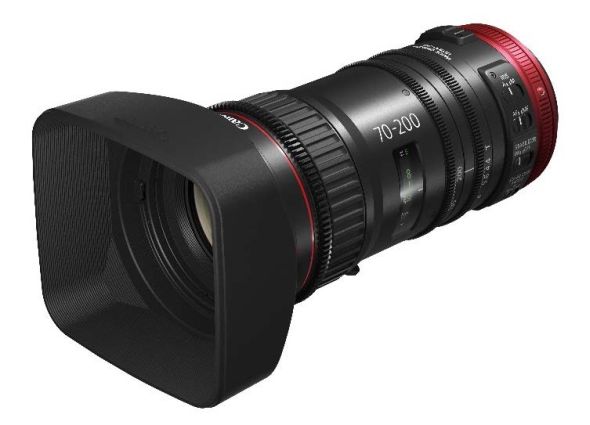 At a glance:
• No focus breathing
• Built-in image stabilisation
• Superb 4K performance
• Convenient servo grip
• EF-mount
Today Canon announced the launch of its new compact cine-servo lens, the CN-E70-200mm T4.4 L IS KAS S. Aimed at professional and advanced amateur videographers, this new cine lens promises to instil confidence in capturing images with great precision and quality.
Featuring a focal length of 70-200mm, this lens joins its sibling, the CN-E18-80mm launched last year, in Canon's compact cine-servo line up. The two lenses form an ideal pairing, giving filmmakers a versatile focal range of 18-400mm when supplemented with Canon's range extenders. Combine this with its compact form factor, and three modes of image stabilisation, and that's a powerful lens combination to help overcome most challenging shooting scenarios.
The widely adopted EF mount allows the lens to function with a wide range of interchangeable lens video cameras. A 20-pin cable attaches the lens to its servo control, the ZSG-C10, allowing easy remote activation of the zoom and one-shot autofocus. The zoom grip adapter can be mounted on the side of the barrel for comfortable on the shoulder operation, or removed from the lens and operated by hand.
With the CN-E70-200 being a parfocal lens, filmmakers can be assured that they will achieve critical focus when shooting through changing focal lengths. Canon's heritage in optical design should put this lens in a fantastic position for delivering high-quality images, whether filming in 4K or HD.
Focus breathing is no more, an aspect we have come to expect in cine zoom lenses, and this 70-200mm is no different. For the filmmakers who are looking to make the upgrade from traditional stills lenses, this will be a welcome quality.
Availability is expected from mid-autumn