DJI's latest gimbal is an all-in-one camera and gimbal package. And yes, it's completely pocketable
The DJI Osmo Pocket is small enough to fit in the palm of your hand.



At a glance:
All-in-one pocketable camera and gimbal system
3-axis stabilisation
4K video recording at up to 60fps
12MP Raw photos
Built-in 1-inch touchscreen
Up to two hour battery life filming in 4K
A whole host of accessories (including a waterproof housing)


First Look
What we'll call the full-sized Osmo was pretty cutting edge when it was released back in 2015. It was really one of the first systems to pair up a camera and gimbal into one package.
This removed the need to physically balance or calibrate a camera, allowing content creators to capture smooth shots with minimal downtime. Supplement this with the very intuitive DJI GO app and all of a sudden, pretty much anybody could pull off dynamic shots that would otherwise require specialist training and/or access to more expensive gear.
DJI has since developed bigger and more capable cameras for the Osmo, and it's also released a newer mobile variation, aptly called the Osmo Mobile. But, there's one area of the market where DJI's gimbals haven't been competing: action cameras.
When GoPro announced the HERO7 Black not so long ago, one of its biggest selling points wasn't its recording resolutions, but its rather impressive HyperSmooth electronic stabilisation. It seems that the resolution race for cameras of this size (and price) has slightly plateaued. The goal now, is to give users the ability to create super-smooth footage easily and on the go. Cue, the newly announced DJI Osmo Pocket…
The Osmo Pocket looks to shrink the successes of DJI's previous models into a more compact and (you guessed it) pocketable system. And indeed, the whole unit looks small enough to fit comfortably into the palm of your hand. At first glance, however, there are some other notable differences. The mount that used to stick out on the original Osmo has been shrunken down – way down - so that you're phone can mount directly onto the Pocket's handle, however you may not feel the need to do that since the handle houses a small 1-inch touchscreen that you can use for both monitoring and playback.



Recording Capabilities
The camera that's housed on the Osmo Pocket's 3-axis gimbal looks like a slimmed down version of the camera found on the Mavic Zoom, but unfortunately, it doesn't have the optical zoom capability that really made the Mavic stand out. However, it still does have some pretty impressive specifications for its size.

It's a 1/2.3" sensor sitting behind a fixed lens, although DJI hasn't said what focal length that lens is, but instead have stated that it's a wide angle with an 80-degree field of view and that it's locked to an aperture of F2. The system can record 4K (UHD) at up to 60fps at 100Mbps, and can take 12MP RAW photos. I must say the test footage that has been released looks very promising – I only wish they offered a higher bitrate recording codec, even if it means dropping the 4K frame rate to 25fps, but at this price-point i'm sure it's something we can easily accept.

You can of course record in Full HD, but this doesn't open up any further slow-motion capabilities, as it's still at a maximum of up to 60fps - so to be honest, you may as well just keep it in 4K to get most out of it. When it comes to audio, the Osmo has built-in dual microphones, aided with some noise-cancelling algorithms to make sure you can capture clean audio on the go. All of this is recorded to a microSD card, of which the Pocket supports up to 256GB. When it comes to battery life, DJI has stated that you should get up to around two hours of shooting time when filming in 4K at 30fps – not bad at all.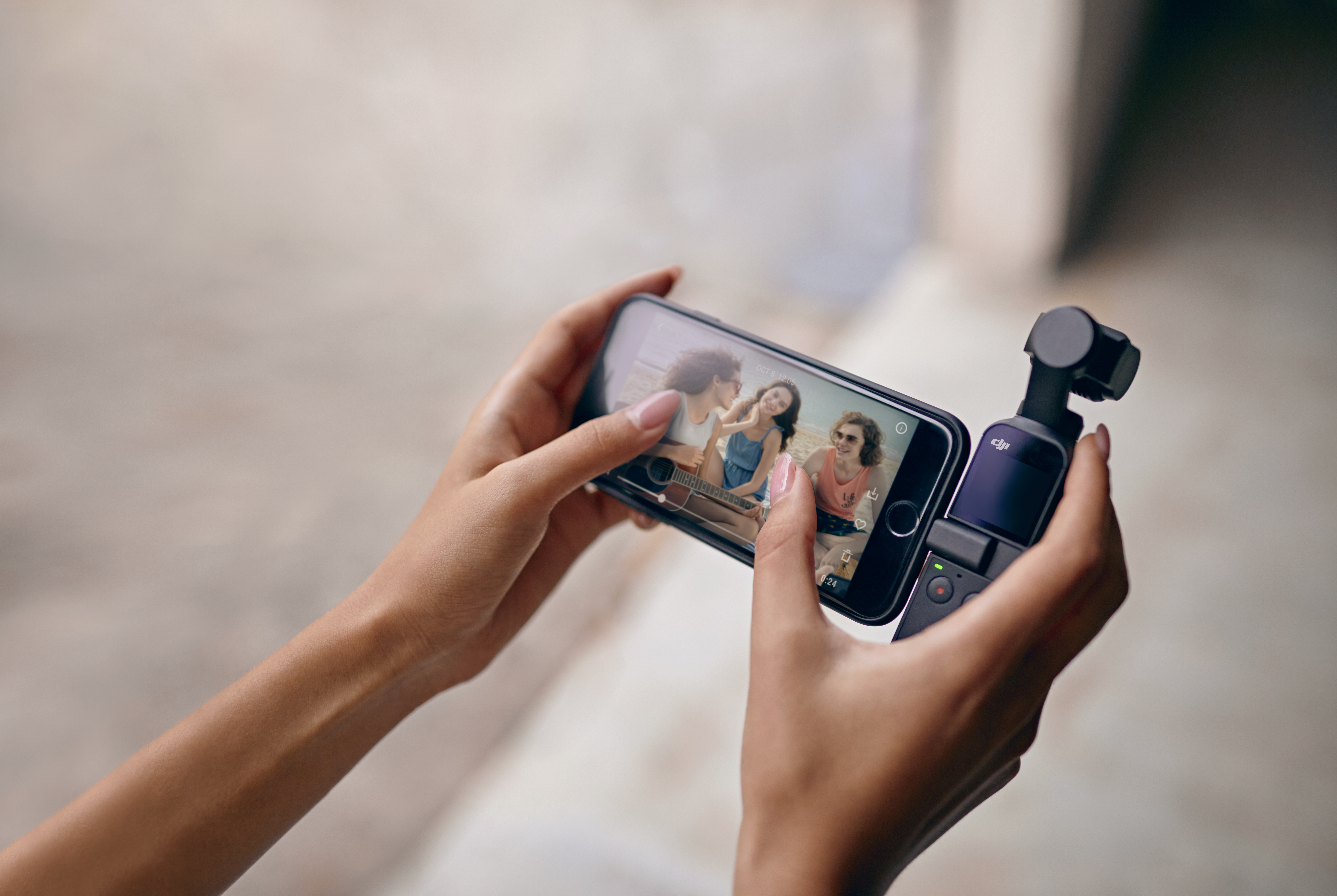 Intelligent
Just like the other Osmo models the Osmo Pocket also has some very intelligent features, all to make capturing dynamic shots or epic panoramas that bit easier. You can trigger the ActiveTrack function simply by tapping the subject on the screen that you'd like the camera to track. There's the ability to take 3x3 panoramic images, shoot time and motion-lapses, and a mode we've not seen before called 'FPV' where the gimbal keeps the orientation of the camera in line with the operator's orientation (think riding a rollercoaster), so you can basically shoot the perspective that you're seeing.

Accessories
Just under the touchscreen is universal port, which is actually where you mount your phone, but what's pretty exciting is that this port can also be used for attaching additional accessories such as a control wheel that will allow you to precisely move the gimbal, or a 3.5mm jack adapter so that you can plug in an external microphone. There's also a port at the bottom of the handle where you can attach the likes of a wireless module. Going back to comparing the Pocket to a GoPro, there's even a waterproof case available, so now wherever you can take your GoPro, you can pretty much take the Osmo Pocket. Lets be honest, mechanical stabilisation is always going to be better than electronic – so will we see users opting for the Pocket instead? Perhaps so - only time will tell.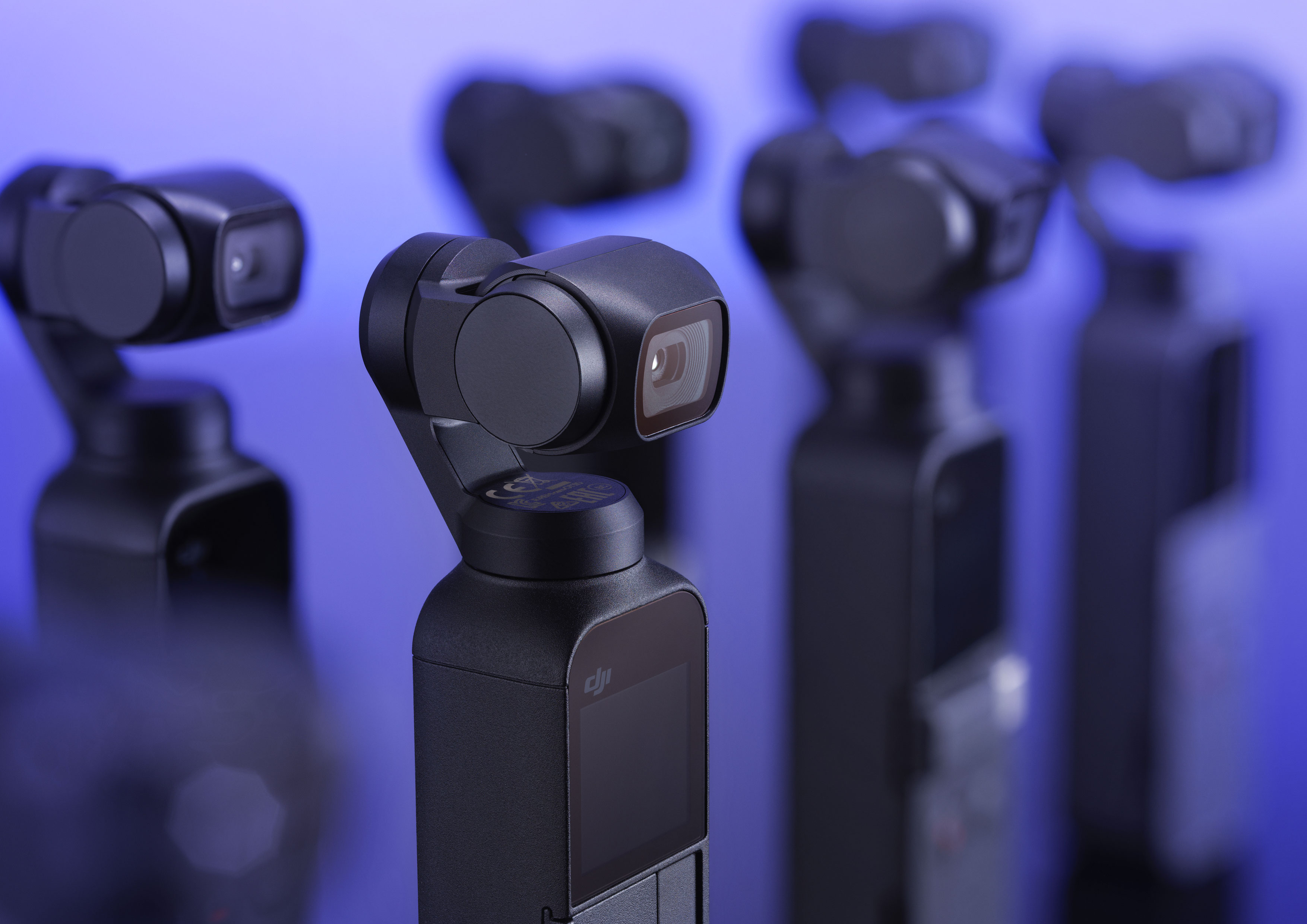 Final Thoughts
For the price of just £329 the Osmo Pocket really does have the potential to steal a big chunk of GoPro's action camera market, but not just that, even from themselves. If the Pocket lives up to what we've read and the footage that we've seen up to now, then DJI might find that they're going to have a lot more of the older Osmo models in stock - simply because for the majority of users, the Pocket may just be all they need.

For video and photo enthusiast, heck even professionals, having something this compact and super quick to whip out and get that dynamic shot, well, who wouldn't want this in their kit bag? We'll be looking to test out the Pocket in the near future to really see if this little device can win big.
About the Author
Kristian Hampton is Wex Photo Video's Technical Editor for Pro Video. A video specialist who has worked in corporate studios for companies such as Vodafone Group and PwC, as well as working as a freelance grip on various TV productions and features. He also runs Krade Media, providing enterprises with production services. Follow Kristian on twitter @KrissHampton
Related articles