Laura Wadha talks about her award-winning short film Flight, which documents the journey of two sisters who fled war torn Syria to start a new life in Sweden
Wex Photo Video: When and how did you get into filmmaking?
Laura Wadha: I'm 23 and got into filmmaking when I was about 14 years old. I was watching behind the scenes footage from various films and television shows, and realised, this was a job people had. I never saw it as a possibility for myself, but as soon as I looked into this incredible industry, I knew it was something I wanted to be a part of. During the school holidays there was a week-long filmmaking workshop at the local youth centre, and my mum signed me up for it. Pretty much as soon as I picked up a camera, I knew what I wanted to do for the rest of my life. I wanted to tell stories.
After secondary school I went to Edinburgh College and studied television for two years. After I graduated, I developed a short documentary idea via Bridging the Gap, a development scheme created by the Scottish Documentary Institute. I learned a great deal from the experience, and when I went to study at Norwich University of the Arts, I continued to focus on documentaries.
W: What inspired you to make Flight?
LW: The idea for the film was actually sparked by my grandfather — I had just finished making a short film about him, and he told me I should use my filmmaking to help people. He suggested that I make a film about my cousins, Mera and Maria, in Syria. I didn't think it was possible, because I couldn't go to Syria. But when I looked through our old home videos of the holidays we had there, I realised I could make something alongside the archive footage.
My main goal was to create empathy for Syria and my cousins; showing what life was like [before the civil war]. I wanted to create a more personal portrayal of the situation that audiences could relate to.
W: Did you always have a clear vision of the film's structure?
LW: Definitely not. I thought I knew what I was going to do, but it kept changing. I didn't realise how difficult it would be to edit the film; it was by far the most grueling part of the process. I started by watching online masterclasses regarding documentary editing and wrote every important shot or audio sample onto different pieces of card. I shuffled the paper edits around for months, trying to get an idea of the narrative.
When I had a rough outline, I started to edit. The first rough cut was about 20 minutes long, but I wanted the film to be 10 minutes. Cutting out 10 minutes was incredibly difficult, but I had a lot of support from other filmmakers and my tutors at university. I was constantly sending out rough cuts and asking for feedback. Everyone said something different, so you have to learn to trust your instincts.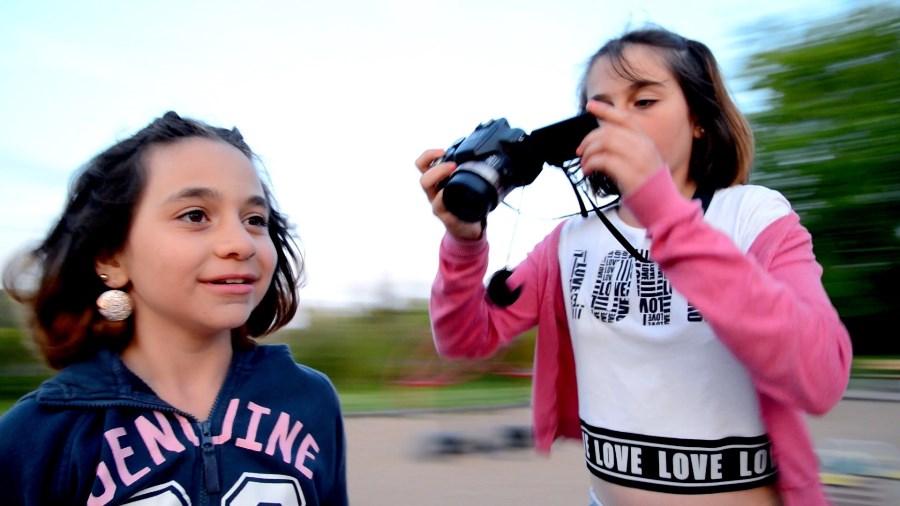 W: There's a mixture of footage captured on various devices. How did you pull everything together?
LW: I started by watching the home videos. I knew we had VHS tapes from our holidays in Syria (1996 to 2010), but I had never watched them all the way through. The videos contained about six hours of footage; I had some footage professionally digitised and the rest I converted to a computer, myself. I started by editing the audio from the phone calls [heard at the beginning of the film] and the archive footage to create a trailer. Only then did I realise the emotional impact this old footage had, showing what Syria was like before.
From there it progressed to capturing video from Skype and eventually mobile phone footage; filmed by my cousins and aunt as they made the dangerous journey from Syria to Sweden in 2015, as refugees. They took a dinghy from Turkey to Greece — a boat built for 10, but carrying over 40 — and told me the night before they left. I told them to film everything they could and send it to me whenever they had Wi-Fi.
The film wouldn't have worked without all of the different types of footage. It was necessary to establish the girls' new life in Sweden, while the archive material worked as a tool to help them talk about what they had been through; reminding them of the happy times they had as young children.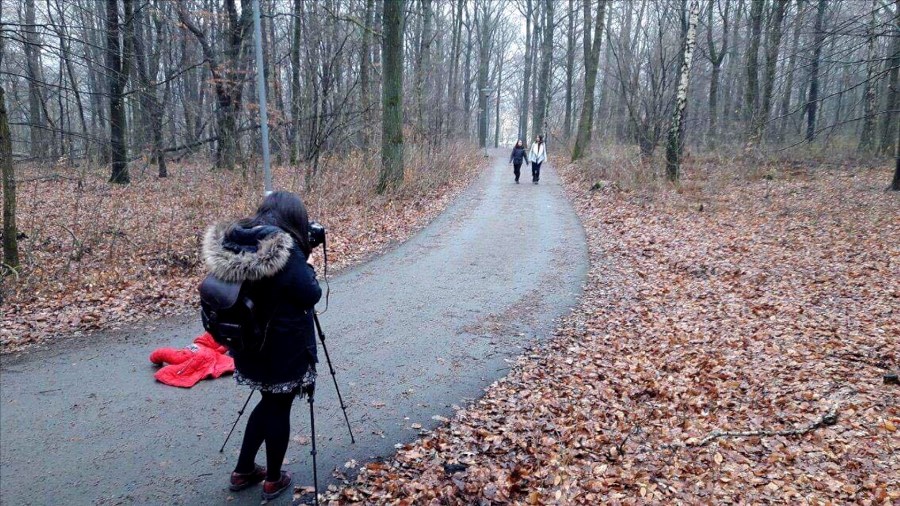 W: How did you approach the footage you shot yourself?
LW: When my aunt and cousins arrived in Sweden, I started to film on my Nikon D600. Mera and Maria settled in quickly, speaking fluent Swedish and English, and doing well at school. I focused on the two sisters and wanted to involve them as much as possible in the filmmaking process. I gave them my old LUMIX FZ100 to help them feel comfortable on camera. They would film each other and me, and gradually became totally comfortable being filmed. I wanted them to tell their own story. I asked them what they would like people to know, and they came up with different topics to discuss. I didn't want the interview process to be hard or cause anxiety, so I tried to keep it short; going over things I knew they would be comfortable talking about. I think it resulted in being quite cathartic for them.
W: Do you have any advice for aspiring filmmakers?
LW: Be as unguarded with people as you expect them to be with you. If people sense that you're unwilling to share with them, they might feel more closed off. Obviously, it's different when you're filming your own family, and I tend to focus a lot on my family. But in terms of finding stories to tell, just be open and listen to people. Being a good listener is very important; if you're not listening, you miss things. Making a documentary can be very solitary. The advice of other filmmakers, friends and family is key to a sane state of mind, and hopefully, a good film.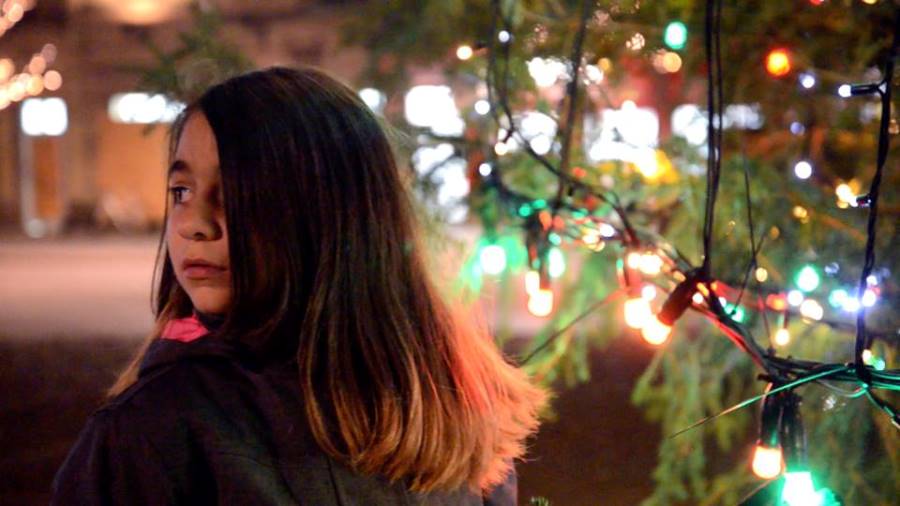 W: How are Mera and Maria getting on now?
LW: Mera and Maria are both extremely intelligent and are excelling at their schoolwork. They have made friends and have embraced Sweden as much as possible. They have both seen the film now, and I think they've found it, once again, very cathartic. I'm hoping to continue filming with them to chart the changes in their personalities as they become adults.
W: Are you working on any new projects?
LW: [At the time of writing.] In January, I begin studying a master's in Directing Documentary at the National Film and Television School, London, which I am both apprehensive and excited about. At the moment, I have been working on a short film about my grandmother who is still living in Syria. I'm hoping for this film to be more personal, focusing on the relationship I have with my grandmother, while exploring why she decided to stay in Syria. Over the summer I produced a short film for Random Acts called Like Sunday, which was directed by Ella Glendining. It will be released online, via Channel 4's Random Acts website.
Keep up-to-date with Laura's work by heading over to her website or by following her on Twitter.
About the Author
Kristian Hampton is Wex Photo Video's Technical Editor for Pro Video. A video specialist who has worked in corporate studios for companies such as Vodafone Group and PwC, as well as working as a freelance grip on various TV productions and features. He also runs Krade Media, providing enterprises with production services. Follow Kristian on twitter @KrissHampton