We roundup the latest high-end video releases from the NAB Show 2019
Can't make it to Las Vegas for the most glamourous tradeshow of the year? Fear not, we're here to report on all the biggest filmmaking releases from the NAB Show 2019 (April 6 to 11). Make sure you check back for regular updates.
Want more from Wex Photo Video's pro-video team? Visit our video homepage and view our latest video releases. For more great filmmaking content, check out the links below or visit our pro-video blog...
Moza Slypod | The worlds first motorised monopod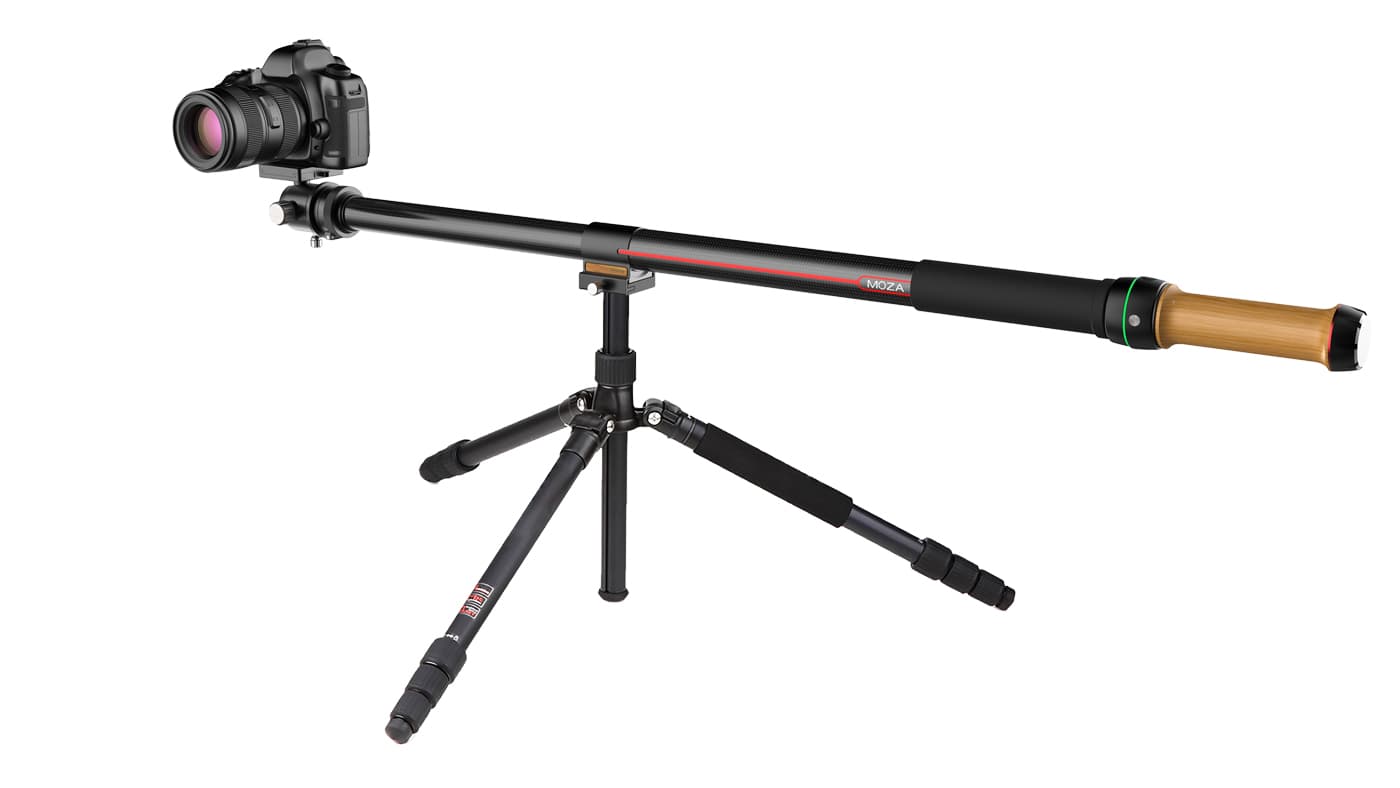 UPDATE: 10/04/2019

Yes, you read that right, the world-first motorised monopod has been unveiled at NAB 2019, the Slypod by Moza. At first, it seems like a ludicrously pointless exercise, but when you see it in action it does make sense. The monopod features a carbon fibre build with a motorised telescopic section at one end, that is connected to the camera, that then extends out from the base of the unit where the motor, battery, and controls are located.
The Slypod does have some impressive specs, it weighs just under a 1KG and can create smooth moves with camera rigs up weighing up to 18KG vertically, or 12KG horizontally – let us be honest though, I doubt you'd be putting cameras anywhere near that weight onto the Slypod. On the handle are two buttons to adjust the speed of the move, and for further control over Bluetooth, you can use the Moza App where you can then set parameters for telescopic length, speed, and program motion time-lapses. Of course you'll still need to use a tripod with the Slypod should you want to do horizontal movements, but at the end the day it does one other job that a slider can't, it's a monopod too after all.
What do we think? Probably one of the most innovative products announced yet, and it's the one you didn't even know you wanted. All the specs look promising, one thing we're currently not aware of is the battery life, if that's good, then this looks like a very versatile piece of kit.




New Manfrotto fluid heads, tripods, and portable lights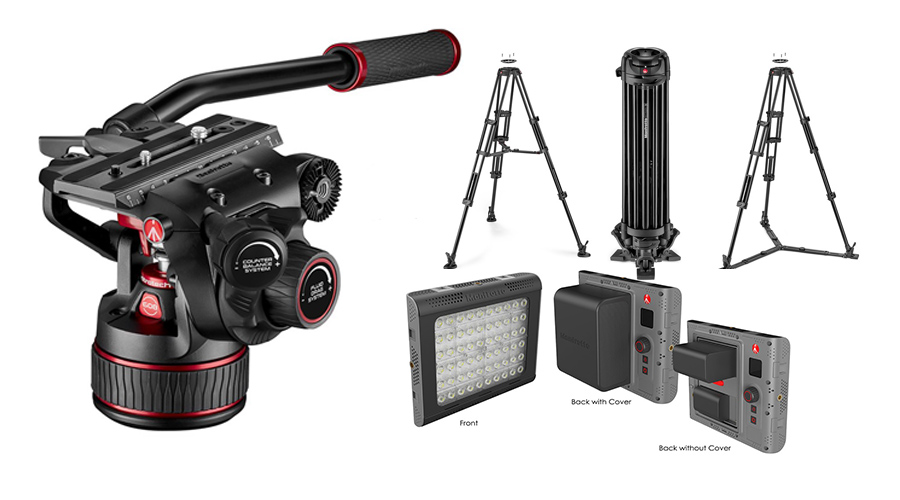 UPDATE: 09/04/2019

This year's NAB sees Manfrotto announcing a few new products across fluid heads, tripods, and lighting. Starting off with one of their most recognizable products of late, the Nitrotech fluid head, with two models being announced creating a new Nitrotech 600 series. The Nitrotech 608 head can continuously counterbalance weights from 0 to 8KG, and the Nitrotech 612 weights from 4 to 12KG. Both heads feature the same design, the only difference being the payloads that they can support, the maximum payload for each being the latter number of their counterbalance range. Both have a smooth drag and 360-degree panning range, come with handle rosettes, illuminated bubble levels, and a newly designed counterbalance knob. These heads allow for continuous adjustment of the counterbalance leading to very precise control, especially in comparison to stepped systems – it's the big selling point of the Nitrotech system.
To go along with the new fluid heads are two new aluminium tripod legs, featuring a redesigned mid-level spreader, robust locking mechanisms, and overall a more lightweight design. Both of these tripods have a 100mm bowl, but can also be adapted to accommodate 75mm fluid heads.

Finally, Manfrotto has introduced version 2.0 of their compact on-camera light, Lykos. This portable LED light is available in daylight and bi-colour versions, both models use surface-mounted LEDs with a built-in lens to ensure accurate colour rendition. On the back of the unit is a colour LCD screen with a single dial and two physical buttons to navigate control over the light. It can also be controlled by a smartphone using the Manfrotto LED app and the built-in Bluetooth connectivity. Around the body of each light are eight cold shoes, and three ¼ 20 threads for attaching additional accessories. The lights can be attached together in a modular fashion to create a single bigger light source. The lights can be powered by mains supply, or by the dual battery mount on the rear that supports both L-series and LP-E6 batteries, you can even run one of each at the same time.
Pre-order today: Head to the Wex Photo Video store to pre-order the Nitrotech 608 or 612 fluid head, and to see the full Nitrotech range. Click here to pre-order the new Lykos light range.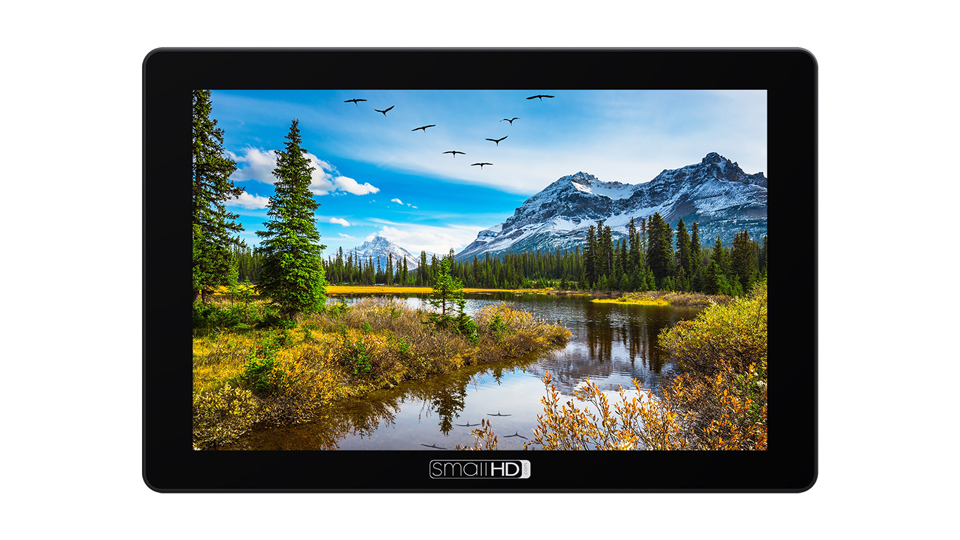 UPDATE: 09/04/2019

SmallHD has updated their popular 7-inch 702 external monitor range with a new touchscreen offering, aptly named the 702 Touch. At its heart is a new 1,500nit daylight-viewable IPS LCD HDR screen with a resolution of 1920x1200 pixels, which is 100% DCI-P3 colour accurate.
The body of the 702 Touch looks to have been designed with ruggedness at front of mind, whilst still ensuring weight and profile are kept to a minimum, aiming to not overwhelm the smaller mirrorless cameras setups. The monitor has both options for HDMI and 3G-SDI inputs as well as loop outs – especially useful for filmmakers that need to output to an additional monitor or wireless transmission unit. The 702 Touch supports incoming signals of up to 1080p60, so you'll need to downsample in-camera if acquiring in a higher resolution.
The professional monitoring tools users get SmallHD products are second to none, and the same goes for the 702 Touch with it running the latest OS3 operating system, which supports tap, swipe, and pinch navigation to help access those tools quickly and intuitively.
For power, the 702 Touch is supplied with a Sony L-series plate that accommodates two batteries, however, this can also be adapted should the user have a preferred battery system they'd like to use – it can also be powered by the DC input. On the top of the unit you'll find a 3.5mm headphone out and an SD card slot, for loading in custom presets, LUTs, and firmware updates. On both sides and bottom of the unit are standard 1/4 20 mounting points.
What do we think? For those looking for a well-priced, ruggedly built, and incredibly bright external monitor, the SmallHD 702 Touch looks to fit the bill.

Pre-order today: Head to the Wex Photo Video store to pre-order the SmallHD 702 Touch.




UPDATE: 09/04/2019

Blackmagic Design has announced a battery grip for the Blackmagic Pocket Cinema Camera 4K, a camera that impressed the masses with its RAW recording capabilities at an incredible price point, but equally, ruffled a lot of feathers when it came to actually fulfilling customer orders – but that doesn't seem to be stopping Blackmagic from developing accessories for the BMPCC4K. For the lucky minority that has received their camera, the new battery grip will surely be a welcomed addition as the very short battery life was one of the biggest drawbacks of the system.
The battery grip looks similar to the grips made for DSLR camera bodies, taking on a similar style and build quality to that of the BMPCC4K. It has two mounting points on top to stop the camera from twisting when it's mounted to the grip, and there's a pull-out tray that houses two batteries, which can be easily accessed when the camera is mounted on a tripod. Oddly the batteries it accepts are not the LP-E6 batteries that the BMPCC4K uses; instead, it takes two Sony NP-550/570 batteries that should now power the camera for up to 2 hours.
What do we think? Battery life was one of the biggest drawbacks of the BMPCC4K, so this new battery grip provides a straightforward solution. However, if you're not committed to always shooting with the grip attached, you're going to have to manage two different battery types for the one camera.

Pre-order today: Head to the Wex Photo Video store to pre-order the Blackmagic Battery grip.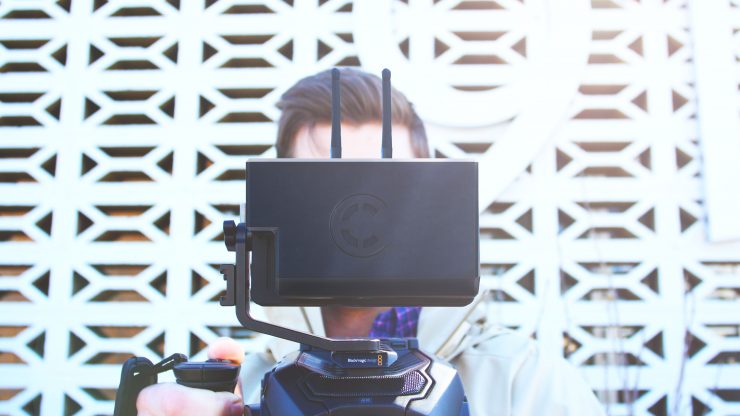 UPDATE: 08/04/2019

Core has announced the NPF Flat Pack, a battery that has been specifically designed to offer a much lower profile than typical NP-F batteries when used on SmallHD's popular FOCUS range of external monitors. The NPF-SHD is a near 60wh L-series type lithium ion battery, and once mounted allows full rotation of the FOCUS monitor on the tilt arm. On the side of the battery are four LED lights signifying the remaining charge, and a 7-17V DC power input. The DC input allows you to power tap into the NPF Flat Pack should you be working with camera rigs that have larger power sources that can feed into it, and also gives another option for charging.
What do we think? It's hard to get excited about batteries, but if you own a SmallHD FOCUS monitor and are looking for a more flexible powering solution, the Core NPF Flat Pack makes perfect sense.
Pre-order today: Head to the Wex Photo Video store to pre-order the Core SWX NPF Flat Pack.
Teradek Bolt 4K | A revolutionary wireless transmission system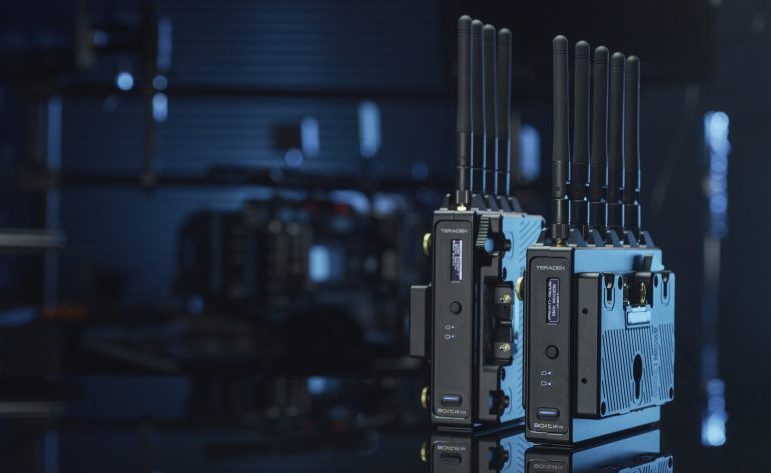 UPDATE: 08/04/2019
Teradek has announced the Bolt 4K, a real-time 4K HDR wireless video transmission system. If you're thinking that transmitting 4K HDR footage is only going to be possible with some severe limitations, you're wrong. Teradek claims that Bolt 4K is 8x more reliable than previous HD models and has 1.5x more range.
Bolt 4K is the first 4K HDR wireless video system to provide uncompressed, zero-latency transmission. It transmits a 4K 10-bit 4:2:2 HDR signal up to a range of 1,500ft (line of sight), using the unlicensed 5GHz band. Like the rest of the Bolt range you can expect Bolt 4K to do this incredibly securely, keeping your video under wraps by using AES-256 encryption and RSA 1024 key pairing.
Two modes have been announced, and the only difference is the maximum operating range. The Bolt 4K 1500 boasts that impressive 1,500ft range, while the Bolt 4K 750 sports the 750ft range. Both transmitters and receivers from either set will work with each other, but what's more impressive is that a single transmitter can transmit up to six receivers, simultaneously, with no degradation in performance.
What do we think? Teradek has long sat at the top of the wireless transmission game, and it's extremely common to see its transmission systems on big productions. For those productions acquiring in 4K and beyond, it's hard to see why they wouldn't use the Bolt 4K.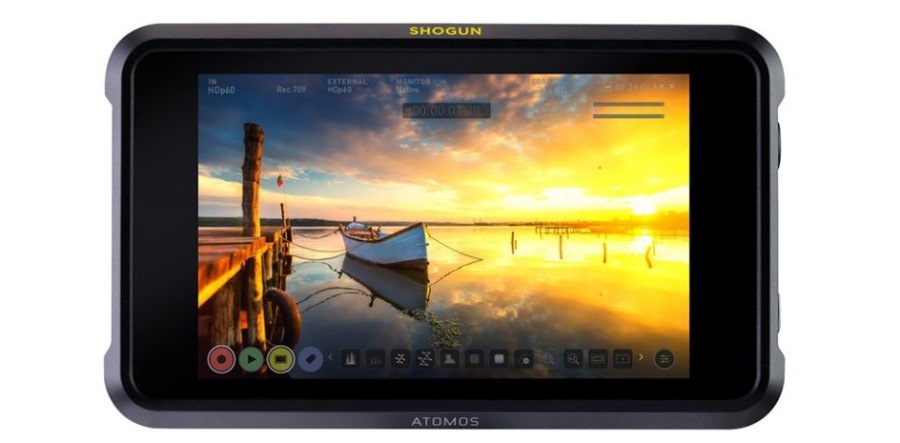 UPDATE: 08/04/2019
We've been focusing on 5-inch monitor releases of late – the Ninja V and Shinobi have garnered lots of attention – but today Atomos has announced a new version of its flagship 7-inch Shogun monitor, simply named the Shogun 7. The Shogun 7 rather impressively supports recordings of up to 5.7K in resolution, 4K 120fps and 2K 240fps, all in ProRes RAW. It is currently the only recorder on the market that is capable of capturing those sorts of resolutions and framerates in a RAW format. Of course, you also have the choice of various 10-bit ProRes and DNxHR codecs too.
The Shogun 7 runs AtomOS 10, the most up-to-date operating system, which currently powers the Ninja V. The monitor features a 7-inch, 1,500-nit screen, with a resolution of 1920x1200 and 15+ stops of dynamic range. Atomos claims that this is possible thanks to a new 360-zone backlight. The display is also said to feature ultra-wide colour and 105% of DCI-P3. On the back of the unit are four 12G-SDI inputs, supporting quad, dual and single-link camera connections, as well as a HDMI 2.0 input.
The Shogun 7 can also act as a basic vision mixer, allowing you to input four 1080p 60fps signals, ISO record each one, record the cuts when you switch inputs and output the programme feed. This could prove to be a popular solution for smaller and more compact AV setups. Much like the previous Shogun unit, an XLR breakout cable can be used to record additional audio, to the embedded audio from the incoming video signal, and can even supply 48V of phantom power should you need it. The Shogun 7 can record up to 12 channels of digital audio, coming from the SDI and HDMI inputs.
What do we think? The Shogun 7 looks to be one of the most feature-packed external monitors/recorders currently available. The 1,500-nit, daylight-viewable screen features improvements over its predecessor. But to be honest, the screen was already fantastic, so any further improvements are only going to strengthen Atomos' hold on the market.
Pre-order today: Head to the Wex Photo Video store to pre-order the Atomos Shogun 7.
UPDATE: 08/04/2019
Atomos has announced its third AtomX expansion module for the 5-inch Ninja V external monitor/recorder bringing much-requested SDI connectivity to the table. Much like the AtomX Sync and AtomX Ethernet/NDI modules, the SDI Module connects to the Ninja V by sandwiching itself between the NP battery plate and the single battery.
On the side of this module are two configurable 12G-SDI ports, with the industry standard BNC connectors. Both of these ports can support up to 4K 60fps or 2K 240fps in both directions. Since these ports are configurable, they're labelled 'A' and 'B' (not the typical 'in' and 'out') as the user can specify what function they want each port to serve: both inputs, both outputs, or perhaps one as an input and one as a loop out, etc. One thing to note is that the signal coming through SDI ports cannot be routed to the HDMI ports or vice versa.
What do we think? The Ninja V filled a gap in the market for filmmakers looking for a fantastic HDR screen, with solid recording capabilities, in a body that isn't going to upset the balance when shooting on smaller cameras. Giving the Ninja V SDI connectivity really brings it closer to the Shogun series. The biggest difference, currently (other than size), is the Ninja V still cannot record ProRes RAW, yet…
Pre-order today: Head to the Wex Photo Video store to pre-order the Atomos AtomX SDI Module.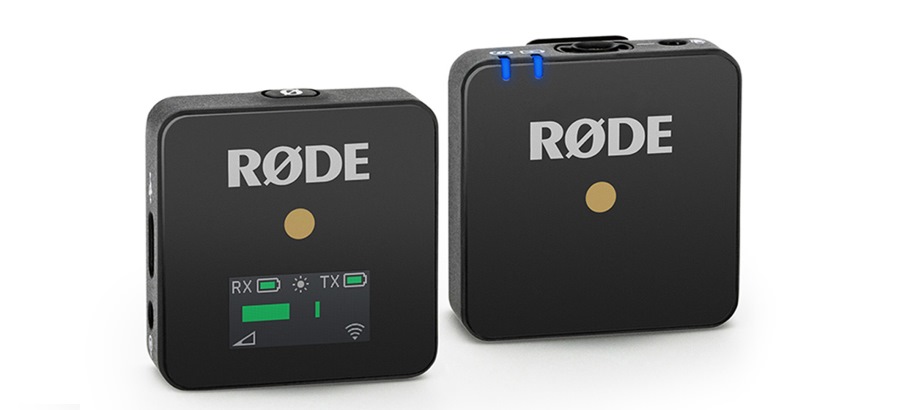 Update: 05/04/2019
It's been four years since RODE announced its budget friendly RODELink wireless microphone kit, which at the time was one of the most cost-effective digital wireless systems money could buy. That looks to change with the announcement of the Wireless GO kit, RODE's new super-compact wireless system. Building on the success of the RODELink, the Wireless GO works on the same open 2.4GHz frequency, secured with 128-bit encryption and with a claimed operating range of up to 70m.
The transmitter also houses a built-in omni-directional microphone, as well as the option to connect a wired lavalier via the 3.5mm mic input. The receiver features a small screen displaying the signal strenth, audio levels, output gain and battery life, of which the internal battery runtime is supposedly up to seven hours from a single charge via the USB-C connection.
What do we think? The Wireless GO is a very innovative product and it's going head to head with Sennheiser's new budget system, the XS Wireless Digital. RODE's offering looks to be smaller, claims to operate further distances and has a longer battery life. It's going to come down to real-world testing to see if these specs live up to the hype.
Pre-order today: Head to the Wex Photo Video store to pre-order the RODE Wireless GO.
Update: 05/04/2019
Litepanels has announced a new addition to its Gemini RGB-WW light range, the Gemini 1x1. It brings to the table the same features, functionalities and light quality that have been praised from the Gemini 2x1, but in a more compact 1x1 fixture. RGB-WW technology combines red, green and blue LEDs, with both daylight and tungsten white light LEDs that Litepanels claims to: "give users a daylight-to-tungsten light foundation that then enables them to finely adjust colour throughout the full, 360-degree colour wheel."
The Gemini 1x1 has an impressively wide temperature range, from 2,700K to 10,000K and features the same operating modes as its larger sibling: CCT, HSI, GEL and EFFECT. The fixture weighs just 5.3kg with a maximum power draw of 200W, which can be powered from either mains supply or V-Lock batteries with an additional adapter. What's nice is that the standard yolk can also be used as a mini stand for setting up the light at ground level.
What do we think? The Gemini 2x1 fixture took on the likes of ARRI's SkyPanel and was very well received, thanks to its rugged build and quality of light output (especially pleasing with skin tones). The Gemini 1x1 offers much of the same, but in a smaller package.
Pre-order today: Head to the Wex Photo Video store to pre-order the Litepanels Gemini 1x1.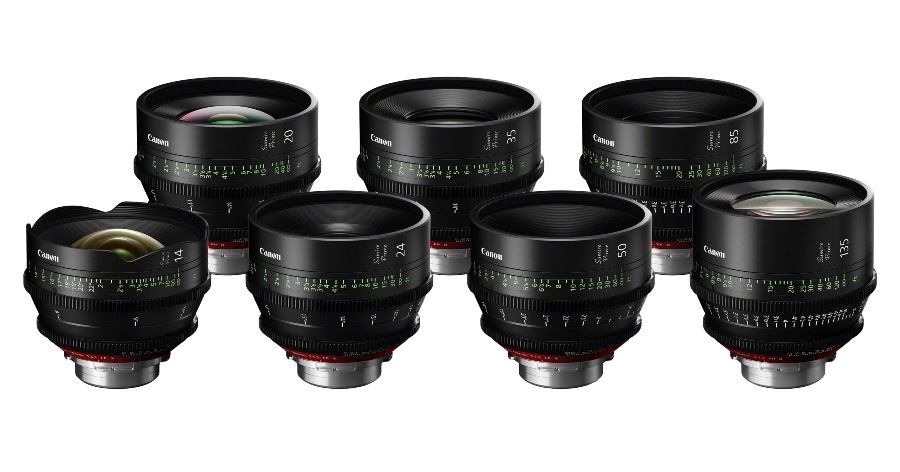 Update: 03/04/2019
Canon's SUMIRE Primes are a brand new set of cinema lenses that deliver both full-frame/large-format coverage, and a look that combines the speed and detail you'd expect from a mid-range cinema prime, with the kind of soft fall-off and bokeh of a vintage K35 lens. Here are the headline specs…
Available in the following focal lengths and T-stops: 14mm T3.1, 20mm T1.5, 24mm T1.5, 35mm T1.5, 50mm T1.3, 85mm T1.3 and 135mm T2.2
PL Mount and suitable for full-frame sensors (PL Mount can be changed to EF at Canon Service Centres)
Unified warm colour tone throughout the range
Similar dimensions to the original prime set: 105mm filter thread and 114mm outer diameter for Matte Boxes
Reduced focus breathing and 300-degree focus travel
Odd number of aperture blades (11) delivers a more nuanced, cinematic bokeh
What do we think? We've seen some footage from the lenses and they have a gorgeous look: wonderful skin-tones, great bite in the middle of the image and an almost anamorphic, elliptical quality to the bokeh at the edges of the image.
Pre-order today: Head to the Wex Photo Video store to pre-order Canon's SUMIRE Primes.
Update: 02/04/2019
Canon has updated its entry-to-mid-level fixed-lens camcorders with the 4K capable XA50, XA55 and XA40. The only difference between the XA50 and the XA55 is the latter's addition of a 3G-SDI connection. At the heart of both cameras is the same 1-inch CMOS sensor, and combined with the DIGIC DV6 image processor, they're capable of recording up to UHD 4K at 25fps, 8-bit 4:2:0 at a maximum bitrate of 160Mbps.
The XA40 is the only camera in Canon's refreshed 4K line-up not to feature a 1-inch sensor. Instead, it has a 1/2.3-inch CMOS sensor, which combined with the same DV6 image processor found in the XA50/55, allows the XA40 to record UHD 4K footage at up to 25fps in 8-bit 4:2:0 at 150Mbps in MP4.
What do we think? Canon has slowly refreshed its fixed-lens camera offering to include models that are now capable of acquiring 4K footage. Today's announcement ties that newly updated product line together, with the XA40, XA50 and XA55 occupying the entry-to-mid-level market.
Pre-order today: Head to the Wex Photo Video store to pre-order the XA50, XA55 and the XA40.
More from The Wex Blog…