Wex's Technical Editor Matt Higgs was one of the first to get hands-on with Nikon's latest professional DSLR, the D850. Here are his initial impressions…
Today Nikon has announced its latest megapixel powerhouse: the Nikon D850. Overhauling the internals of 2014's well-loved and critically acclaimed D810, the brand has made improvements across the board for what is indisputably the most exciting release of the Nikon centenary year so far.
I was lucky enough to get a quick first look at this hugely anticipated device, and I think it's sure to take professionals by storm in a wide range of photographic genres.
Let's take a look at why that is…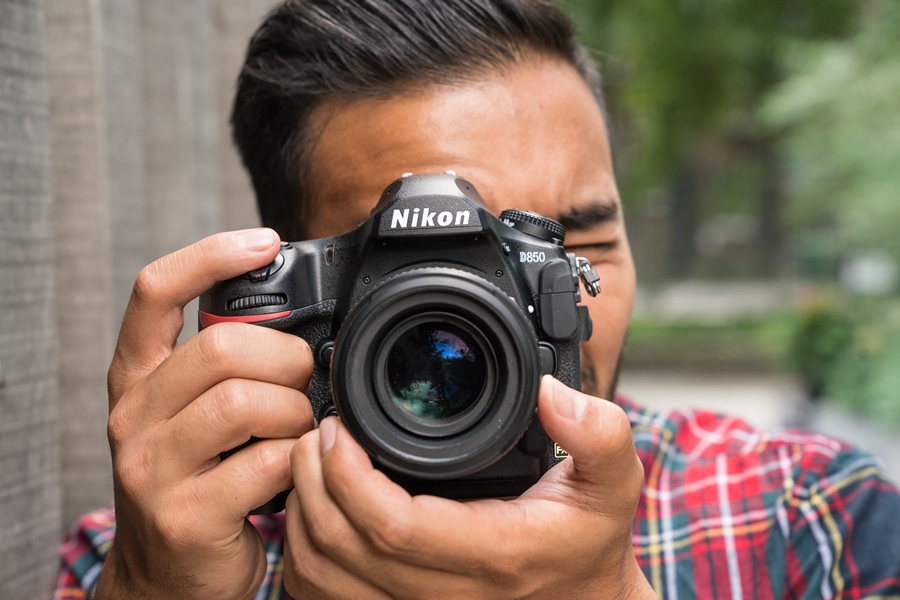 Specs at a glance:
• 45.7MP full-frame BSI CMOS sensor with no AA filter
• Expeed 5 processor
• 64-25,600 native ISO range (up to 102,400 expanded range)
• 153-point AF system with 99 cross-type points
• 9fps burst shooting with new battery and grip; 7fps burst shooting with other power sources
• 3.2-inch, 2,360K-dot touch and tilt rear display
• 4K UHD recording at 30fps
• Full HD recording at 120fps
• 8K interval timer
• Silent Photography mode
• Bluetooth and Wi-Fi
• Dual XQD and SD (UHS-II compliant) media slots
• 1840-shot battery life with EN-EL 15a battery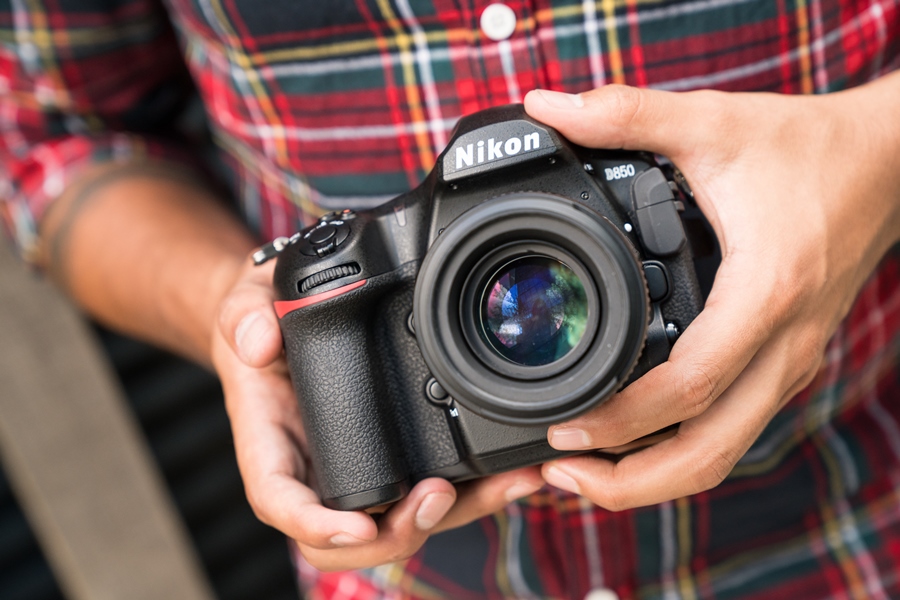 Sensor and processor
Built around a brand new back-side illuminated 45.7MP CMOS sensor, which has no optical low pass filter, the D850 is billed as "full-frame like you've never seen it before."
In the few TIFFs I got to shoot with a beta D850 and Nikon's 50mm f/1.4G lens, the level of crisp detail captured on review was truly astounding, and if replicated in the final production models (which I'm sure it will be), will not disappoint. Dynamic range also seemed pleasing, while noise handling was very solid indeed.
This perhaps shouldn't be too much of a surprise, as Sony's A7R II – the only other camera to have a back-side illuminated sensor of this size and structure – also performed very well in this regard, indeed as did the original D810. I can't wait to get to play with the camera's final RAW files in a few weeks' time – if they don't deviate from my initial impressions, they may well set a few new benchmarks.
The new BSI CMOS is paired with the Expeed 5 Processor taken from the brand's full-frame flagship D5 and its crop-sensor flagship D500, enabling a native ISO range of 64-25,600, expandable down to an equivalent of ISO 32, and up to a level of 102,400.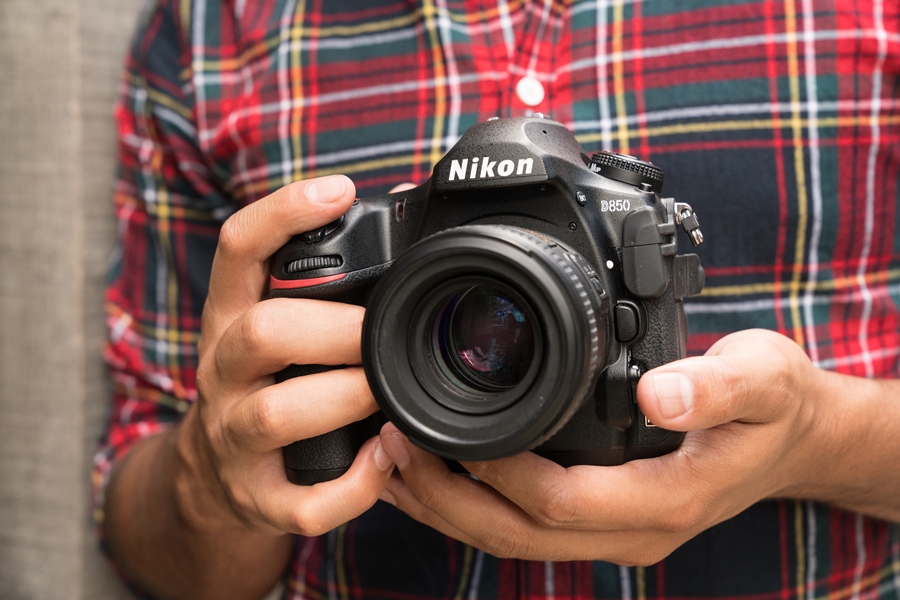 Of course there's also the option to shoot cropped RAWs for images with lower resolution and file sizes with this device – that big leap from the 36.3MP resolution of the D810 may not always be needed after all. In its Medium setting 25.5MP images are captured and in the Small setting 11.3MP files are produced – both resolutions that are still highly usable. RAWs can now also be batch-processed into JPEGs in-camera, allowing you to quickly convert a load of files on the fly should you need to.
With the new EN-EL18b battery inserted in an MB-D18 battery pack, this camera can shoot at a top continuous speed of 9fps, with up to 7fps possible when using other power sources. This frame rate is a notable area of improvement, as the D810 manages a mere 5fps when capturing images without a crop, and even the 24.3MP D750 maxes out at just 6.5fps. With a quick enough SD or XQD to handle the camera's massive file sizes (yes it's got dual slots), the device's buffer is around 51 RAW shots according to Nikon.
Adopting the 180K-pixel RGB metering sensor also found in the D5, this camera should provide enhanced accuracy of auto controls, metering, white balance and Active D-Lighting compared to the D810.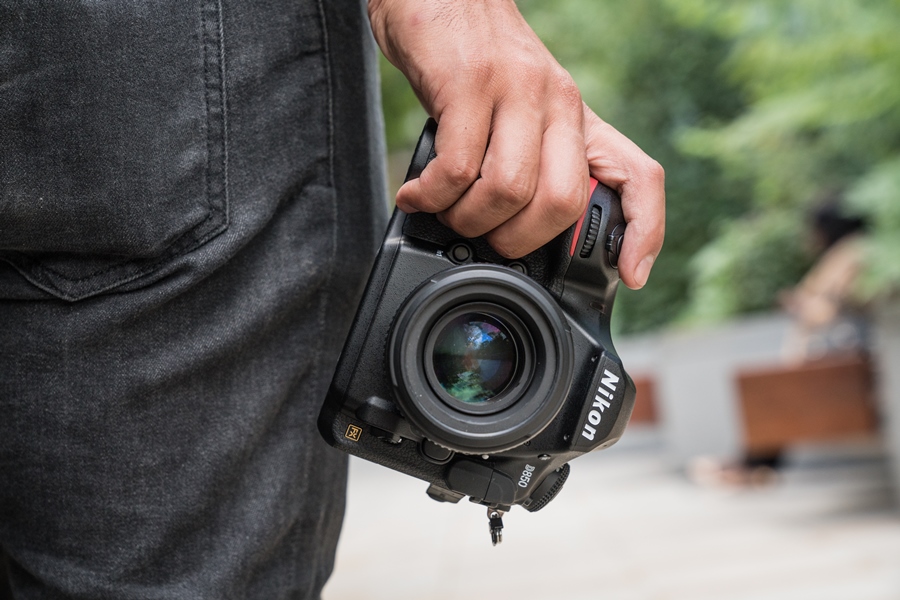 Focusing
While the D810 had a 51-point AF system with 15 cross-type points, the D850 adopts the brilliant 153-point, 99-cross type system from the D5. The centremost of these autofocus points operates down to a fantastic -4EV, while all other points will operate to a respectable -3EV – low-light focusing is not going to be a challenge with this camera.
With the new Pinpoint AF setting, users can select an area 1/4 of the size of a standard point for the camera to find focus on, ensuring the kind of highly accurate results that are essential for tack-sharp images when you're working with such a huge resolution.
If you're trying to keep moving subjects in focus, the 3D tracking that this camera provides has previously received nothing but praise in the D5 and D500, and is sure to appeal to wedding and event photographers, among others.
An in-camera focus shift-shooting feature is now also on board. In this mode, images are automatically taken with an adjusted focus position from the starting point to infinity. This can be set for a maximum of 300 shots, with the focus step width selectable from 10 levels. Even continuous shooting at 5fps is possible in this mode. For macro fans, this is going to be fantastic.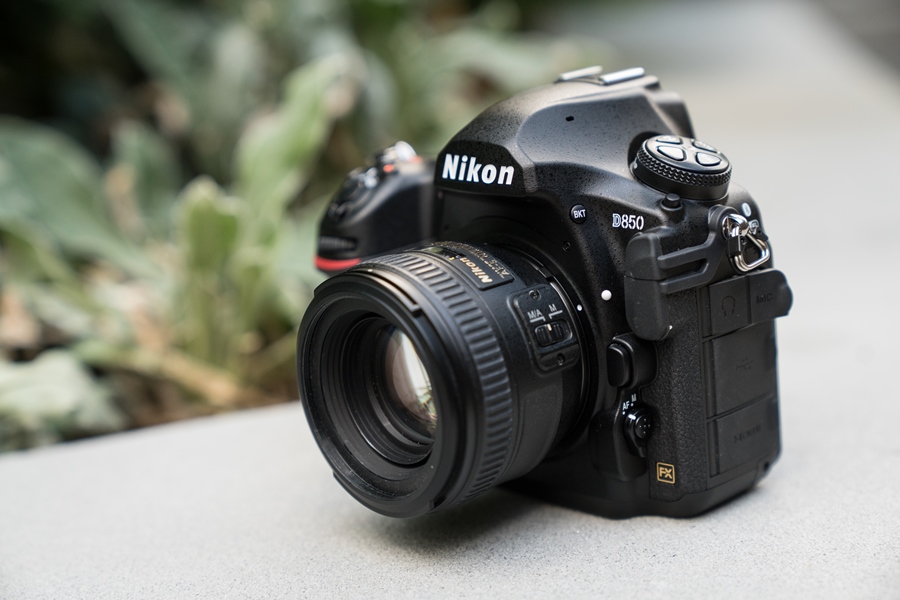 Silent shutter
Building on the mode found in the D5, the D850 has its own advanced silent photography mode that makes use of the camera's electronic shutter. This mode captures full-resolution RAW files at 6fps with focus fixed on the first shot in its SL1 setting, or up to 30fps with focus fixed on the first shot and files captured as DX crop 8MP JPEGs in its SL2 setting.
Through my testing I can confirm that unlike similar modes found on other DSLRS, this function is truly silent, making it suitable for use during wedding ceremonies or theatre productions. It is worth noting though that this mode only works via the rear display and Live View, and not the camera's optical viewfinder.

Video options
This camera is unashamedly stills-focused, but in an age where photographers are often requested to produce video content too, the flexibility to make high-quality recordings will be warmly welcomed by many.
The D850 can shoot UHD 4K using the full sensor width at 30fps, and can record 1080p Full HD at 120fps for super-slow motion playback. A dedicated movie menu provides focus peaking and improved highlight display options, while a HDMI/USB caddy for output cables now comes in-box.
The camera has both a headphone output and a microphone input on its side, and can shoot 4K time-lapses internally, or produce 8K time lapses with the help of the camera's internal interval shooting and third-party software.
Viewfinder and rear display
With a magnification of 0.75X, the bright optical viewfinder in the D850 has the highest magnification ever found in a Nikon DSLR and is sure to greatly aid users with visual confirmation of focus. This OVF is paired with a touch and tilt 3.2-inch rear 2,360k-dot rear display, making composition at a variety of shooting angles much easier than with the fixed-screen D810. Image playback, focus-selection, shutter release and menu operation can now all be controlled by touch thanks to this display.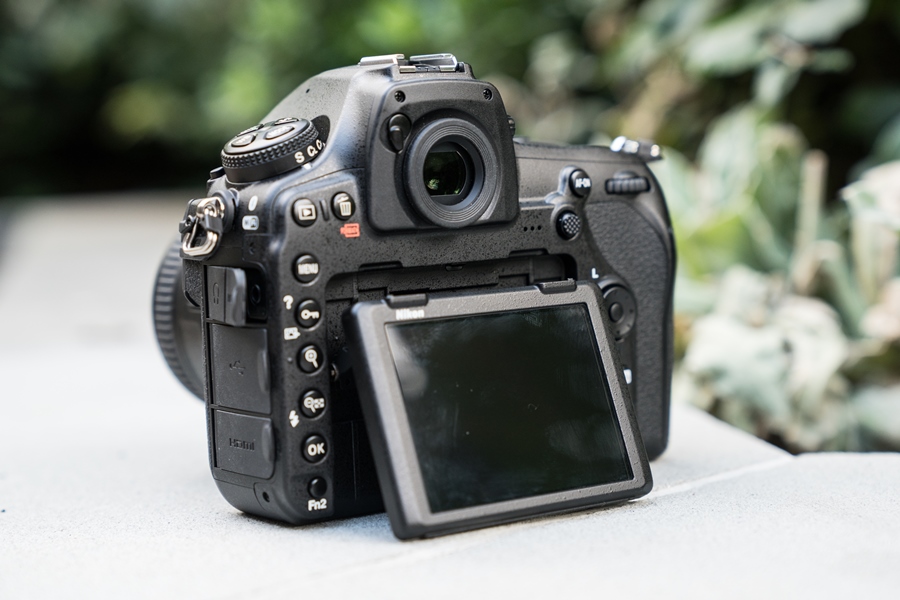 Handling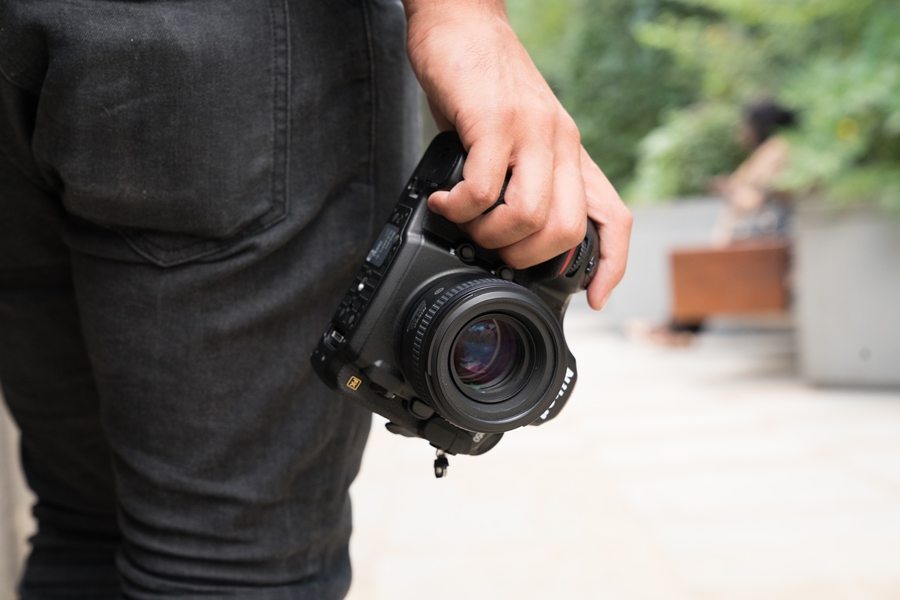 With a magnesium alloy construction, the D850 is designed to withstand day-in day-out use with ease. It's rated for 200K-shutter actuations, and has what Nikon describes as comprehensive weather-proofing.
The device is roughly 25g heavier than the D810, and is a pretty similar size. Illuminated buttons now make low-light use of the camera easier, while the greatest button change of note is the addition of a joystick thumb control like the D5 and D500 to the side of the rear setting dial.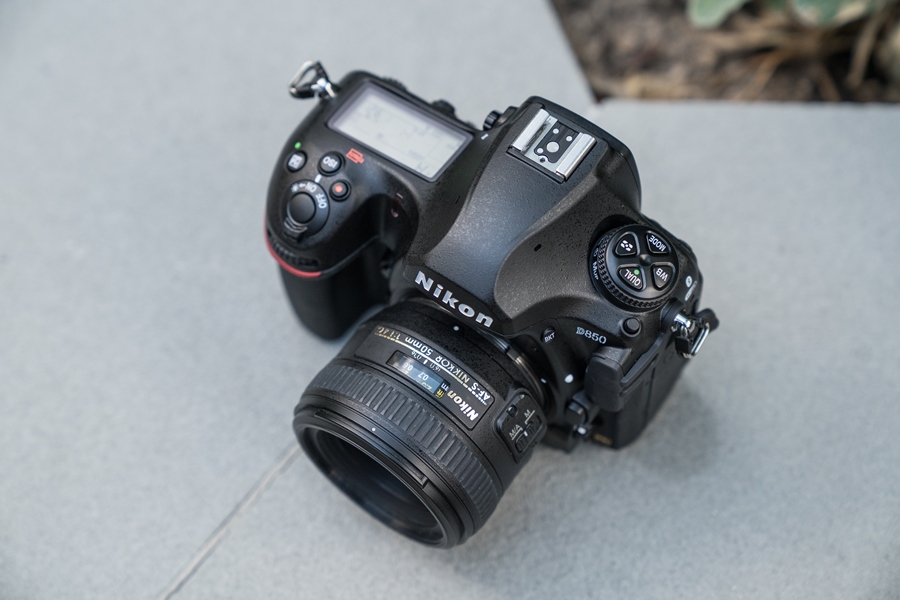 Battery life has been stepped up, from an already respectable 1200 shots with the old EN-EL15 battery on the D810, to a huge 1840 shots with the new EN-EL15A. If you're looking for a reason to buy this over a CSC, there's a big one right there. Of course the camera has the connectivity options that you'd expect, with Bluetooth and Wi-Fi for Snapbridge compatibility, and it's also compatible with Nikon's radio-controlled Advanced Wireless Lighting.
Initial verdict
Nikon's D850 is far more than just another megapixel monster – it's a surprisingly fully-featured device that should be well-suited for professional use in a broad variety of shooting situations. No matter what your specialism, at a competitive launch price of £3,499, the D850 will surely entice.
While I'll hold my final verdict until after the quality of its RAW files is clear, it's fair to say that Nikon seems to have hit the ground running on this one.
About the Author
Matt Higgs has worked for Practical Photography and Digital Photo magazines, and his live music images have been featured in numerous respected music publications including Rock Sound, Guitarist, Guitar Techniques and Akustik Gitarre. www.matthiggsphotography.co.uk.