Panasonic's new top-of-the-range stills camera offers blistering performance speeds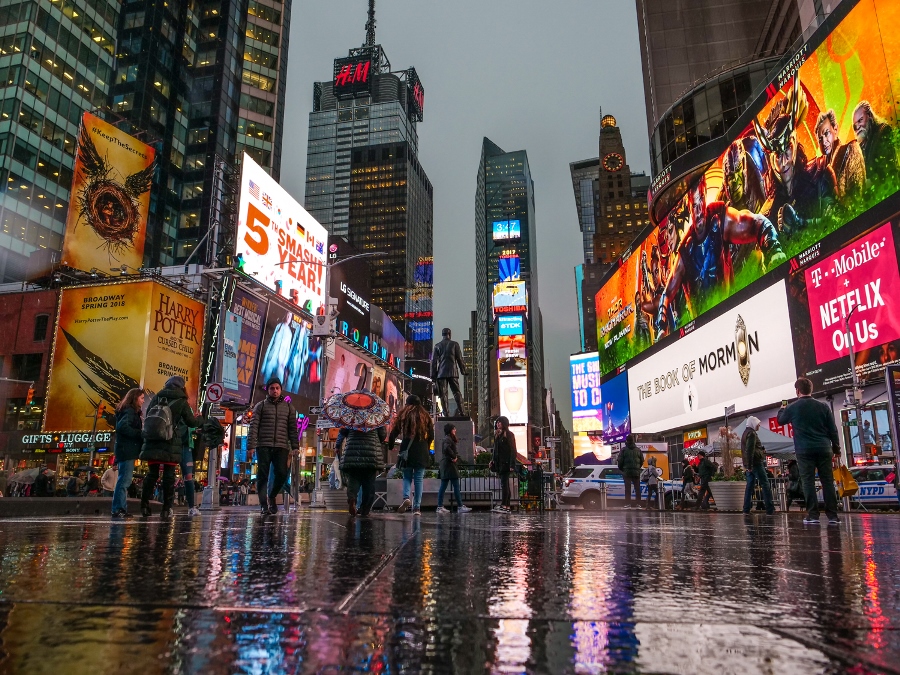 Image taken with prototype LUMIX G9. MATT HIGGS
Following the success of the LUMIX GH5 – particularly popular with filmmakers – Panasonic has turned its attention to a device that's fine-tuned for stills shooters, the LUMIX G9. Panasonic is calling its new flagship model: "The ultimate photography camera." And, with some pretty astounding specifications, we were delighted to get our hands on a prototype model.
Key features:
Perfect for wildlife and action photographers
20.3-megapixel Live MOS Sensor with no low-pass filter
Advanced Body IS and 5-axis Dual IS with 6.5 stop compensation
Capture 80-megapixel images in JPEG/RAW with new High Resolution Mode
20fps (AF-C) and 60fps (AF-S) continuous shooting
World's fastest AF speed of 0.04 seconds
4K and Full HD video recording up to 60p
6K and 4K Photo Mode
(DFD) Depth from Defocus technology
3,680k-dots EVF with 100% field of view and 0.83x magnification
Magnesium alloy splash-, dust- and freeze-proof construction
3.0" 1040k-dot free angle LCD
Dual SD memory card slots with UHS-II compatibility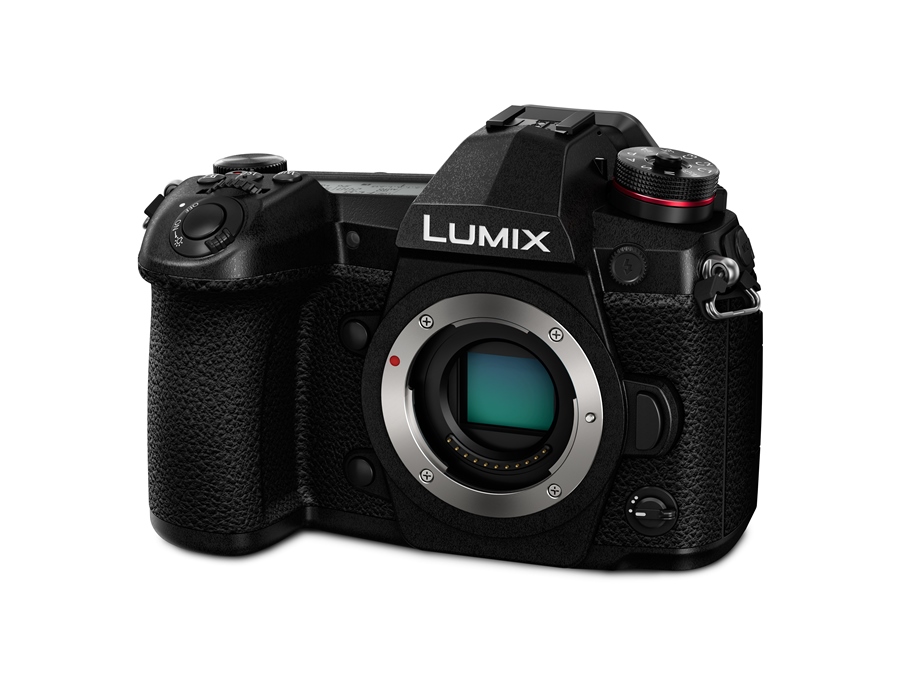 Core features
Just like the GH5, the G9 is built around a 20.3MP Micro Four Thirds Live MOS sensor with no low-pass filter. However, Panasonic claims that G9 files offer a 25% increase in dynamic range and improved detail reproduction at mid to high level ISOs.
This is hard to verify from our first test, as the camera's RAW files are (at the time of writing) not yet supported. But, if substantiated, this will offer a convincing reason for MFT photographers to consider the G9 over the GH5. Indeed, based on our first impressions, image quality does seem very impressive.
Paired with the latest Venus processing engine, the camera's native ISO range spans from 200 to 25,600, with an expanded low of 100 also available. In terms of burst shooting full-resolution files with continuous autoexposure and focus, the G9 is up there as one of the world's fastest cameras – providing 20fps when using the electronic shutter and 9fps with the mechanical one.
An even more outrageous figure of 60fps is possible, with autofocus locked on the first shot. The camera's buffer will handle at least 60 RAW files before slowing down or over 600 JPEGs. These impressive continuous shooting speeds are something that will surely appeal to the sports and wildlife photographers that Panasonic has targeted with the G9.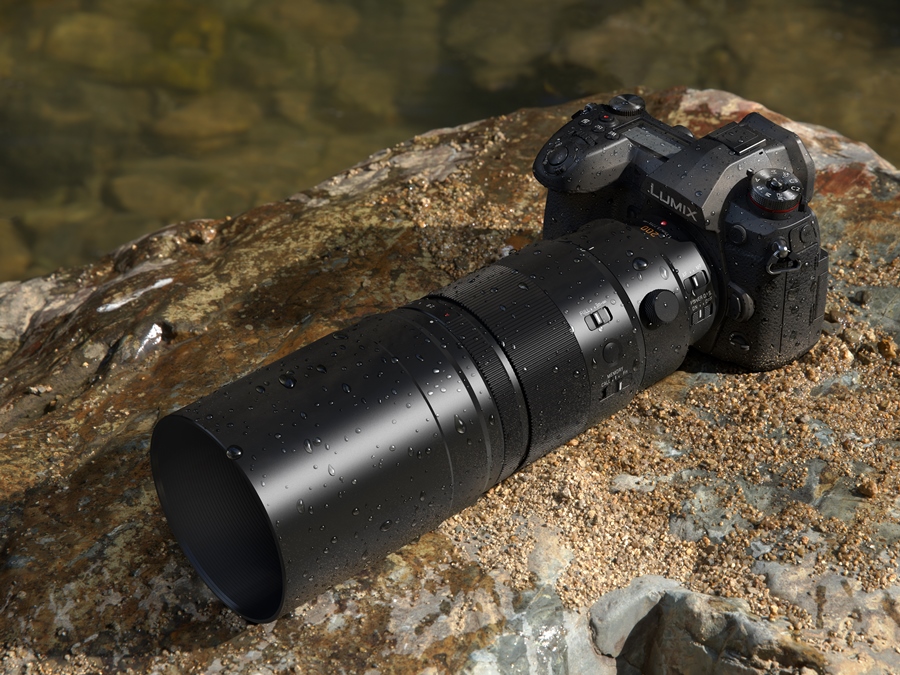 Autofocus
Every camera to hit the market lately seems to have claimed the world's fastest autofocusing system. But, finding focus at an immeasurably quick 0.04sec, it looks like the G9 has taken the title.
The 225-area contrast-detect system – with Depth From Defocus (DFD) technology – proved blisteringly effective in a wide range of lighting conditions. During our test, the G9 accurately brought subjects into focus almost instantly.
Focus modes on offer include Pinpoint (for high-accuracy shooting), face and eye detection, and a highly effective tracking mode – alongside the standard options you'd expect.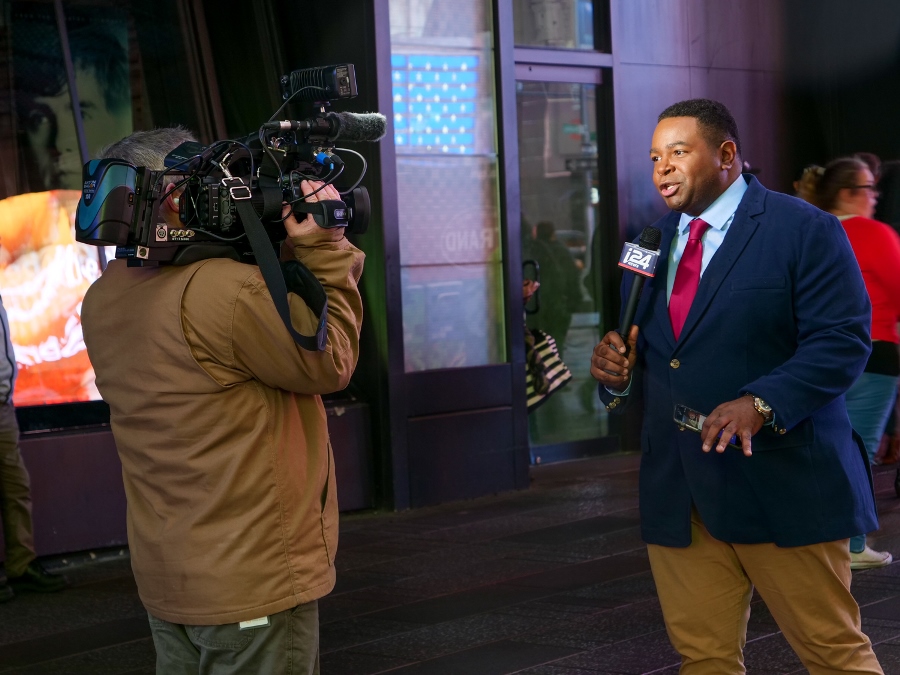 Image taken with prototype LUMIX G9. MATT HIGGS
Image stabilisation
One of the standout features found on the G9 is its highly effective 5-axis Dual IS. The image stabilisation system is able to compensate for up to 6-stops of camera shake, another world-beating figure. This allows the camera to produce sharp handheld shots at far slower shutter speeds and aids the production of smooth video.
Again, this feature will be particularly welcomed by sports and wildlife photographers using telephoto lenses, and those who frequently find themselves in challenging lighting conditions without additional support.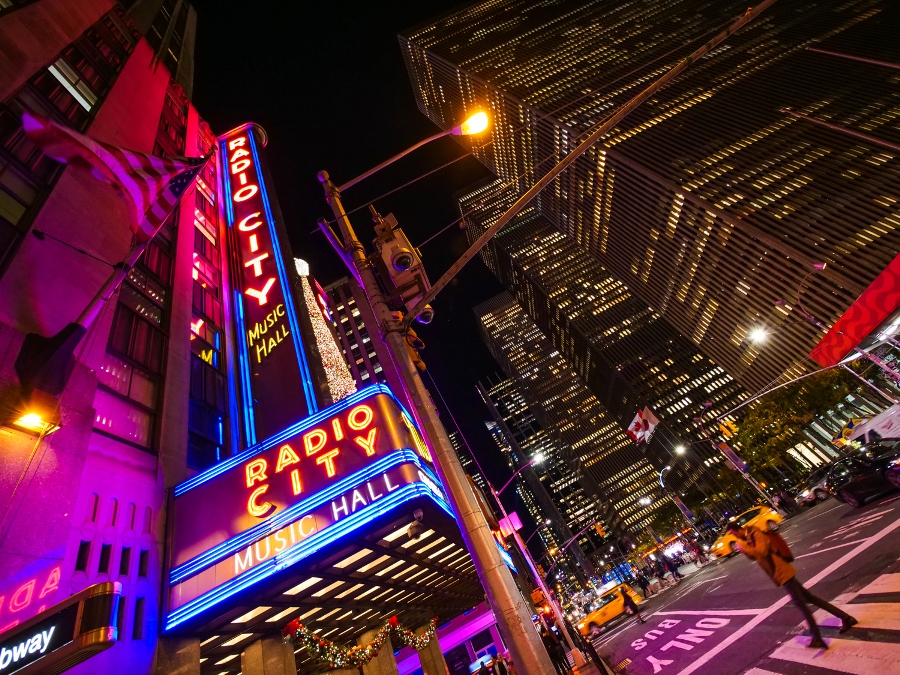 Image taken with prototype LUMIX G9. MATT HIGGS
Video
While the G9 doesn't provide the same level of video functionality as the GH5, it can still hold its own against most similarly priced cameras. 4K and full HD video recording is available at up to 60fps, although it's 8-bit and not 10-bit like its sibling. The device has inputs for both external headphones and a microphone for improved audio monitoring and capture.
Like several of Panasonic's newer models, the G9 provides users with a range of 6K and 4K photo modes. These enable a burst of lower-resolution images to be captured in one of several unique ways…
Standard burst: Images are continuously captured while the shutter is held down.
Start/stop: The shutter button is pressed once to initiate a burst and again to stop it.
Pre-burst: Files are recorded one-second before and after the shutter button is pressed.
It's worth noting that the 6K setting records files at 18MP and the 4K setting records files at 8MP. While this functionality may seem unnecessary to the more experienced photographer, anyone new to continuous shooting may find these easy-to-use functions a godsend when attempting to capture a fleeting moment of action.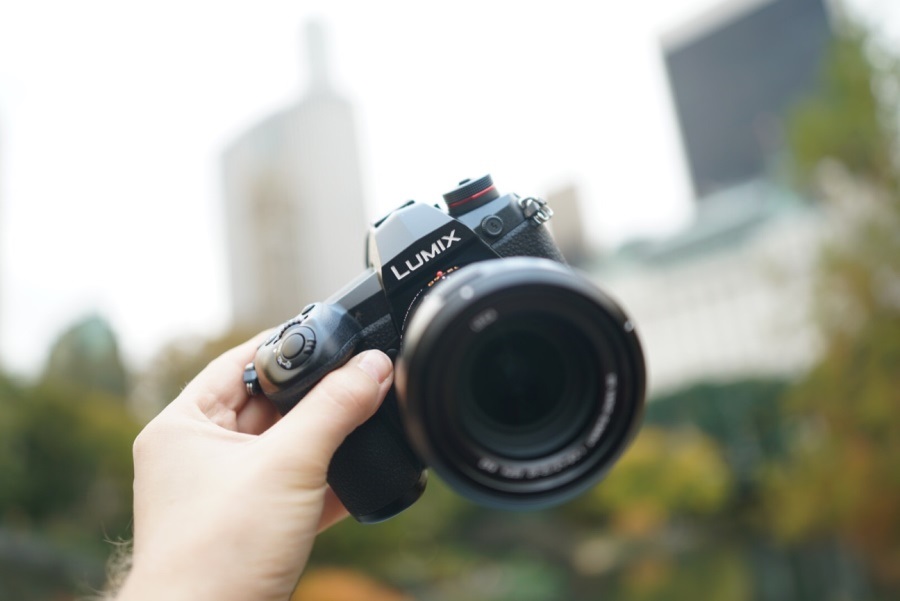 Viewfinder and display
With a highly respectable resolution of 3,680K-dots, 120fps refresh rate and 0.83x magnification, the G9's OLED electronic viewfinder is both bright and responsive.
It's paired with a 3in, articulated, touch-screen operated Live Viewfinder, which makes composition at even the most testing angles a breeze. Touch focus, image playback, and shutter and menu control are all possible within this display.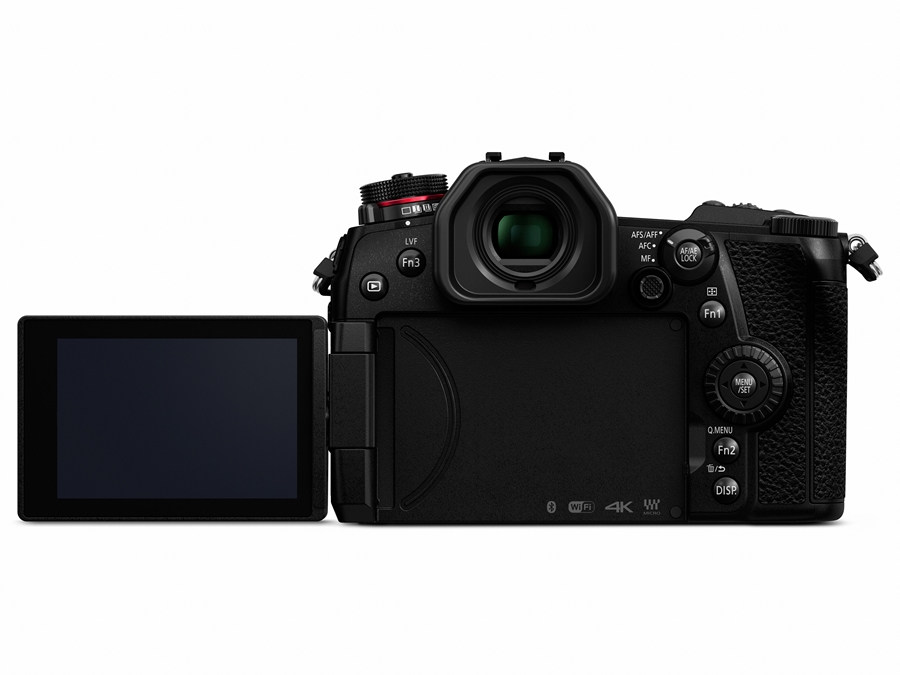 Build quality and size
The G9 is constructed predominantly from magnesium alloy, and the higher quality build is notable when compared to some of Panasonic's more entry-level models.
This robustness is complemented via the fully weatherproofed design, which should handle regular use with ease – even if you find yourself caught in the odd shower. Very similar in both form and size to the GH5, the G9 has a DSLR-style control layout and can be held firmly via a meaty front grip.
The rear of the camera is almost identical to its sibling, there's still a focus leaver, AF control switch, joystick and selection dial to be found, alongside a few minor button movements and a new, larger, eyecup surrounding the viewfinder.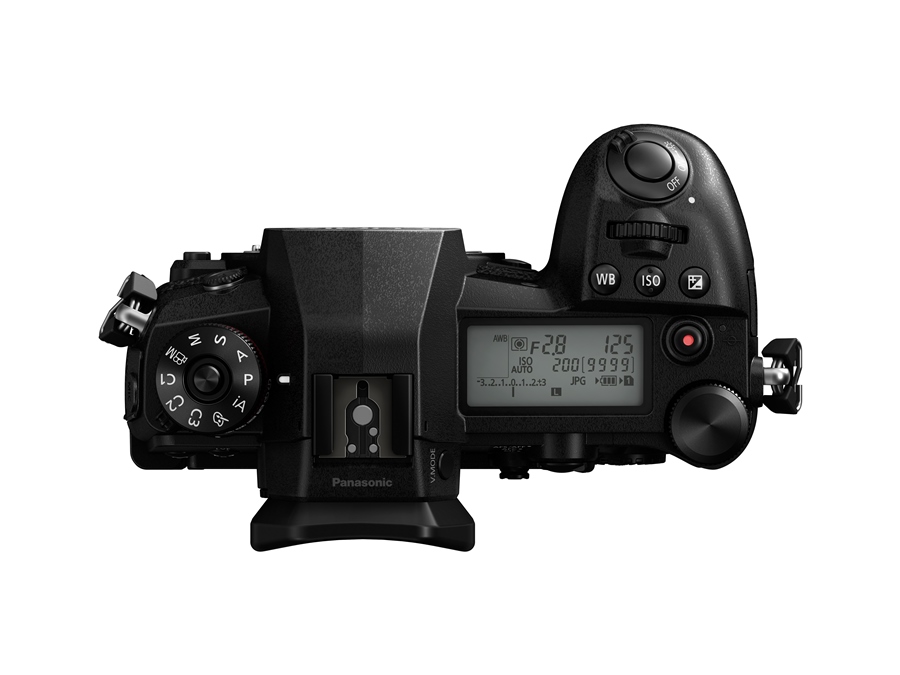 On top, more notable changes have been made. The G9's on/off switch sits around the shutter button and the mode dial – now a dual control dial for both mode and drive settings – has been shifted to the left of the body. This has made room for a status LCD panel (the largest found on a mirrorless camera).
With dedicated buttons for White Balance, ISO and Exposure Compensation on top of the camera, a new silent-shooting switch on the front of the device and plenty of options for button control customisation, the G9 proves quick and intuitive to control.
At 658g with battery and memory card, and with the launch of Panasonic's new ultra-compact 400mm f/2.8 equivalent prime, the G9 would make a solid choice for those wanting to photograph sports and wildlife subjects, but don't want the combined bulk of a DSLR and equivalent lens.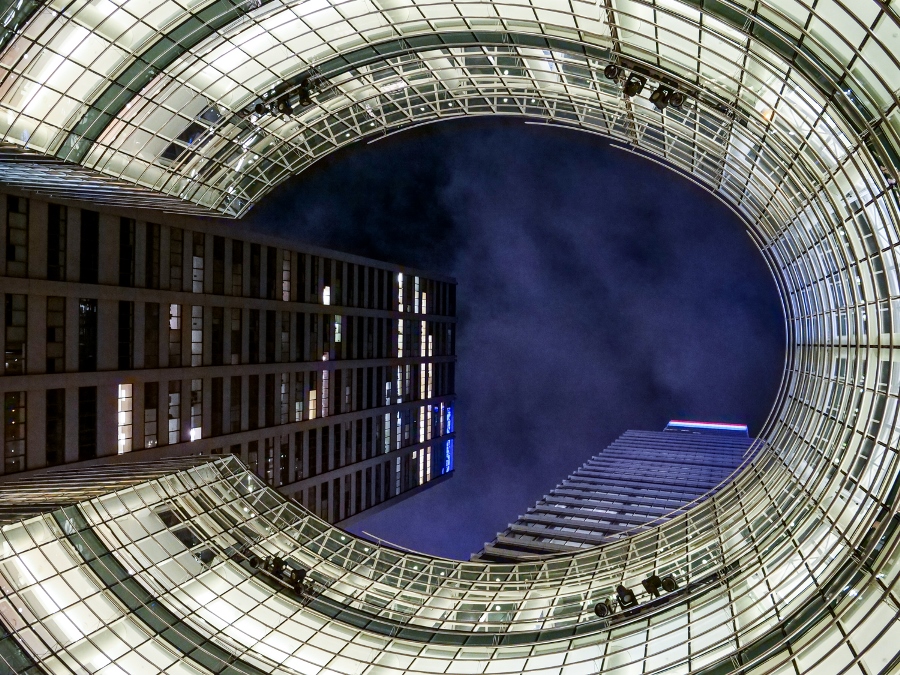 Image taken with prototype LUMIX G9. MATT HIGGS
Other features
The G9 provides all of the connectivity expected from a modern camera, via Wi-Fi and Bluetooth. Using Panasonic's Image App, users can control the camera's basic settings remotely to capture files, transfer images and add location information on the fly.
A standard HDMI port is paired with a USB input for downloading images and internal charging of the camera's battery. The G9's Power Save LVF Shooting will preserve battery life for 920 images; 380 images can be captured from one full-charge via the device's standard setting.
The G9 is fitted with Dual SD card slots – no doubt an essential for many enthusiasts and pro-level photographers alike.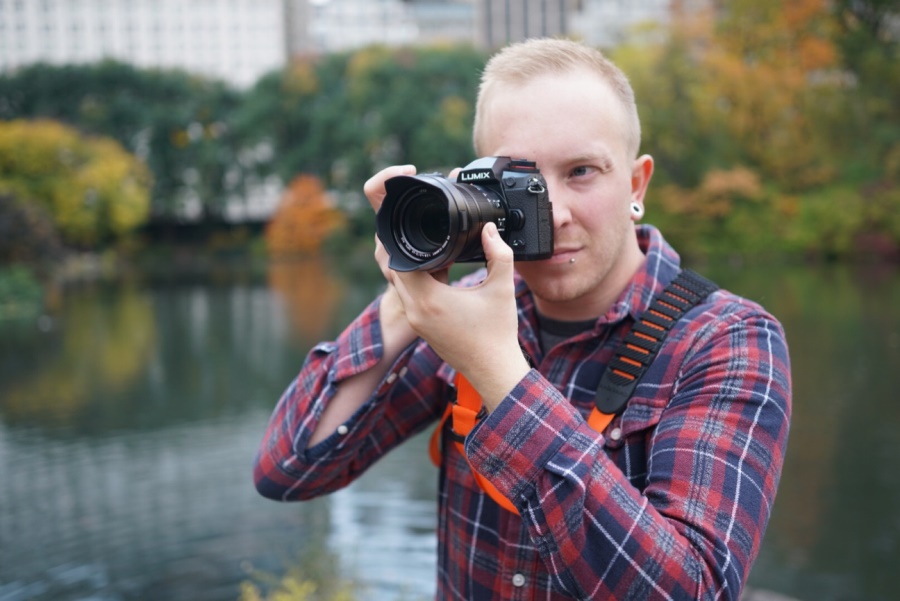 Early verdict
The G9 fine-tunes the GH5's successes for the stills shooter, while adding a host of new features. With its unrivalled 6-stop image stabilisation, fast autofocus system, crazy burst shooting speeds and accessible new control arrangement, I'm sure it's going to win itself a lot of fans.
I'll hold my final judgement until I've played with the RAW files. But, if the JPEGs are anything to go by, the image quality is looking very impressive.
If you're an MFT photographer looking to upgrade or even someone new to advanced cameras who's looking for a compact system for sports and wildlife photography, then the G9 would make a worthy addition to your wish list.
About the Author
Matt Higgs has worked for Practical Photography and Digital Photo magazines, and his live music images have been featured in numerous respected music publications including Rock Sound, Guitarist, Guitar Techniques and Akustik Gitarre. www.matthiggsphotography.co.uk.