Push your landscape images a little further with our round-up of the best telephoto lenses for landscape shooting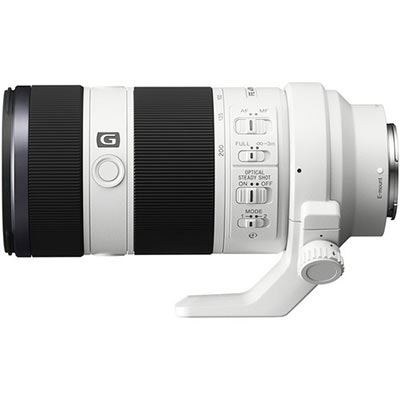 Conventional wisdom dictates that if you want to shoot landscapes, you want to use a wide-angle lens to do it. However, this isn't necessarily true! Telephoto lenses provide an entirely different perspective that can be an amazing way to produce striking, unforgettable landscape images – compressing features of the landscape and allowing you to capture far-off features as though they were right in front of you.
No matter what camera system you're using, there will be a telephoto lens for you that can transform your landscapes and make your shots truly special. So, for this guide we've compiled some of the best telephoto lenses for landscapes available right now. We've included a mixture of zooms and primes, and lenses for different systems, but remember this is just a starting point! We encourage you to explore, experiment and take your time to find the landscape telephoto that works for you.
But in the meantime, a few starting pointers never hurt anybody. So here they are – the best telephoto lenses for landscape photography…
Let's get this one out of the way – a 70-200mm lens is one of the best workhorse focal ranges around, and there was no way we weren't going to suggest it here. Giving you a broad range of perspective from almost naturalistic to truly telephoto, a good 70-200mm lets you bring subjects closer to you without bulking out your setup too much. If you're heading out for a day and aren't sure what you expect to shoot, a lens like the Sony FE 70-200mm f4 G OSS Lens would be a perfect catch-em-all choice. Pairing beautifully with Sony's high-resolution full-frame E-mount cameras, this is a superb optic for any landscape shooter using Sony.
Sony FE 70-200mm f4 G OSS Lens
The Sony E70-200mm f/4 G OSS FE lens is a telephoto zoom with constant f/4 max aperture and the expressive image quality for which the G Lens line-up is famous. Compact and lightweight thanks to internal focusing, it features AA (advanced aspherical) elements, super ED glass, a Nano AR coating, and a 9-blade circular aperture that delivers outstanding sharpness with gorgeous background bokeh.
£895.00 inc. Cashback View
As this is a Micro Four Thirds lens, it'll provide an equivalent focal length of 200-800mm, making it a seriously powerful telephoto in a relatively small package. Panasonic's 100-400mm f4-6.3 Power OIS is the perfect tool for pulling everything closer to you. Far-off mountains, distant seas and shores – nothing is out of reach for this powerful lens. Thanks to its Leica-made optics, it also offers the kind of resolving power required to ensure your images are crisp, vibrant and full of detail. Also a point in its favour – a rugged construction that's dust- and splash-proof, so you can feel free to take it out into difficult weather.
Panasonic 100-400mm f4-6.3 Power OIS - Micro Four Thirds Fit
The Panasonic 100-400mm f4-6.3 Power OIS lens is aimed at Micro Four Thirds users looking for a versatile telephoto zoom in a lightweight, portable body. Its versatile focal length is well suited to a variety of subjects and scenes, both indoors and out, thanks to its splash and dustproof construction. The lens has also been optimised for 4K video shooting offering accurate AF (autofocus) and silent zoom operation.
£1,149.00 View
While zooms are handy to have in a pinch, a prime lens confers its own series of advantages, most notably sharpness. A prime lens can make use of a more sophisticated optical construction to produce images that are pin-sharp and free from distortion, and this telephoto from Canon is a great example. The Canon EF 400mm f5.6 L USM Lens incorporates a super UD-glass element and a UD-glass element, both of which work to ensure that images are absolutely tack-sharp, and is ideal for your painstaking landscape prints. It also comes with a detachable tripod mount, making it easier to support the lens for longer exposures. You'll find this lens to be a perfect pairing with a full-frame Canon DSLR, and for bringing the landscape closer to you in faultless detail.
If you want a lens that does it all then consider this DX-format Nikon optic, which starts out wide and zooms all the way out to a respectable telephoto (its full-frame equivalent length is 27-450mm). Another solid contender for the kind of day where you don't quite know what you'll find, the Nikon 18-300mm f3.5-6.3 G ED VR AF-S DX Lens produces images of solid sharpness and contrast, and it's surprisingly compact and lightweight considering its level of zoom power. The mount is also completely weather-sealed, so it's another rugged lens that can stand up to a bit of wind and rain. Push it to its super-telephoto limits or pull back a little for a different perspective – the choice here is entirely yours.
Nikon 18-300mm f3.5-6.3 G ED VR AF-S DX Lens
The Nikon 18-300mm F/3.5-6.3 G ED VR AF-S DX is a versatile yet extremely compact and lightweight telephoto zoom lens that allows you to get close to the action. Designed for travel and handheld shooting, this all-in-one lens with 16.7x zoom delivers superior image quality from wide-angle to super telephoto.. Compatible with Nikon DX format and FX in DX crop mode.
£629.00 View
Another generous zoom that spans a pleasingly wide focal range, the Tamron 150-600mm f5-6.3 SP Di VC USD Lens can work with full-frame and APS-C cameras alike, and is available in Canon and Nikon fits. Representing fantastic value for money, this capable telephoto zoom is equipped with a sophisticated optical construction that ensures its images are sharper than sharp throughout the entirety of its zoom range. A new eBAND (Extended Bandwidth & Angular-Dependency) coating uses a nano-structured layer for superior anti-reflection capabilities, reducing ghosting and flare and ensuring your images are sharp and clear.
About the Author
Jon Stapley is a professional journalist with a wealth of experience in a number of photography titles including Amateur Photographer, Digital Camera World and What Digital Camera. See more of his writing on Jon's author page.
Related articles