We run through the top five rolling bags and cases in our latest round up of best camera bags
1. Manfrotto Professional Roller Bag 50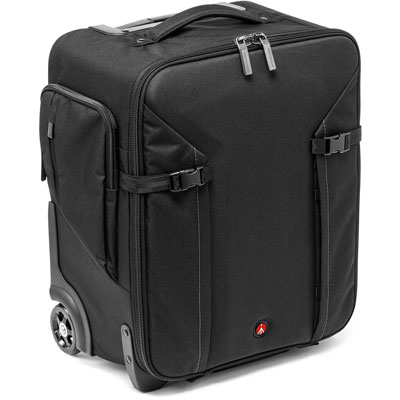 As the name implies, the Manfrotto Professional Roller Bag 50 is very much pitched towards pros, and it's able to hold up to two pro-sized DSLRs with a large zoom (i.e. a 70-200mm f/2.8) as well as four or five extra lenses, a couple of flash units, a 17-inch laptop or tablet, a tripod and a few extra bits and bobs. The three handles – top side and bottom – make it convenient to carry, while the zip-pockets at the sides make your gear quickly accessible.
2. Lowepro Pro Roller x300 AW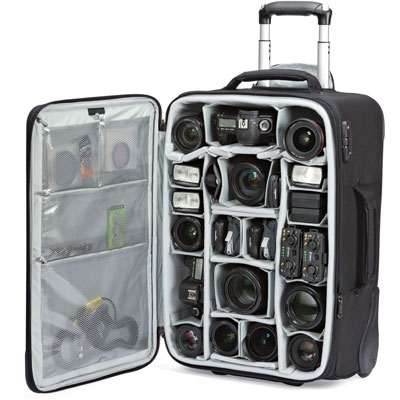 For this release Lowepro rolled out its "MaxFit" system, which uses adjustable dividers in a micro-fitting structure to pack gear as closely and efficiently as possible. To that end, the Pro Roller x300 AW allows for a couple of pro DSLRs, eight to ten lenses up to 600mm in focal length, assorted accessories and a 17-inch laptop. The Maxfit system ensures all this gear is safe and secure, while the revamped wheels allow you to glide smoothly through busy streets and airports.
3. Tenba Shootout Rolling Backpack LE – Medium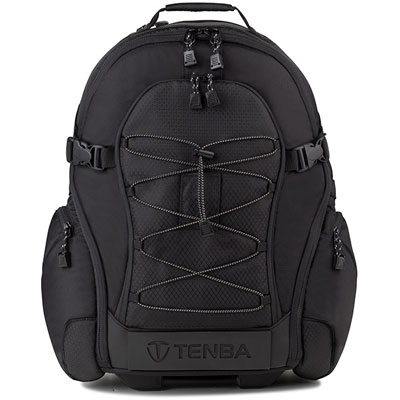 The Tenba Shootout Rolling Backpack LE Medium meets most international carry-on requirements, meaning it's perfect for taking your photo gear on your travels. And with space for a couple of DSLRs, six to eight lenses, a tripod and a laptop up to 15 inches in length, you can be confident you won't be unprepared for any situations that arise. As the name "Rolling Backpack" it's effectively two types of bag in one – wear it on the back or roll it along the ground!
4. Vanguard Xcenior 48T Trolley Case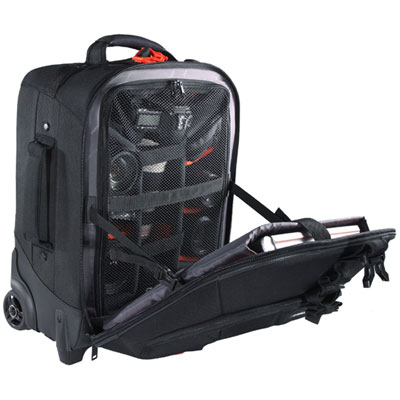 Another travel-friendly rolling bag, the Vanguard Xcenior 41T Trolley Case is well-padded, carry-on compatible and capacious enough to take 1-2 DSLRs, 5-7 lenses, a flash unit and the rest. Its large wheels make it easy and safe to transport, while the interior is heavily padded to ensure that your gear is safe and secure.
5. Lowepro Pro Runner RL 450 AW II Rolling Backpack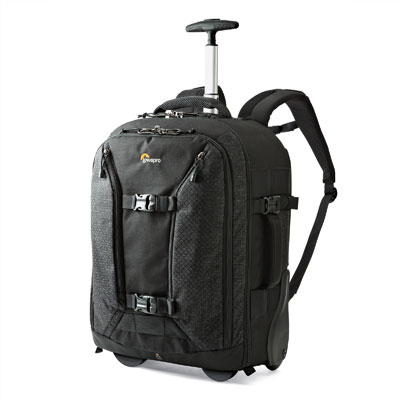 Another backpack/roller hybrid, the Pro Runner RL 450 AW II is designed to allow for streamlined organisation of gear to make it accessible at a moment's notice. Manoeuvre with confidence through crowded airports or busy streets, with enough space to carry two pro DSLRs with attached lenses, 5-6 additional lenses, flashguns, a 15-inch laptop, two tablets, a pro tripod and other accessories.
Related articles