The stylish shoulder bag is always a winner! Here are a few of our favourite shoulder-slung camera bags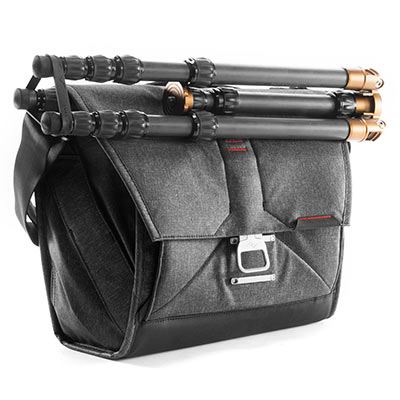 Backpacks have their place, hard cases can be useful and small lens pouches are great for travelling light – but for a superior blend of style and convenience, nothing beats a shoulder bag. Ideal for exploring cities with your camera gear close at hand, a good shoulder bag is best for keeping your gear protected and safe while also having it ready to use at a moment's notice.
But which to choose? There are tons of great shoulder bags from many great manufacturers, in all different sizes, and that's not even considering the fact that everyone is going to be working to a slightly different budget. How much a person is willing or able to spend on a camera bag can vary wildly.
That's why we're here to help. We've compiled a list of the best shoulder bags around, with a firm emphasis on affordability. We've ordered the bags in this list by price, so you can be sure you're at the level that's comfortable for you. Whichever bag you choose from the list, we're entirely confident you'll end up with something great that really works for you and your photography.
So what are we waiting for? Let's get to the bags!
Shoulder bags under £50
First, we have the Canon SB100 Shoulder Bag, designed to take a mid-sized DSLR such as Canon's own EOS 800D or 1300D, along with a kit lens attached and small accessories. The design has an internal zip pocket and an external back pocket for extra bits and pieces, as well as a slot for SD cards, and its discreet colouring is perfect for travelling the city streets without drawing undue attention to yourself. Whether you're a Canon camera user or not, this is a high-quality shoulder bag for an incredibly good price.
Canon SB100 Shoulder Bag - Blue
Calumet's perfect day bag can easily hold a DSLR with a zoom attached, as well as 2 or 3 additional lenses, and there's also space for a 14-inch laptop or tablet and adjustable straps for securing a tripod or monopod. With all this, you've got everything you need for a day's street photography, with the top zip flap allowing you fast, easy access to your camera to ensure you don't miss those split-second moments. Loads of extra pockets around the outside also give you extra space for things like SD cards and a water bottle, so you can be sure you're prepared for every eventuality.
Calumet Messenger Bag - Medium - RM2130
Tenba's Skyline bag is not only stylish but highly functional too, able to hold a DSLR or mirrorless camera with 3 to 4 additional lenses and lots of small accessories. The bag is weather-resistant, with water-repellent 600D fabric, and its YKK zippers and reinforced seams give it real long-term durability, so you can be confident that you won't be replacing it a few months down the line. For this price, that's tough to argue with! Comfortable and practical, the Tenba Skyline Shoulder 10 should find a home with practically any photo-mad traveller.
Tenba Skyline 10 Shoulder Bag - Black
Shoulder bags under £100
Hit the road in style with the Crumpler Proper Roady 2.0 2500, safe in the knowledge that your mid-sized semi-professional DSLR camera is safe and secure. It's absolutely loaded with features too, including a padded back, a rear zip pocket, padded and flexible adjustable dividers, an integrated rain and dust cover and an adjustable padded shoulder strap for extra comfort even when wearing for extended periods. The waterproof lining also ensures that your gear will be safe even in the event of an unexpected downpour, so buy and be confident that you'll have everything you need for your travels.
Crumpler Proper Roady 2.0 2500 - Blue
No list like this is complete without a Vanguard bag, and the VEO Range 36M Shoulder Bag is an excellent example. Able to fit a mirrorless camera with 2 to 3 lenses, with room for accessories or even a small drone or gimbal, it's a great choice for both stills and video shooters. Its innovative double decker system allows you to even place a small tripod up to 33cm in length inside the bag, or alternatively you can strap a longer one to the outside. It's also available in a variety of colours – we like this stylish "Stone" finish – so you can look as good as you feel while out and about.
Vanguard VEO Range 36M Shoulder Bag - Stone
Shoulder bags under £200
The spacious Noreg 30 is designed for mirrorless camera systems, and amazingly it's actually a modular bag that allows for parts to be detached and used individually – perfectly if on some days you want to really travel light. As well as camera gear, there's space for a 15-inch laptop and 9.7-inch tablet, as well as straps for mounting a tripod on the front, and Manfrotto have also made sure that the Noreg 30 complies with standard airline carry-on regulations. Flying out for a little mini-break? Here's a great bag to bring along with you.
Manfrotto Noreg- 30 Messenger
Think Tank's second iteration of its popular Retrospective shoulder bag is lighter than the original and has plenty of new features that make it the better buy. It's able to hold a standard DSLR, up to 2 lenses, a flashgun, and a 13-inch laptop, and under its main flap it has an extra zippered opening for additional security, ensuring that thieves can't quickly dip in and grab something. The design is soft, sleek and form-fitting, reflecting how well this bag has been constructed and engineered.
Think Tank Retrospective 7 V2 Shoulder Bag - Pinestone
Finally, a deservedly famous shoulder bag. Peak Design's Everyday Messenger can hold a full-frame DSLR with 3 lenses and still has room for extra accessories and a 13-inch laptop. It closes magnetically and its interior has origami-inspired dividers for a little bit of zen in your camera setup. The padded, seatbelt-style strap is comfortable to wear for long periods, so you can feel free to roam and explore at your convenience, secure in the knowledge that your bag won't let you down. There are also dedicated Peak Design Capture Clip attachment points for fast camera access, so if you're already invested in the system, getting this bag to go with it is really a no-brainer.
Peak Design The Everyday Messenger 13in - Charcoal v2
About the Author
Jon Stapley is a professional journalist with a wealth of experience on a number of photography titles including Amateur Photographer, Digital Camera World and What Digital Camera. See more of his writing on Jon's author page.
Related articles