Wex Photo Video Glasgow
Address: Block 4, Unit 1
Oakbank Industrial Estate, Off Garscube Road
Glasgow, G20 7LU
Manager: Alan Reilly
Email: glasgow@wex.co.uk
Phone: 0141 353 0875
Get Directions
Opening Hours:
Monday 09:00 - 17:30
Tuesday 09:00 - 17:30
Wednesday 09:00 - 17:30
Thursday 09:00 - 17:30
Friday 09:00 - 17:30
Saturday 10:00 - 16:00
Sunday CLOSED

View Glasgow's Secondhand stock

Seasonal Opening Hours:

Wed 25th December – CLOSED
Thu 26th December – CLOSED
Wed 1st January – CLOSED
Thu 2nd January – 10:00 - 16:00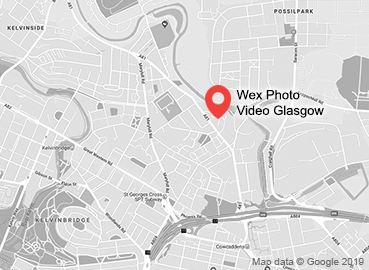 Stuck on Auto?
Book a 30min Camera Set-up Session in Glasgow and our experienced team will guide you through it.
Book now »
Happy with your gear?
Review your experience of our store on Google

Review »
Wex Photo Video Glasgow is your destination for photographic equipment and accessories. Benefit from our team's knowledge and experience and receive independent impartial advice that's tailored to your needs, not sales targets. Our success depends on helping you to thrive in the world of image production.
We offer the following services at Wex Photo Video Glasgow:
Get your hands on and play with a range of demonstration gear
Attend educational and creative events
Get free and impartial advice in person or over the phone
Benefit from equipment rental
Learn about new gear when manufacturers demonstrate new products in-store
Breathe new life into broken kit with our repair service
Treat your camera to an expert sensor clean
Hire our studio space – just bring your gear, your subjects, and your passion
Trade your old kit to make that new purchase easier on your budget. Please request a quote online and we'll organise an appointment in-store.
Buy used and pre-loved gear that's fairly and reliably rated for condition
Getting to Wex Photo Video Glasgow is easy – we can be found on the Oakbank Industrial Estate, just off Garscube Road. We have plenty of free off-street parking right outside the shop. If you're travelling by public transport, there are lots of bus stops along Garscube Road with regular buses to and from Glasgow city centre.
Alasdair
Sales Consultant
Creative Filmmaker
Video editing specialist
Passion for Music, Travel and Lifestyle Photography